Share: do you provide special care to your neck?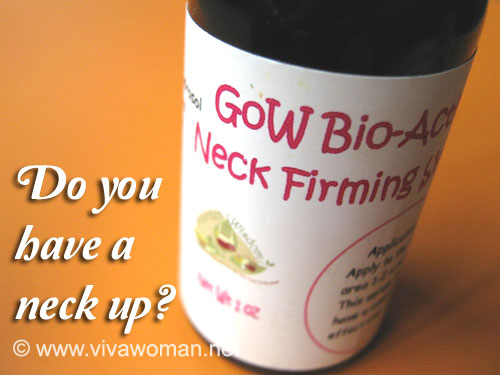 So I've been using this GoW Bio-Active Neck Firming Serum purchased through Garden of Wisdom via a spree for two weeks or so now. I know it's a bit premature to give a full review but going by the comments I read on the forum, others are seeing results in a week and so I think it's okay that I say something about it now.
Ingredients to tighten and firm
This is a serum incorporating good stuff like Matrixyl 3000, Kigelia Extract, Panthenol DL, Gamma-Aminobutyric Acid, Niacinimide, and L-Carnosine, amongst others to promote smoother, tighter skin and elasticity. Honestly, other than the stinging, tingling sensation that suggests that this serum is doing something whenever I apply, I haven't seen any difference yet. The serum doesn't leave a greasy or sticky residue but it smells quite horrible and reminds me of some Chinese alcoholic medicine. However, I should add that while the smell was quite unbearable initially, I've gotten use to it now and the good thing is, it doesn't linger after the initial application.
Massages and exercises
I've never really paid much attention to my neck until these two years because I was told that it doesn't look good enough. I used to just apply normal facial moisturizer on the area but well, they yielded just normal results. At one stage when I was going for regular facials at True Beauty, Susan gave my neck extra care and massage and so the region improved by leaps and bounds. However, I've been less diligent and only go for facials once in two months now so the area hasn't been receiving sufficient love. Plus, I've been preoccupied with other important priorities and have forgotten to kiss the ceiling to firm up my neck. As such, my neck hasn't been looking its best. I also kept thinking that it will perhaps look better if I fatten up. Heh.
I'm not sure if the neck firming serum will give me better results later but I'm keen to hear from you all. Do you provide special care to your neck? What do you do and are there products you use that are effective? Do share with us!
© www.vivawoman.net copyright notice ☺
______________________________________________________________
Comments