Marie Veronique Advanced Power Duo Make My Skin Clearer And My Pores Tighter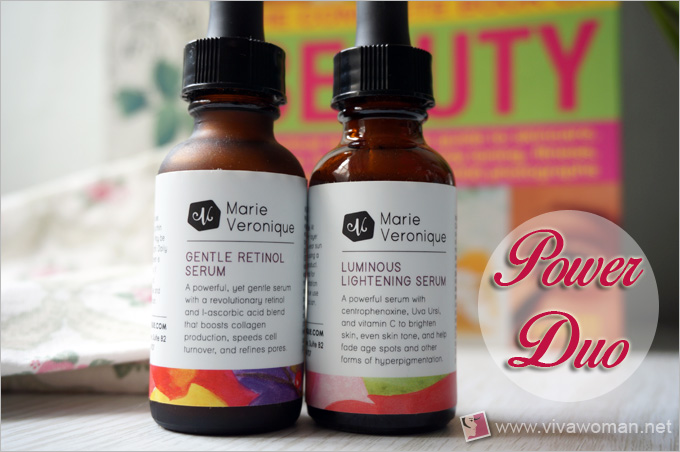 Sometime at the end of April, Marie Veronique Advanced introduced me to the concept of synergistic layering using two of their products, MVA Luminous Lightening Serum and MVA Gentle Retinol Serum to treat melasma and hyperpigmentation.
I know that melasma and hyperpigmentation are not easily corrected using just topical products—speaking from experience here and not just spouting out of head knowledge. However, given that Marie Veronique Advanced is one of my favorite brands, I said yes to a trial. Their products have worked well for me and so I was also secretly hoping that these might turn out to be the miraculous duo to rid my skin of those dreadful brown spots.
What is synergistic layering?
The term "synergistic layering" is probably quite new to many of us but the application isn't all that different from what some of you may already be doing. Basically, Marie Veronique Advanced recognizes that most people suffer from more than one skin condition. For example, aging skin can be just as much an age-spot problem as a wrinkle problem or sun-damaged skin of any age can present as dull, dry, blotchy, uneven and prematurely wrinkled.
Since serums are most effective when they are symptom specific, using two serums to provide synergistic layering can yield higher efficacy to treat dual or multiple symptoms.
The concept appeals to me as I'm an advocate of using skin serums because they always contain some form of potent active ingredients. But I rarely apply more than one serum. I'm leery of mixing serums that'll cancel out each other in a case of mismatch.
The only reason I'm more comfortable with the idea of using two serums now is purely because I trust the recommendation from Marie Veronique Advanced. I was told that using both their Luminous Lightening Serum and their Gentle Retinol Serum together work very well for those with hyperpigmentation. So I said bring it on! I'm willing to give it a shot if it'll help improve my skin condition.

MVA Luminous Lightening Serum | 30ml, US$110
This is a skin lightening serum that contains centrophenoxine, uva ursi (bearberry) and vitamin C to brighten skin, even skin tone, and help fade age spots and other forms of hyperpigmentation.
Out of the three key ingredients, I'm only familiar with vitamin C which helps to reduce hyperpigmentation by inhibiting tyrosinase, the enzyme triggering melanin production. Apparently, uva ursi works in the same manner as Vitamin C whereas centrophenoxide dissolves age spots by dissolving lipofuscin. All that's a bit of a mumbo jumbo to me but all I know is that my skin is supposed to emerge clearer and more even-toned with this product.
MVA Luminous Lightening Serum should only be used at night. It's a dark brown lotion-like serum that comes with a strong herbal scent. Okay, it's pleasant for me because I'm used to MVA's formulations, which never smells bad to me. But if you've not tried anything from their range, you may need to take awhile to get used to the distinct scent.
The serum is housed in a dark brown dropper glass bottle and you just need to use a small squirt for your entire face. The only thing with MVA's serums is, you always need to shake well before use. It's not a big concern but it's just something you need to remember prior to each use. Otherwise, application is straight forward and the serum gets absorb very quickly into my skin.
In terms of the sequence of layering, this product goes on first before the MVA Gentle Retinol Serum, which we'll look at next. But for those interested to know what else is in the MVA Luminous Lightening Serum, here's the full ingredient list:
Camellia sinensis (green tea), Citrus aurantium (neroli) hydrosol, vegetable glycerin, Vitis vinifera (grapeseed) oil, Sesamum indicum (sesame seed) oil, Rosa rubiginosa (rosehip seed) oil, Rubus fructicosus (blackberry seed) oil, niacinamide (vitamin B3), sodium salicylate, N-acetyl glucosamine, Isododecane (stabilized l-ascorbic acid), uva ursi tincture, Glycyrrhiza glabra (licorice) root extract, Sambucus nigra fruit (elderberry) extract, crosspolymer/silica, Coffea Arabica (coffee) fruit extract, Dimethylaminoethanol (DMAE), pearl powder, rice powder, centrophenoxine, resveratrol, Leucidal, Broussonetia kazinoki (paper mulberry) root extract, aspen bark, Helianthus annuus (sunflower) lecithin, xanthan gum, mixed tocopherols (non-GMO vitamin E), kombucha tincture, Rosemary oleoresin. Essential oils: Citrus aurantium (neroli), Curcuma longa (tumeric), Helichrysum italicum (helichrysum), Cistus ladaniferus (Cistus), Boswellia carteri (Frankincense), Pelargonium graveolens (rose geranium)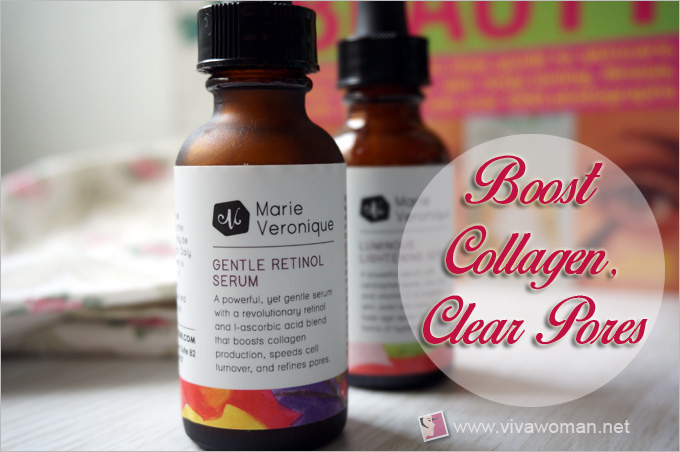 MVA Gentle Retinol Serum | 30ml, US$110
I've actually been reluctant to use retinol on a consistent basis until this year. I know my skin needs this ingredient but I couldn't get over my mental threshold against it. And why? Well, I was afraid of it. I've always thought that it's a harsh ingredient that'll thin out my skin, causing it to become photosensitive. But I gave this product a chance because I thought Marie Veronique Advanced cannot be recommending me an ingredient that'll damage my skin.
Anyway, I also had a better understanding that retinol is not like retin-A—the latter being synthetic is a derivative of vitamin A from retinoic acid and tends to cause side effects such as redness, peeling, dryness and flaking.
Whereas retinol is much less aggressive than retin-A, which also means results would take longer to manifest. But it also means adverse reactions are rare and that's why MVA Gentle Retinol Serum which contains 7 percent retinol can work for those with sensitive skin. When used over a period of time, it helps to boost collagen production and speed cell turnover. At the same time, it'll reduce acne and promises to unclog pores by making them look smaller.
MVA Gentle Retinol Serum is said to be revolutionary because its microencapsulation technology allows L-ascorbic acid and retinol to co-exist in the same environment—without compromising the effectiveness of either. In addition, its Photoaging Repair Complex™ uses proprietary microencapsulated resveratrol, Helix pomatia and superoxide dismutase (SOD) for a powerful antioxidant boost. Finally, the product contains sodium salicylate to moderate inflammation, allowing a higher concentration of retinol in the formulation without causing undue irritation.
Here's the full ingredient list: Camelia sinensis (green tea) infusion, Citrus aurantium (neroli) hydrosol, vegetable glycerine, kombucha tincture, encapsulated retinol (7%), niacinamide (vitamin B3), beta glucan, sodium salicylate, n-acetyl glucosamine, Photoaging Repair Complexâ"¢, non-GMO lecithin, xanthan gum, isododecane (stabilized vitamin C), mixed tocoperols (vitamin E), Argania spinosa (argan) oil, Rosa rubiginosa (rosehip seed) oil, Rubis fruticosus (blackberry seed) oil, Brassica oleracia italica (broccoli seed) oil, rosemary oleoresin, preserved with Leucidal® Liquid and aspen bark. Essential oils: Citrus aurantium (neroli), Carota daucus (carrot seed), Curcuma longa (curcuma), helichrysum italicum (helichrysum), Cistus ladaniferus (cistus), Boswellia carterii (frankincense)
Like the MVA Luminous Lightening Serum, the Gentle Retinol Serum should only be used at night only as the last stop in the nightly routine. It's slightly thicker than the Luminous Lightening Serum but nonetheless, the same instruction to shake the dropper glass bottle well prior to using applies. The product has a distinct but perhaps more pleasant herbal scent.
Although the product is suitable for sensitive skin, it is not recommended for pregnant women, nursing mothers or anyone who finds it too irritating. Finally, sunscreen must be used daily if you were to include this product in your skin care regime because retinol contains exfoliating properties.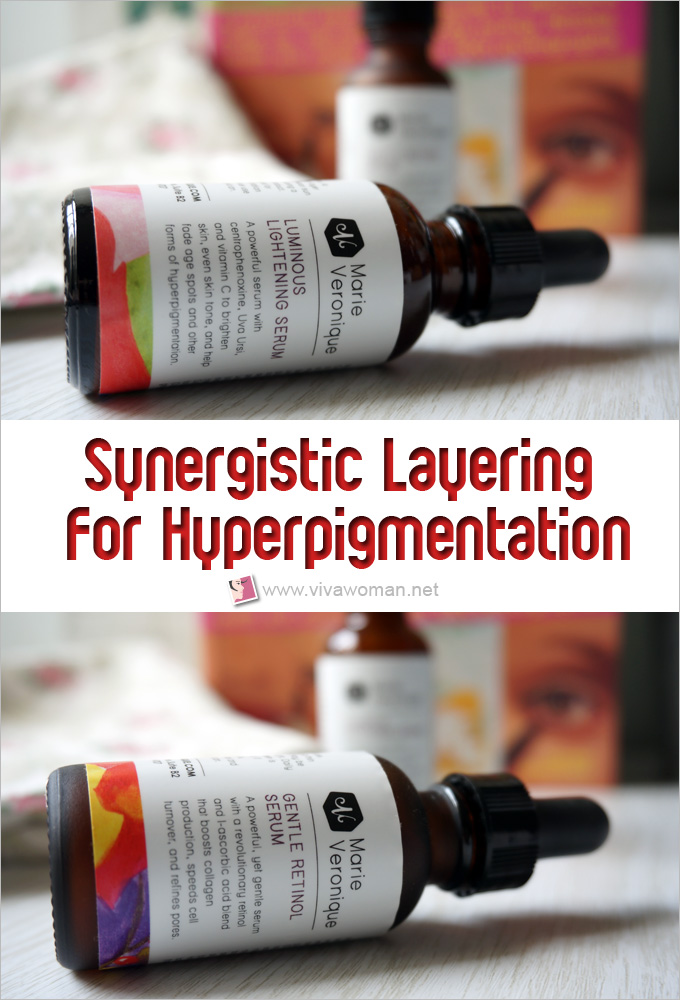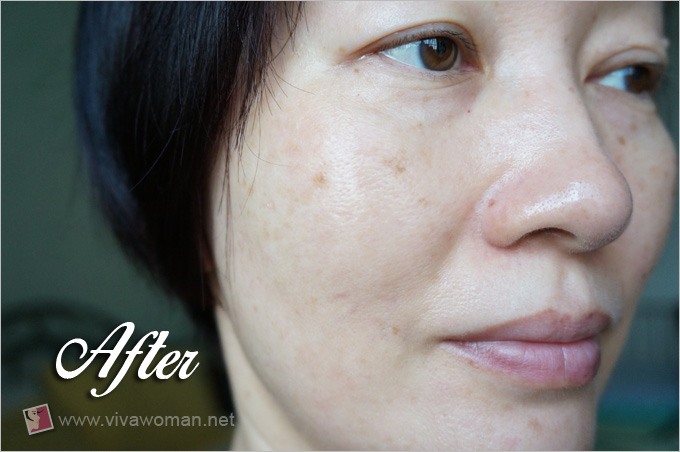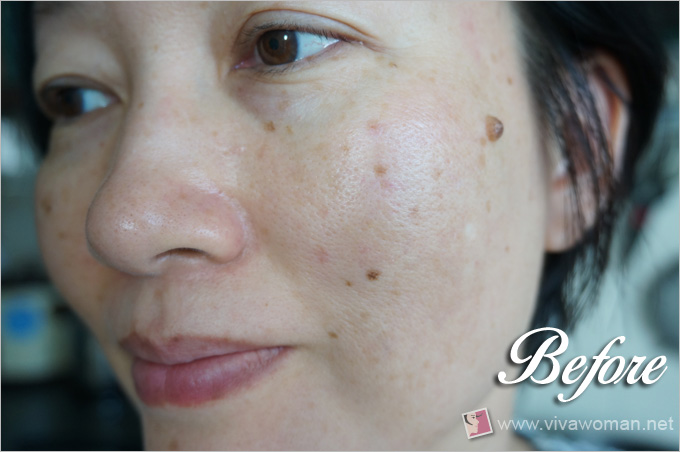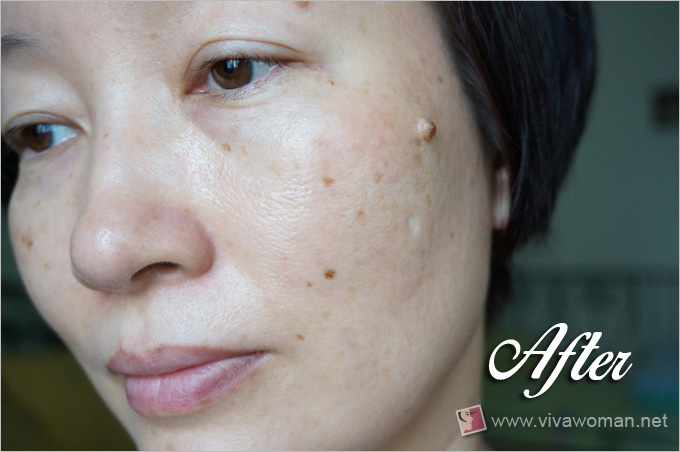 Did the products work for me?
Now the million dollar question is, how did the synergistic layering using the two products work for me? I think it did well, judging from the before and after pictures. Although the pictures were taken in different rooms, the light source was the same. Timing differed slightly but both pictures were taken in the morning.
As you can see, my pigmented spots didn't disappear altogether. But there is a marked improvement in terms of overall skin tone and texture. In fact, I just noticed that the mole on the side of my face has even lightened partially. Some of my fine lines around my mouth are no longer visible too. But more obviously, my pores looked a lot smaller so the MVA Gentle Retinol Serum indeed unclogged pores. I had to do a double take to ensure I didn't wear any sunscreen or makeup in the after pictures.
Would I recommend the products? I think my answer is obvious. But do consider your own skin type before purchasing as these products contain potent active ingredients. Prices are steep for both products add together but the bottom line is they deliver results. Anyway, the good news is the good folks at MVA has provided a special code for my readers as follows:
15% off your entire Marie Veronique Advanced order!
Use discount code: VIVAWOMAN
Expires 7/16/15
Limit one per customer

Depending on your skin condition, you should see results in six to eight weeks' time. The good thing is you don't need to use a lot of the serum each time so each bottle should be able to last about three months (based on my usage and the size of my face). I should also let you know that I used both serums without anything else most of the time. But if your skin is drier, using an oil along with these serums would work well.
To check out the Marie Veronique Advanced Luminous Lightening Serum and Gentle Retinol Serum, go to their website here (affiliate link).
Oh, since the last time I reviewed their MVA PRO Collection where I'd prayed they wouldn't change their branding too much, they'd changed their name to Marie Veronique Advanced or MVA for short recently. Well, at least the new name remains recognizable.
If you have used any of these two serums, do let us know your thoughts in the comments section.
Products highlighted are media samples and this review is in line with my disclosure policy.
Marie Veronique Luminous Lightening And Gentle Retinol Serum
Comments