Suntegrity holistic sun care from inside out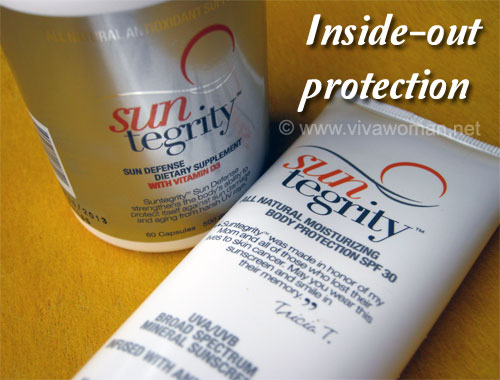 This is the latest natural sun protection products I've been testing, and they were sent to me complimentary from Suntegrity, a company based in US focus on delivering a holistic sun care system from inside out. Altogether, the company has introduced three products; two that you see here plus one for the face. All their sunscreens are chemical-free and have also been rated to be of very low healthy hazard on the EWG Skin Deep Cosmetic Safety Database.
Non-toxic formulation
Going by the label and ingredient list, the sunscreens are free of parabens, petrochemicals, phthalates, propylene glycol, mineral oils, synthetic dyes, sulfates, paba, titanium dioxide, nano-particles and chemical UV absorbers. In addition, they are also vegan and cruelty free. I was also very pleased to learn that their sunscreens are formulated with 20% non-nano size Zinc Oxide as that is the main ingredient I usually look out for in a mineral sunscreen. However, because both the sunscreens all contain dimethicone, I was only willing to use the one formulated for the body.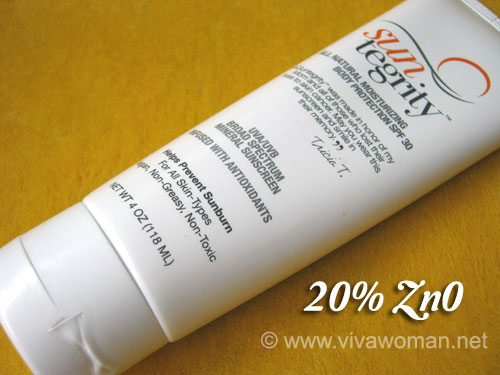 Suntegrity All Natural Moisturizing Body Protection SPF30 – 118 ml US$29
Active ingredient: Zinc oxide 20%
Other ingredients: Water (Purified), Aloe Barbadensis Leaf Juice, Capric Caprylic Triglycerides, Sorbitan Stearate, Glyceryl Stearate, Polyglyceryl-4 Isostearate, Hexyl Laurate, Jojoba Oil, Cetyl Dimethicone, Dimethicone, Magnesium Sulfate (Epsom Salt), Sunflower Oil, Cucumber Extract, Hyaluronic Acid, Tea-Oil Camellia, Pomegranate Oil, Citrus Paradisi (Grapefruit) Essential Oil , Citrus Sinensis (Sweet Orange) Essential Oil,Citrus Reticulata Blanco (Tangerine) Essential Oil, Polyaminopropyl Biguanide*, Ethylhexylglycerin* *Paraben-free anti-microbial.
Non greasy formulation with broad spectrum protection
With 20% non-nano Zinc Oxide content, this mineral sunscreen offers broad spectrum sun protection against UVA and UVB rays. I really like how this sunscreen applies and feel on my skin. I apply this on my arms on a daily basis and found that it blends easily and does not leave a visible whitecast on my arms except for the nooks so I just need to ensure I blend the cream properly on those areas. It does look a bit reflective and even feels slightly greasy upon first application, but the greasiness disappears very quickly and I don't feel any stickiness or oiliness afterwards. The shine also subsides and the skin feels more matte some time after application. And if you're lover of orange, then you'll love this mineral sunscreen because it smells exactly like an orange.
Re-apply generously when using it for a swim
Our weather here has been a little unpredictable these days with oppressive heat in the early parts of the days followed by rain. So far, this sunscreen seems to be doing well for me. I haven't taken it for a swim but if I do, I'll definitely be applying very generously and also re-applying often. I did note that this one contains some essential oils that are often said to be photosensitive but since they're all listed at the end of the ingredient list, I'm not so concerned. In addition, I boost my external protection with the Suntegrity Sun Defense Dietary Supplement that you see below and both products work to give me sun protection from inside out.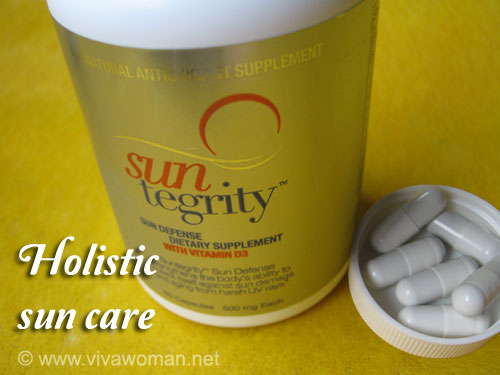 Suntegrity Sun Defense Dietary Supplement with Vit D3 – 60 cap US$35
Ingredients: Vitamin D3, Vitamin E, Proprietary Blend (Polypodium Extract, Astaxanthin, Reishi, Hu Zhang, Blueberry, Cranberry, Grape Seed, Grape Skin, Beta-carotene, Lutein)
Suntegrity Sun Defense is said to be an all natural, vegan supplement that contains some of the most powerful anti-oxidants in supporting the body's healthy defense against UV damage and various other health conditions. It contains no starch, sugar, corn, soy, wheat, dairy or excipients/fillers so most people without medical problems should find it safe to consume.
Sun protection boost from within
Some of you may remember that I was taking Heliocare for awhile before I stop because I'm now taking an all-in-one supplement. When it comes to sun defense supplements, the truth is, the results are not evident immediately unless you use it before heading out to be scorched under the sun. Because I always avoid the sun, so I made my husband take this before his swim and noticed that he did not emerge darker aftewards. He was using his usual sunscreen (not from Suntegrity) and that offered him his usual external protection. I think this product is particular good for those living under western climate because it incorporates vitamin D and will help negate the issue of a deficiency due to over protection from using a sunscreen.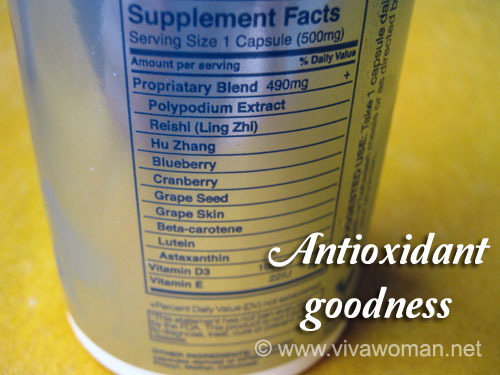 Overall summary
The Suntegrity sun protection products are great for those looking for a mineral sunscreen without the chemical UV absorbers. The sunscreen is not heavy and doesn't feel greasy and yet, is able to provide broad spectrum protection because of the 20% Zinc Oxide content. This, plus the Suntegrity Sun Defense Dietary Supplement would offer a holistic sun care protection from inside out. And I'll add that cost is very reasonable. I would have tried the face protection mineral sunscreen if not for the fact that it contains dimethicone as that is an ingredient I try to avoid on my face. Actually, I suspect the texture is close to the body protection sunscreen as the ingredients appear rather close. Perhaps someone has already tried it and is willing to share their testimony with us here?
More information about Suntegrity are available on their website.
Comments