Ah Yuan…Ah Yuan, can you wash my hair?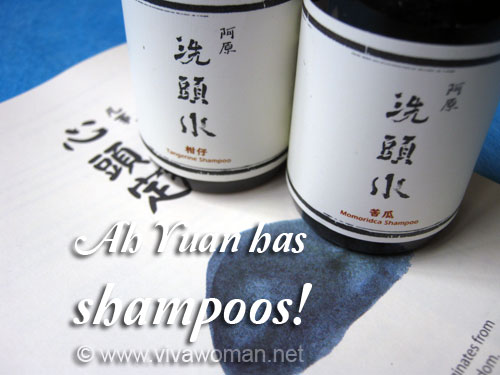 I know a number of you use Yuan Soaps from Taiwan, which are available at Unity Pharmacy and a number of organic stores in Singapore. However, are any of you using Yuan Shampoos too? I know the product exists but I've never seen it around. I only received these two samples recently through Reese, who distributes the Yuan range of products in Malaysia.
Yuan has introduced five types of shampoos for different hair types:
1. Lemon Shampoo(平衡净化)
2. Momoridca Shampoo(清凉疏风)
3. Mulberry&Chrysanthemum Shampoo(温和轻爽)
4. Swertia Shampoo(养润活化)
5. Tangerine Shampoo (洁净柔顺)
These shampoos are created to cleanse the scalp for the hair follicles to receive the nutrients from the plant extracts and Chinese herbs extracts. You won't see silicones or the usual list of harsh sulfates. Plus, I learnt that the shampoos are 98% biodegradeable, and I suppose it means they're non-polluting when they're flushed down those water pipes right? So those benefits aside, how did they perform for my hair, which I always describe as – limp, fine with an oily scalp?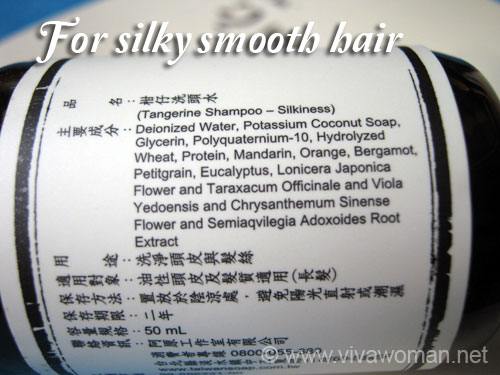 Yuan Tangerine Shampoo (洁净柔顺)
Main Ingredients: Mandarin,Orange, Bergamot,Petitgrain, Eucalyptus, Japanese Honeysuckle, Dandelion, Violet Herb, Chrysanthemum Sinense Flower, Semiagvilegia Adoxoides Root Extract
The Yuan Tangerine Shampoo has a nice citrus scent with a hint of herbal goodness. It doesn't lather up a lot of foam so I had to wash my hair twice using this. Surprisingly, the second lather wasn't so great either but my hair was quite clean after using it. Since there was no Yuan conditioner, I used my own. Okay, this one is really great for improving the silkiness of my hair. They truly looked and felt silky soft. However, I can't say too much about deep cleansing. I have really oily scalp that needs cleansing daily and this one didn't help much. My hair oiled quite quickly to my dismay. So I suppose this might work better for those with not so oily scalp but needs to improve the smooth factor for their hair.
Rating: 2.5 out of 5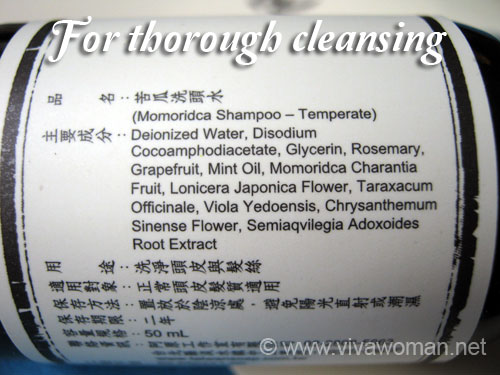 Yuan Momoridca Shampoo(清凉疏风)
Main Ingredients: Deionized Water, Disoudium Cocoamphodiadetate, Glycerin, Rosemary, Grapefruit, Mint Oil, Momoridca Charantia Fruit, Lonicera Japonica Flower, Taraxacum Officinale, Viola Yedoenesis, Chrysanthemum Sinense Flower, Semiagvilegia Adoxoides Root Extract
Yuan Momoridca Shampoo did a better job for me. In fact, I probably would purchase this if I can get my hands on them in Singapore. I am not so keen on the strong minty smell in this one but my hair felt truly fresh and cool upon using this. It lathers better than the tangerine one but not exceptionally foamy either. I also shampooed my hair twice with this. And same thing, I used my own conditioner afterwards. As a whole, my hair looked fairly soft and manageable, not too flat either but the good thing was this one has good oil control. By the next morning, my hair still looked pretty acceptable.
Rating: 4 out of 5
Availability within and outside Malaysia
You can find out more information about Yuan Shampoos on Reese's website. The shampoos are priced from RM75.50 to RM88.50 for each 250ml bottle, and available online or at a few retail spots within Malaysia. Like I mentioned, I've seen Yuan soaps around but not their range of shampoos yet. So if any of you have seen them being retailed in Singapore, do tell us where in the comments section.
Comments