Refillable skin-activating Infotone Face Mist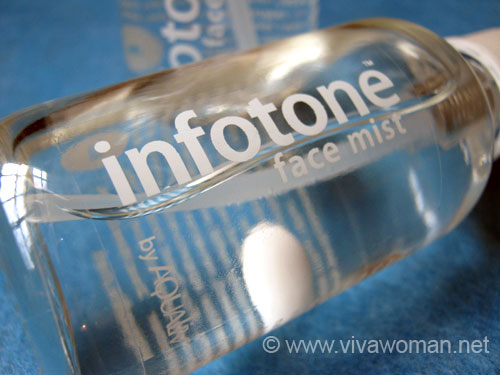 I know a number of you use face mist frequently and it probably counts as an essential beauty item for you. This means that it's a repeat purchase and if we go by the usual brands around, it's quite easy to chalk up anything from $70 to S$150 per year, depending on how much you use this item on a daily basis. I use my face mist on a daily basis, often doubling them up as face toner and to mix products, and this means my usage is high and it would be definitely be lovely if I can reduce this expense. Well, I recently received a face mist that allows me to do just that because I can refill using simple spring water such as those from Evian, Volvic, Fiji, Ice Mountain or even purified tap water and yet enjoy several skin-activating benefits because of a special technology within the bottle.
Utilizes a natural skin healing activating mechanism
Called Infotone Face Mist, this unique product is said to utilize an advanced water technology as each bottle contains a non-toxic and 100% natural mineral clay ceramic ball that features AquaLiv's BioTâ"¢ Bioinformation Technology – this ceramic ball in the glass bottle is able to turn regular water into a powerful tonic that when misted over the face, encouraging optimal hydration and clear, youthful, glowing skin. No chemical ingredients are added and according to the company, researchers also observed improved suppleness, firmness, reduced dryness, oxidation, wrinkles, skin pigmentation, and blemishes. It works by first eliminating factors that obstruct the soundness of skin and second, by activating skin's natural healing mechanisms. While the exact bioinformation program is confidential, I found out that this product include Squalene, Phytoncide, and Vitamin C, all of which have skin benefiting properties. And interestingly, I found out that Infotone was also designed to eliminate a common parasite that is often responsible for blemishes and irritated skin.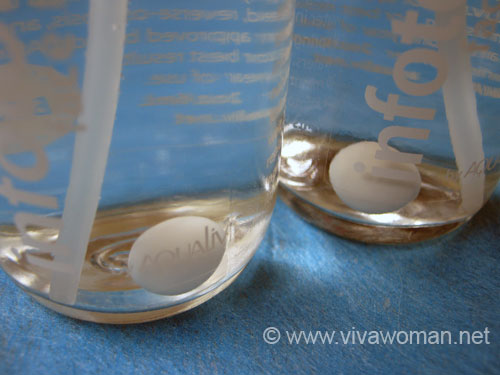 Provide skin hydration
This product was sent to me complimentary from Aqualiv. Although I was intrigued by the product, I wasn't really expecting too much in terms of its skin healing properties. I mean, it just sounds too good to be true isn't it? But I've been using it to replace my skin toner in the evening and I always remember to let it sit on my skin for a good one minute before patting it into my skin. I would say the hydration is good but not astounding for me. Just that I noticed that when I was testing a hydrating serum after using this face mist, my skin couldn't absorb the serum too well so I guess my skin is already well hydrated using this Infotone Face Mist?
Heals my skin blemishes well
I don't really mist it too much in the day though but what I found is that my skin does look a tad more dewy than usual after using this for awhile now. But what impressed me most is that my blemishes healed a lot faster using this! Very interesting because I didn't make the immediate connection that it was because of this product since I was also using other gels on those blemishes. I only realized it because of a blemish that I applied nothing else to has healed up very nicely this morning.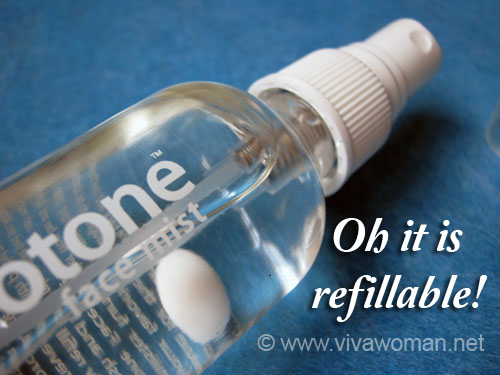 Cost and availability
Aside from those two benefits, I can't say that this product has even out my skin tone nor reduce wrinkles but I guess that might happen if I use this product for a longer period. (I definitely would welcome those benefits!) But I really like the idea of saving more using a product like that because it is refillable. A bottle is now on sale for US$34.97 and considering this product can last a full year because it is refillable, I would agree that is is both green and inexpensive. Plus I always like to use natural spring water in my DIY recipes so this will enhance my recipe, given its skin-activating properties! The only drawback is that the product is only shipped in US and Canada at the moment so those in Singapore may have to make alternative arrangements to get the product in. But I have put aside one bottle for my monthly VivaBella giveaway. So one of you maybe able to lay your hands on it. *wink wink*
For more information on the product, check out their website.
UPDATE: AquaLiv has just confirmed that they take all international orders. Just email support@incleanhealth.com to place your order.
Comments