Review: Vive Sana Solar to Polar Ultra Sun Care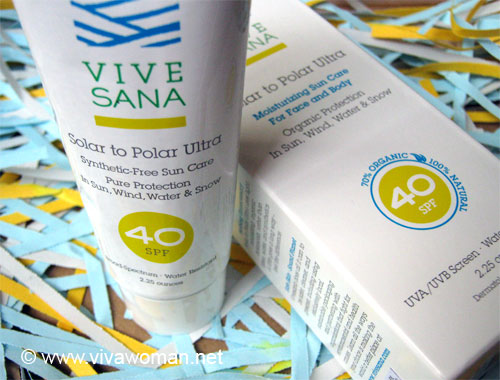 Although I have my own favorite mineral-based sunscreen, I'm still very keen to test new ones especially if they're readily available in Singapore. So when I spotted this Vive Sana Solar to Polar Ultra Synthetic-Free Sun Care with SPF40 at Pure Tincture, and the ingredients looked fairly agreeable to me, I wrote to Helen requesting for a sample to try. I've been alternating this with my usual sunscreen for a few weeks now and am ready to share my thoughts on it.
Ingredients
This mineral sunscreen is described as 100% natural with 70%+ certified organic ingredients and is free of phthalate, parabens, PABA and petroleum. It has an SPF of 40, and the combination of 8.5% Titanium Dioxide and 3.5% Zinc Oxide means it is able to provide broad spectrum protection against both UVA and UVB rays. Generally, I avoid using face care products with beewax but because this is a mineral-based sunscreen, which means the ingredients are to protect the skin by forming a barrier externally, I rationalized that it is okay to use as long as I cleanse well afterwards.
Active Ingredients: Titanium Dioxide 8.5%, Zinc Oxide 3.5%. Everything else: Organic Soybean Oil, Organic Safflower Oil, Beeswax, Organic Olive Oil, Organic Avocado Oil, Organic Jojoba Seed Oil, Alumina (natural mineral), Stearic Acid (natural fatty acid), Organic Apricot Kernel Oil, Organic Glycerin, Tocopheryl Acetate (Vitamin E), Sunflower Seed Oil, Ginkgo Biloba Leaf Extract, Oat Kernel Extract, Green Tea Leaf Extract, Chamomile Extract, Raspberry Seed Oil, Natural Green Tea Fragrance.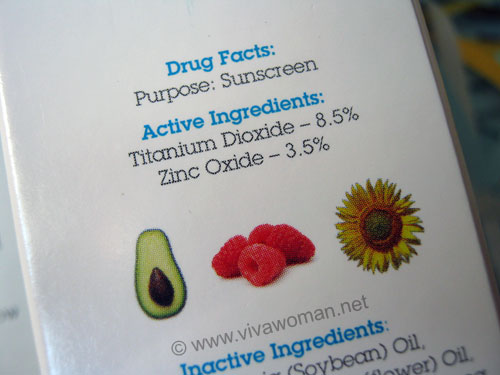 Texture, application and smell
Texture wise, this is creamy and because it contains a number of nourishing and moisturizing oils plus beewax, so it does feel kind of rich on application on my combination skin. Not terribly greasy compared to some of the others I've tried and the greasiness does disappear a little after awhile but I definitely need to apply some powder over to give my face a more mattifying feel. The product has a very mild scent with the combination of oils but it's not unpleasant. The good thing I like about Vive Sana Solar to Polar Ultra Sun Care is that it does not leave a whitecast on application. I tried the product on my hands, which are darker in skin tone than my face and I couldn't see any whitecast.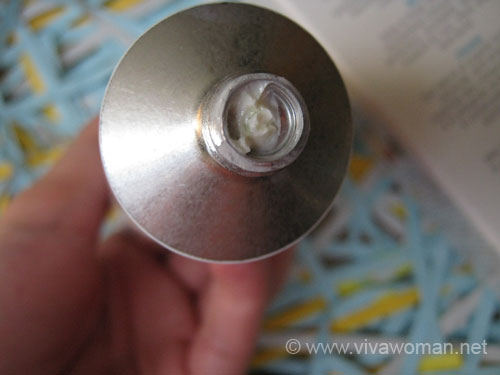 Product packaging and price
Said to be environmentally friendly as it is coral reef & ocean safe, plus it uses sustainable US packaging, this product comes in a 2.25oz tin tube. Personally I don't fancy tin tubes too much because they look a sight after all the squeezing. The tube actually looks kind of small for the price of S$50 but if you're just using this for the face, it should last you quite awhile.
Overall summary
This product can double up as a face moisturizer as it does not leave a whitecast. I initially used it on top of a moisturizer and it proved too rich as I broke out with a pimple on my forehead. My skin was okay when I used this alone. My skin is combination and so I can only use a thin layer and hence, I don't think I'm getting all the SPF40 protection. Those with oily skin type are likely to find this too rich for their skin type too. Hence, I think this product is more suitable for those with normal or dry skin as the ingredients are not only moisturizing but full of antioxidant goodness. Or if you're currently using a physical sunblock that is kind of too rich but you're using it because you can't find something naturally formulated and better in texture, then this might work for you. For more details, check out the product here.
Comments