Share: do you love for lather & foam in shower?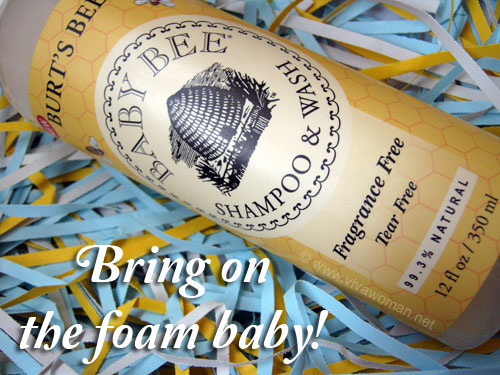 I am not liking this Burt's Bees Baby Bee Shampoo & Wash at all. It doesn't smell good and doesn't foam at all. And what really got on my nerve is that I've been buying this product for over a year and it didn't used to be like that. The older formulation had a delicious scent and foamed very well. Even when the scent changed a little to smell more like a dog shampoo, it still foamed well. I wasn't even aware that this is a different formulation till I started using it because saved for that little word "new", I thought this is the same product I used to buy and so I just grabbed and paid without examining it. Okay, okay, I missed the big words "Fragrance Free" too! (-_-)
Yesh, I know the product is for babies – I was using it on my son.  Even babies can do with a little foam and smell can't they? So I can't find a reason why the older formulation needs to be replaced because it was already very gentle.  If this is a totally different formulation, then for goodness sake, give it a brand new packaging! And as a matter of fact, I can't even find this so-called new formulation made with aloe and oat flour mentioned on their website. It's a total waste of money because my son doesn't want to be bathed in this and so no guesses for who has ended up using it.  It comes with a mild scent that I don't fancy and it really doesn't foam at all.
Foaming equals cleansing
I don't think I'm very far off by saying most people equate non-foaming with non-cleansing. Due to how we've all been conditioned to feel, products that lather and foam somehow come across as being able to cleanse our skin and hair better because they tend to leave behind a clean, squeaky and refreshing sensation after they've been rinsed off. But we've also learnt that products that foam too much may contain harsh chemicals like SLS or SLES, which will strip off our natural lipids. So thank goodness these days, we have more cleansers made that are free from such harsh chemicals and yet are able to foam pretty well.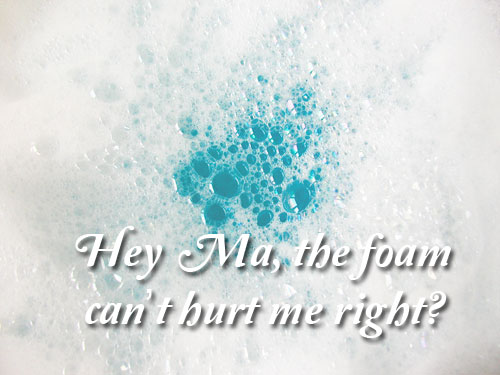 Non-foaming facial cleansers and shampoos
With facial cleansers, I think I can still tolerate the idea of a non-foaming formulation but it's really not my preference to use them. They're always said to be very mild and in my experience, okay to be used during the mornings but I don't really find they cleanse off grime and dirt that well for me and I need at least two or sometimes three washes. As for shampoos, I've already made my stand in my entry "Do foam free shampoos work at all?" that I do not like those that do not foam as I don't find that they cleanse my oily scalp very well, even after a second wash.  So what about shower gels?
Non-foaming and non-smelling shower gels
Hey, showering to me is both an unwinding and refreshing process.  Unless you're sensitive to smell, I believe most people prefer to soak themselves in some soothing or sweet scent so what's with fragrance free?  A little bit of smell from pure essential oils or botanical extract is not going to hurt is it? (Okay, fragrance free probably refer to those artificial fragrance.) And really, the more copious, lubricious and dense the foam, the cleaner I feel.  I like the idea of feeling clean and fresh after a bath and not wondering if I'm smelling musty or something!  Okay, I'm exaggerating a little here but you get the idea. Truly, sud free is okay in the mornings because I'm not dirty at all but after an entire day out under the hot weather, it's another story altogether.  Plus, such non-foaming cleansers do nothing to get rid of the sunscreen I slather on my arms. Actually I was using the Natralia Nourish Naturals Dry Skin Wash prior to this and I was not griping so much. I guess I am just frustrated with the constant change in Burt's Bees packaging that is thoroughly confusing IMO.
Anyway, I'm really curious.  How many of you don't like your shower gels to lather or smell at all? If so, is there a particular reason?
Comments