Have a refreshing shower with Essentiq shower gel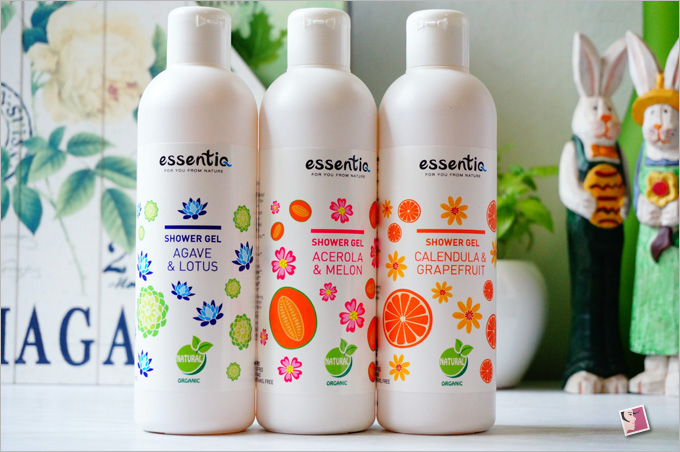 Wanna make your shower time more relaxing after a long day? How about lathering up with a shower gel that'll soothe frazzled nerves, scrub you real clean yet not dry out your skin?
I know many shower gels that'll do all that for you but today, I want to introduce you to one more that's guaranteed to lift your mood upon first sight.
When I first received the shower gels from Essentiq, I was totally sold by the colorful design on the bottle and couldn't wait to use them. You see, I'm a visual person so whatever looks appealing to my eyes get my buy-in.
But what qualifies as a good shower gel for me obviously needs more than just looks. It has to smell good and wash me well.
Gentle and non-drying
I think the Essentiq shower gels has served me well in terms of its washing prowess. Although the shower gels don't foam much, they do cleanse my skin quite well. Best part is that my skin don't feel dry after every shower.
As to the smell, my conclusion is that the Essentiq shower gels don't have strong scent. Depending on which flavor you pick, you could be smelling bits of melon or bits of grapefruit. But the smell isn't overpowering.
Of the three I used, I can only pick out the melon scent in Acerola & Melon Shower Gel most distinctively. For the other two, I had to sniff a bit harder to determine the scent.
So these shower gel would please those who dislike strong scented products. I don't mind the mild scent but personally, I definitely prefer my shower gels to smell stronger and uplifting.
Contains milder surfactants
Essentiq shower gels contain no sulfates. They are being replaced with three surfactants namely lauryl glucoside, coco-glucoside and cocamidopropyl betaine.
I do find the shower gel to be gentler but I also know that people with very sensitive skin have issues with cocamidopropyl betaine as it is widely known to be a potential irritant.
Here's the ingredient list of the Essentiq Shower Gel Agave & Lotus:
Aqua, Lauryl Glucoside**, Coco-glucoside**, Cocamidopropyl Betaine**, Glyceryl Oleate**, Aloe Barbadensis Leaf Juice*/**, Polyglyceryl-10 Oleate**, Sodium Cocoyl Hydrolyzed Amaranth Protein**, Agave Tequilana Nectar*/**, Glycerin**, Cyamopsis Tetragonoloba (Guar) Gum**, Sodium Chloride, Xanthan Gum**, Citric Acid, Benzyl Alcohol, Fragrance, Dehydroacetic Acid, Limonene***, Butylphenil Methylpropional***, Hexyl Cinnamal***, Linalool***, Benzil Benzoate***, Citral***
* Ingredients from organic farming
** Ingredients from natural origin
*** Components of the fragrance
Besides the three flavors you see here, you can also find lemongrass, honey, and fruity melissa.
About Essentiq
Essentiq is a Slovenia natural brand whose name is a combination of the English word 'essence' and the French word 'authentique'. They carry a full range of cosmetics for the entire family–hair, face and body. They even have products just for kids. And I just featured their Essentiq home fragrances not too long ago.
None of their cosmetic products or home fragrances includes synthetic substances that are toxic. Their formulations do not contain many common ingredients such as synthetic colorants, formaldehydes, propylene glycol, silicones, parabens, SLS, GMO or ingredients originating from the petrochemical industry (e.g. paraffin).
Additionally, products from Essentiq do not contain ingredients obtained from animals, unless naturally produced by them, such as milk or honey.
Availability & 15% off
I'm not crazy about these Essentiq shower gels but at $18, I find them reasonably priced. Better still, they are available at a 15% discount from now till 31 Jan 2017. Just use coupon code "SE15" for all Essentiq products when you shop at natureLova.
You can also check and test out Essentiq full range including their Home Fragrance series at the following location:
Eat Organic
619H Bukit Timah Road
Singapore 269728
Products featured were given complimentary; this review is in line with my disclosure policy.
Comments