Share: how long is your daily skin care routine?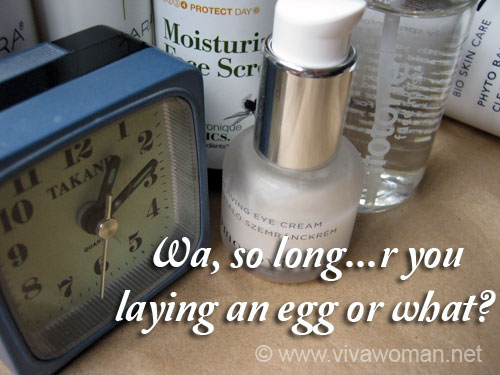 I don't know if you've heard this expression but it's quite a common one here in Singapore meant for people who spend a long time in the toilet, whatever it is they maybe doing. Another laughable one I came across from my mom is "oh, she's pulling out all her intestines to wash and then stuffing them back". And I was like (o_o). I don't stay with my mom now so I don't know what she'll say if she finds out that I spend like 30 minutes each morning to prep my skin and hair. That's probably well too long by her standard.
So what is my 30 minutes spent on? Well, I wake up around 6am daily and as most of you know, that time of the morning is cold!
First 20 minutes
– soak under warm running water to get my system ready
– shampoo my hair, sometimes twice
– condition my hair, leaving the conditioner on for a minute
– bathe, bathe, bathe
– wash my face once
– massage my face for 1 to 2 minutes
Next 5 minutes
– towel my face dry
– towel my body dry
– spritz my face with toner, leaving it dripping for a minute
– brush my hair, prepping it for blow drying
– pat the toner dry
– tap eye cream around eye area
– apply face oil or moisturizer on face & neck
– apply sunscreen on face
Last 5 minutes
– blow and style my hair
– apply deodorant
– apply body moisturizer, mainly on arms and legs
– put on clothes
In the evening, I don't wash my hair again and so the routine is really much shorter and that includes taking a shower; probably takes me around 15 minutes because I have additional skin care needs for the night.
So how long is your daily skin care routine? Care to share?
Comments