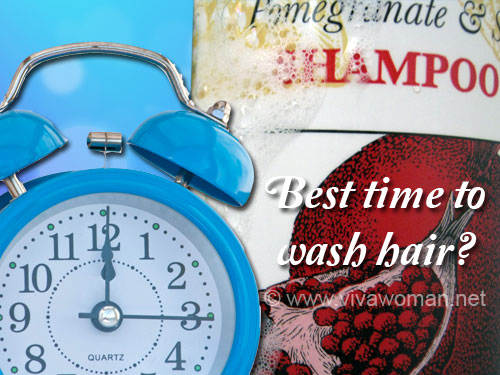 Earlier this week, I picked up a Chinese book in the local bookstore about beauty and came across some interesting information regarding the best time to wash our hair. It stated specifically that we shouldn't be washing our hair early in the morning and late in the night. Oh geez…I wash my hair first thing in the morning when I jump out of bed every day for almost my entire life now! In fact, some days as early as 4am! So what gives?
Cold temperature not good for our head
According to the book, the temperature is a lot colder in the early morning and late in the night so it isn't really good for our health if we wash our hair then. It doesn't say what problems it'll create but I imagine it may be something connected to PHD – Permanent Head Damage! Okay, okay, just kidding…the fact that I'm still able to string coherent sentences here after so many years of washing my hair in the wee hours means I don't have PHD.
Not good to wash your hair just before you sleep
But the author of the book did state that if we do wash our hair during those ungodly time of the day, then it's best to blow dry our hair. This is particularly so for those who wash their hair late in the night as it is really not advisable to go to bed with wet hair. This one I believe, and based on some old wives' tale, I think sleeping with a head of wet hair might contribute to headaches and migraines. But truly, going to bed with wet hair might cause more problems such as hair getting into an odd shape, having bad smell and your pillows turning moldy!
One hour before or after meal
So what's the best time to wash our hair? Well, from what I read, it's one hour before or after dinner. Okay, don't ask me how this came about and there is definitely no research to back this one up. My guess is that it's got something to do with the body temperature and hence, I think it should be good to wash your hair one hour before or after lunch too. And if we go by the logic behind not washing our hair in the wee hours, then I suppose if you wash them in warm water and blow dry your hair with warm air immediately after, you'll be forever saved from PHD.
Never mind if this sounds like some bull to you, but can you share with us – what time do you wash your hair?