Memoirs of a Geisha and her 3-hour makeup routine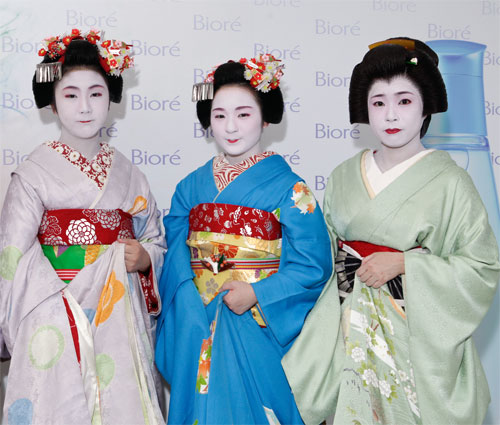 I don't know about you but I have a fascination with Geishas. For the longest time, I've been yearning to watch a Geisha performance and was glad to have that opportunity with Kaden from Miyagawa-chou in Kyoto, a renowned Geisha group who was invited by Biore to perform at the Luxe Art Museum and at the same time, show how the Biore range of makeup removers help keep their skin flawless and supple.
Makeup is elaborate and time consuming
The Geishas are really beautiful in person. And as you can see, their makeup is so elaborate and time consuming. I understand that it takes around three hours to be made up and most of the time is spent laying the foundation, so to speak. What caught my attention is that they leave a line of bare skin around their hairline and so this gives the illusion of wearing a mask, and on the nape of the neck they leave two "V" shape lines unpainted, apparently for sensuality. Have you also noticed that some of their lips look so small? Well, that's because a new Geisha only color her top lip.
Traditional Japanese dance and music
Although the main sponsor of the event really wanted us to check out their range of makeup removers, but we got to experience traditional dance and music performed by the three Geishas. Of course we couldn't understand what they were singing but we were all captivated by their exquisite poise, graceful movements and lavish kimonos. They're such a delight to watch in person!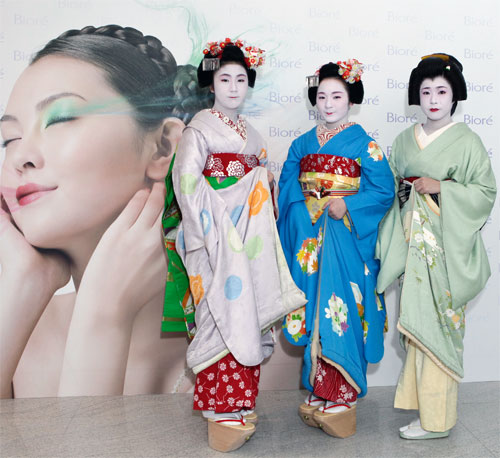 Porcelain clear complexion
The performance ended with a demonstration on how Biore's makeup remover helped removed their heavy makeup. And despite the heavy coat of foundation, they still maintain porcelain clear complexions! I can give the Biore makeup removers a go and I would have no doubt that the products can remove my normal makeup and keep my skin clean and pristine…but I know I can never enjoy the same flawless complexions as the Geishas no matter what they say.
Comments