Bangkok: Greyhound is not just another hound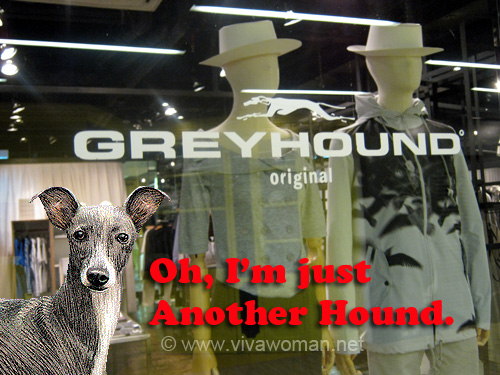 The fashion scene in Bangkok has really picked up over these four to five years and the offerings are a lot more interesting now. On the first day, we already scored some interesting buys and I think most of my shopping funds are going to fashion items and accessories rather than skin care products.
Anyway, when it comes to the fashion scene in Bangkok, my bestie is more savvy and she highlighted a few local brands to me. Amongst them was Greyhound, which is apparently also available in Singapore at CK Tang. But what was more interesting to her was not the clothes, but the cafe for Greyhound is not only a chain of boutique stores but also it also has 5 cafes and a restaurant. According to her, Greyhound cafe serves great pasta and we must try it no matter!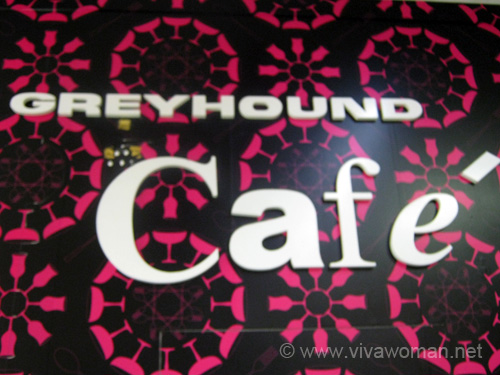 We hit the branch over at Siam Center and it's pretty much a cool and fashionable place to hang out and more important, to fill our tummies and satisfy our tastebuds! The food was great. We had spaghetti with Thai anchovy, Greyhound famous fried chicken wings, fried rice with dried salty fish, and coconut sherbert. *slurps*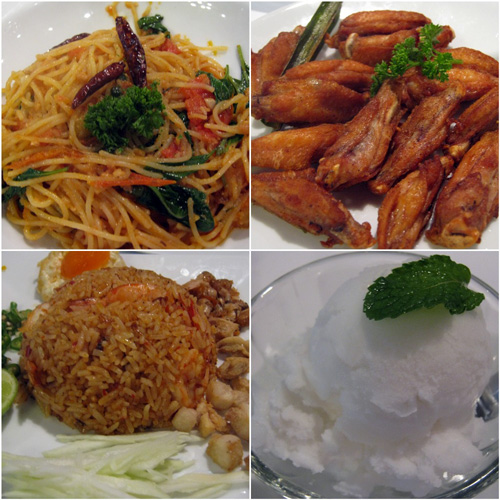 Actually, something hilarious happened while we were hunting for the Greyhound Cafe. My bestie remembered eating at the cafe at Siam Paragon and so we were there first. When she was unable to locate the cafe, she went to the information counter to ask for directions and was told that Greyhound Cafe has changed their name to another hound. And we initially thought it was ridiculous that the information counter couldn't tell us the exact name and just haphazardly told us that the name has changed to another hound. It was later that we realized that Greyhound has a new restaurant and the name is indeed "Another Hound Cafe" and we both burst out laughing at the ingenious branding of the Thai! We all know what's a Greyhound but Another Hound? Hello? *LOL*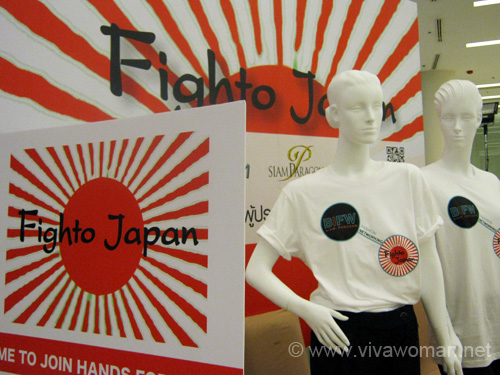 While we were shopping at Central World, Siam Paragon and Siam Square, I noticed that the Thais are far more proactive in terms of helping raise funds for the Japanese earthquake and tsunami relief. Many of the shops have donation boxes within their stores; I also see special t-shirts for sale as well as concerts and events to support the cause. It's impossible not to see the plea for donation and this is certainly far more than what we are doing back home.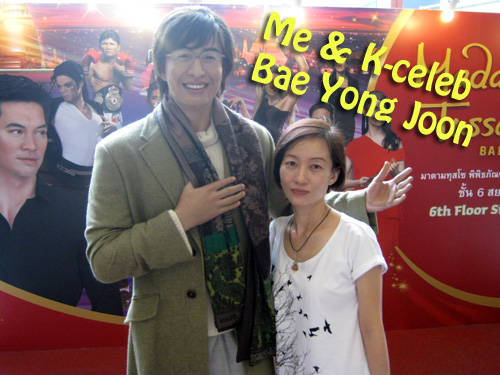 Oh and I scored a picture with Korean celeb Bae Yong Joon! I could have asked for his authograph except that his waxed hand aren't so flexible! Haha. I was totally surprised they carried him out of the Madame Tussauds Bangkok – aren't they worried he'll melt everyone around him? Okay, that's corny I know. I have to state on record though that I'm not his fan and hence you don't see me getting all excited. If that was Takuya Kimura, the story would have been different for I would have planted da man a wet kiss even if he was waxy! (^▽^)
Okay, I got to admit that blogging on a trip is tiring. I used to just prep some posts in advance and schedule it up on my blog when I went away during the weekends. So blogging live is a first for me. Good thing though that the Lenovo Ideapad Y460p packs enough computing power and I'm able to prepare my pictures and post up my updates speedily without a glitch. Do stay tune for more of my shopping fun in Bangkok! Check out the Viva Woman Facebook Page for more pictures too.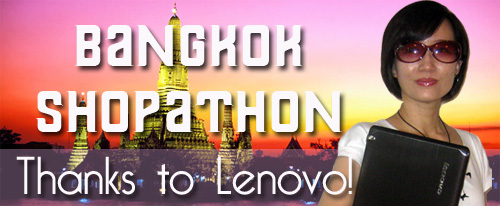 Comments