Korean beauty secrets unveiled in Singapore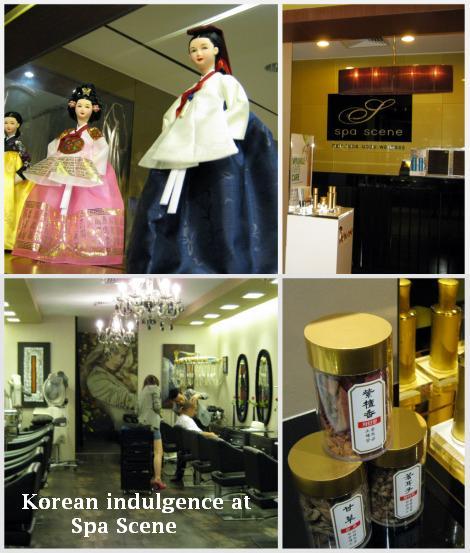 For ladies in Singapore who love all things Korean, in particular Korean cosmetics, you can now look beyond the range of BB creams and get real with Korean's best-kept beauty secrets right at your doorstep. Well, okay, not exactly at your doorstep but at least you don't have to fly all the way to Korea as all you need to do is to travel down to Spa Scene located in Raffles Shopping Centre and be indulged in a world of beauty and hair care services provided by award-winning and highly sought after therapists and stylists direct from Seoul. Yes, be pampered by real native Koreans!
One-stop hair, beauty & wellness centre
Spa Scene was recently revamped to become a one-stop hair, beauty and wellness centre based solely on Korean sensibilities; merging age-old beauty wisdoms with modern cosmetics technologies. Viva Woman was invited as part of the media to sample and review their unique arirang way of beauty and I have to say, I was completely awe-struck during my four hours session there!
Luxurious Korean traditional anti-aging facial
I started out with a Korean Traditional Anti-Aging facial – a luxurious and therapeutic session which involves the use of small hot stones to massage the face and stimulate cell metabolism. Although the hot stones were new to me, but what impressed me most throughout the 90 minutes session was the deft finger work of Han Myung Ok, who is Spa Scene's beauty director with a wealth of experience running a successful facial salon in Korea and was even engaged by Korea's parliamentary members for corporate functions.
Exceptional massage techniques
Her massage techniques were based on a traditional technique of massaging vital energy flow points to stimulate circulation and provide health and beauty benefits. She started the session by massaging my head, getting me to relax before she started working on my face. Her analysis of my skin was spot on and she even mentioned something that was new to me – that my cheek area is sensitive. I think she's probably right because I have noticed that area getting red easily these days.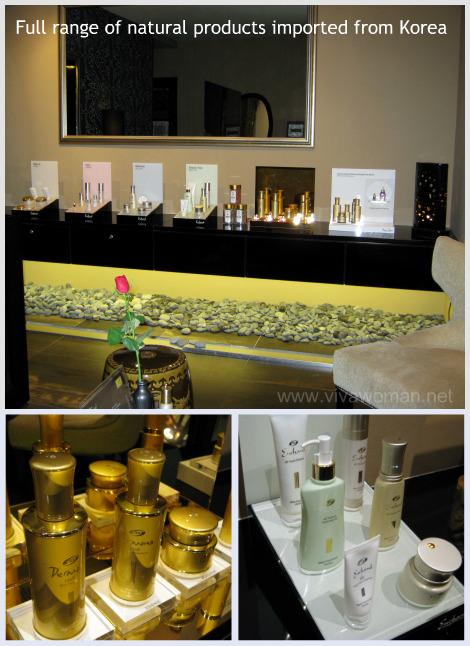 Use of premier products mostly using Korean herbal ingredients
Anyway, Han used a couple of products on my face, which I later understood to be a mix from Gatineau, Dermona and Enchant. Dermona and Enhant are both of premier quality natural formulations including only Korean herbal ingredients. The former, I was told, is especially top-rated although it is known under a different local name back in Korea. There was no steaming. Instead, the hot stones were used to flush out toxins from the skin and rebalance the oils. The stones were quite hot but the heat was comfortable on my skin. Han also asked me if I wanted extraction of my blackheads and I noticed she was very very gentle and quick in the process.
101% satisifed after the session
And by the end of the 90 minutes session, I felt wonderfully relaxed, refreshed and really wishing for the facial to be prolonged. The massage, which extended to my neck, shoulder, upper back and arms was the best I've ever experienced in a facial. My skin was also noticeably radiant and that radiance lasted me in the few days that followed. I would rate the entire experience as 101% satisifed! The only feedback I want to give them is – please add a mirror in the treatment room!
Full range of beauty services available from face to body
Besides the Korean Traditional Anti-Aging facial which is priced at S$188, customers who are not comfortable with the idea of having hot stones on their skin can try out Spa Scene's Signature Anti-Aging Treatment which is at S$158 and also last for 90 minutes. This facial, I understand, is where the therapist uses her hands instead to simulate circulation for increased radiance and skin elasticity. Besides these facials, you can also find other basic face care and waxing services. Spa Scene also offers ADIPO Body Slimming & Detox Program, which works to remove toxins and deep organ fats for a leaner body.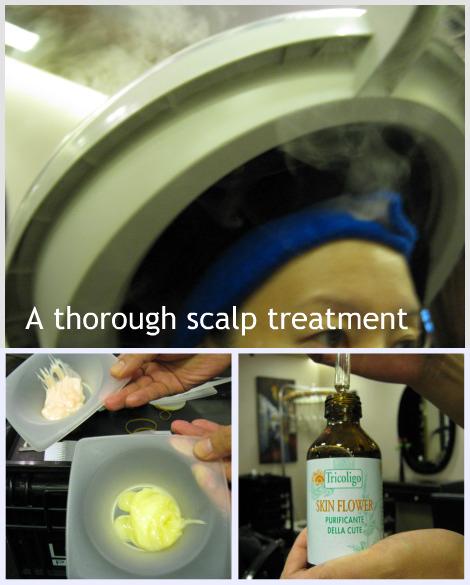 Extremely thorough scalp treatment
After the facial, I had my scalp treated by Nicky Shin, who is the hair team's chief director. Nicky is also from Korea and has helped to style many prestigious runway shows back home and even taught at a prestigious hair academy before coming to Singapore. Nicky was extremely thorough in the way he worked on my scalp and hair. In fact, I felt like a priceless piece of art because of the intense care and attention he put in the entire treatment process.
Professional hair products used for treatments
What was interesting apart from the products they used was the steaming during the shampooing. That was certainly new to me! I understand that Spa Scene treats stressed tresses with products from Wella Professionals SP (System Professional). Additionally, the salon exclusively carries Hinoki, an all-natural therapeutic hair care line which contains the Japanese Hinoki tree to target weakened scalp. And besides scalp treatments, the salon also offers hair cutting, perming and styling at quite an affordable rate beginning at S$55.
Highly recommended
If you're keen on some serious beauty pampering, I would highly recommend Spa Scene which is located at 252 North Bridge Road #03-27A, Raffles City Shopping Centre. Remember to call 6338 4424 or 6337 4424 for appointments though.
Able to communicate in English well enough
Apart from their immaculate services, they also share skin and hair caring tips freely with their customers according to the skin conditions. And even though their English is not as fluent, but we were able to communicate well enough. But actually, the lack of fluency is advantageous for local customers as it means they will not be pushy when it comes to their beauty packages too!
Comments