Gembeauty: cleanse your face with Amethyst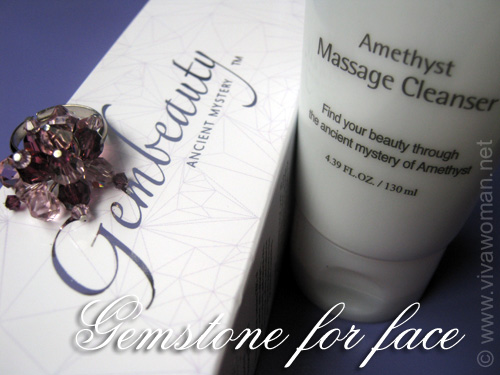 This is a pretty interesting product going by the key ingredient. It contains 25% Amethyst powder. Wait a minute. Did I just write Amethyst? Isn't that a semi-precious stone used for jewelry? Yeah it is and that's why it's called Gembeauty Amethyst Massage Cleanser. The product hails from Korea and is said to be preservative and chemical free.
I received this cleanser complimentary from Beauty Finest, an online store based in Singapore. I am not so keen to test too many Korean brands but this one piqued my interest enough to want to try. I had thought it's a foaming cleanser at first but later found out, it's not. But neither is it an oil cleanser or a cream cleanser. Let's just say, this is a cleanser of its own kind.
Purification properties of Amethyst
Apparently, minerals in Amethyst provides purification and detoxification, resulting in an excellent whitening effect on our skin. This is definitely news to me for I've never imagined we can use the powder of semi-precious stone on our skin!  And besides whitening, the Gembeauty Amethyst Massage Cleanser is said to contain many other benefits, including cleansing, nourishing, reinforcing (don't know what this means), vitalizing, moisturizing, and softening.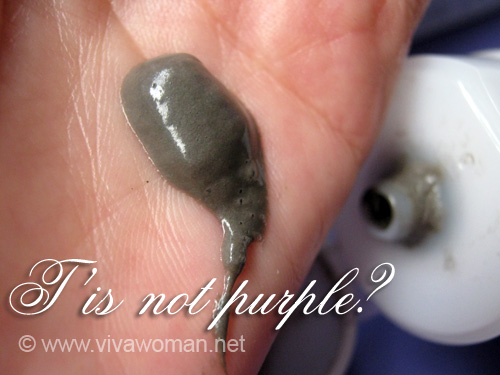 Texture, color and smell
As you can see from the picture, the cleanser is dark grey! I was a little surprised by that. I had thought it should be purple – which would be far more enticing…HA! The cleanser is not powdery and neither is it oily or creamy. I smell a faint Geranium aroma with this cleanser and so that's pretty pleasant and soothing for me.
Directions to use
You are supposed to use this like a normal cleanser to massage into your skin. The massage should not take longer than 3 minutes according to the instructions but I would say 1 minute is more than sufficient. I found this product to effectively cleanse away my makeup and I can actually do without double cleansing for my face felt squeaky clean after that.
Ingredients
I'm pretty agreeable with the ingredients list but one thing to highlight is that you'll notice that aside from the 25% Amethyst powder, this product contains various types of oils. Strange thing though is that I don't feel there is any oil while I'm using the product.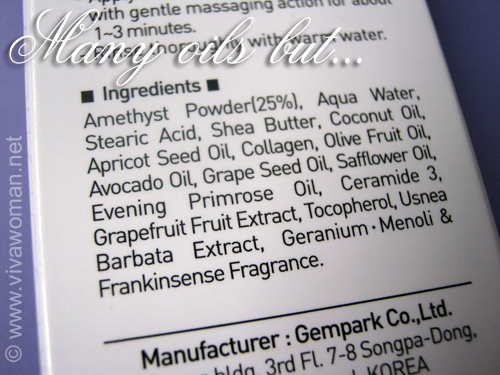 Performance
Gembeauty Amethyst Massage Cleanser does clean very well; actually too well in my opinion. Each time I use this, I feel that my skin is too squeaky clean afterwards. I don't find it moisturizing at all and I also feel that it has stripped away the natural oils on my skin. This is why I don't use this daily but around 2 times a week and I use it more like an exfoliator. However, my skin does not feel dry and is instead, pretty soft. Does it firm because it seems like it's one of the benefits? Well, I don't see a difference but it could be because I don't use it daily. But I do see some improvement in my skin tone although I need to qualify that the improvement in tone could also be due to the combination of skin care products I am using.
Price and availability
This product is available online on Beauty Finest. The price is S$68, a little pricey to me. International shipping is offered.
Overall summary
Gembeauty Amethyst Massage Cleanser does purify the skin but because I desire my daily cleansers to leave a moisturizing feel, so this one does not cut it for me. Hence, I find this product works better for me as an exfoliator and that's why I say the price is pricey for me. But the difference between this and my usual exfoliator is, I don't need to cleanse my face prior to using this for I can double this up as both a cleanser and an exfoliator. As a cleanser, it might work better for someone with oily skin. Or for those who like to use soap on their face, you might like this. In any case, I would only recommend you use it once a day. If you have sensitive skin, I definitely don't think this is suitable for daily usage too. As for me, while I find this an interesting product because of the ingredients, I will not consider purchasing this.
Comments