Copa Cabbana aromatic body & hair care range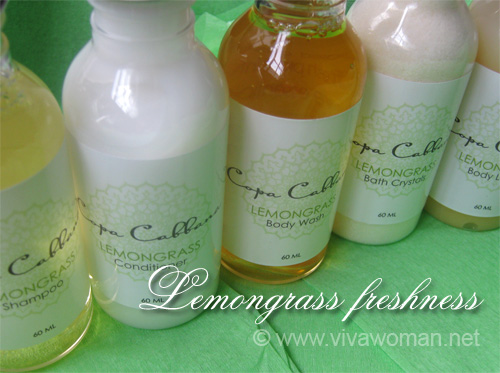 I brought a whole range of travel size hair and body products given complimentary by Copa Cabbana during my trip to Bangkok. I wasn't so keen to use the toiletries provided by the hotel since they're unlikely to be anything of natural formulation and I thought it would be a good time to test out some new products as well.
Free of parabens and sulfate
Those who are participating in the Viva Woman VivaBella Giveaway would have some ideas of their products if you've visited their website. Products from Copa Cabbana are handmade in small batches to retain the freshness and quality. They are also paraben and sulfate free plus they are also said not to be animal tested. The company sent me their Jet Set in lemongrass scent, which comprise a shampoo, a conditioner, a body lotion, a body wash and bath crystals in 60ml bottles.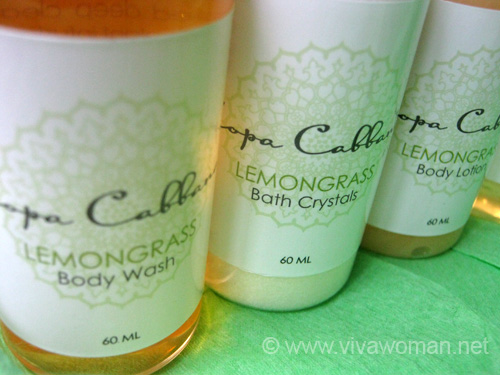 Body care
Because of the numerious products reviewed, I shall not be listing the full ingredients but you can find some of them on the website. What I love about this range is the scent, especially from the shampoo and the body lotion. Even my bestie loves it. However, not all the products are filled with the scent even though they are all made of lemongrass – the scent was barely noticeable in the body wash for example. In terms of performance, I think they are fine and I would rate them as above average as they did what they promise. I can't find a full size bottle for the body wash but the Lemongrass Body Lotion is available in a bigger size bottle of 120ml at HK$86 (~S$14) or 250ml at HK$120 (~S$19) and I think that's something I might want to get later because the scent is simply uplifting! The bath crystals were also pretty uplifting in terms of the scent but I only could use it once as a leg soak for the crystals were insufficient for the big tub in the hotel!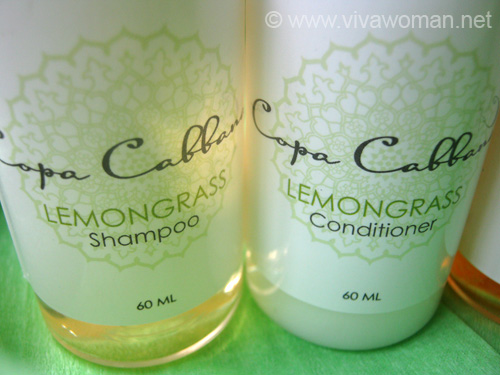 Hair care
The shampoo smells great but it didn't work well for my hair type as I don't know if it was the shampoo or the conditioner that made my hair flatter than usual. They might work better for those with normal hair and need more conditioning than volume, as in my case. Full size bottles at 250ml are available at HK$110 for the shampoo and HK$105 for the conditioner – around S$17 or S$18. Also available are two other choices – one in their Copa Cabbana signature scent and the other in tea tree oil.
Entire Jet Set Series: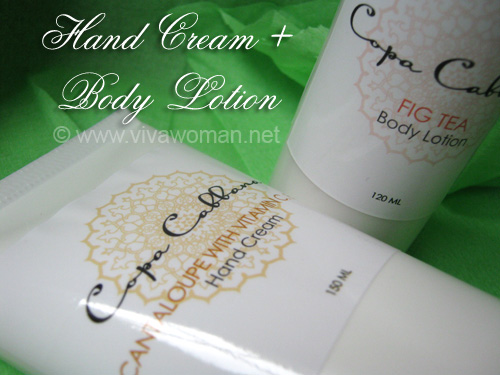 Best selling hand cream
On top of the Jet Set, I was also sent their best selling Cantaloupe Hand Cream rich in Vitamin C, E & F and the Body Lotion Fig Tree. I don't find the body lotion exceptional probably because the fig tree scent did not appeal as much to me. The good thing though is that the body lotion feels comfortable on my skin and does not add greasiness. This is also true of the hand cream is nourishing for my hands and yet, it doesn't leave any oily trace. My hands feel comfortable using this hand cream and I also like the idea of getting some natural sunscreen from the avocado butter. The hand cream has a rather sweet fruity scent and is very pleasant to my nose. Price is HK$110 (~S$18) for the 150ml tube. The Body Lotion Fig Tree in 250ml is HK$120 or around S$19.
Cantaloupe Hand Cream:



Body Lotion Fig Tree: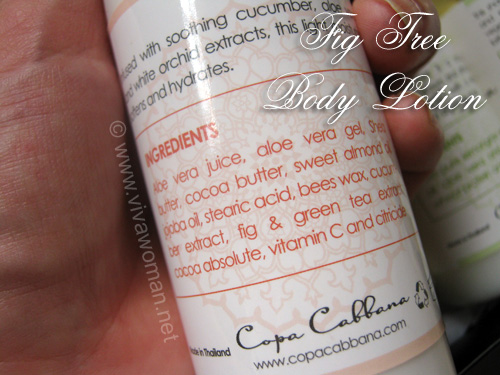 Overall summary
Performance wise, I think the range does a decent job although I would not rave that they are exceptional. However, I feel that body care products do need to make one feel good upon application and this I think the company did well because of the choices of scent used, especially that of lemongrass. So I would give them more credit on that feel good factor. Plus, their prices are quite affordable but of course, you need to consider the international shipping charges that will be incurred. If you're in Hong Kong, you can enjoy free shipping for purchases over HK$780. For more information, check them out on their website.
Update: Copa Cabbana has kindly offered readers of Viva Woman a discount of 20% off on the first order. Customers can type in discount code Viva; valid till 6 June 2011.
Comments