Eating donkey hide gelatin for lustrous skin?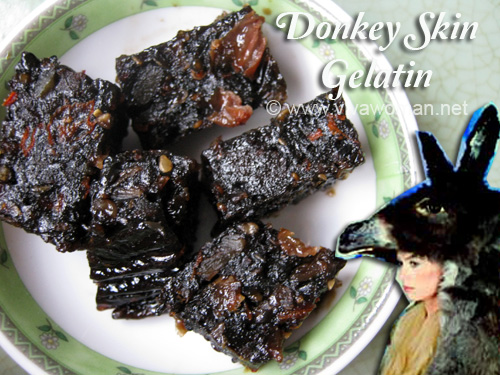 The picture I posted yesterday on the Viva Woman Facebook Page certainly got many of you interested! I had many funny and interesting answers and I had an enjoyable time reading and answering them. A few thought it looks gross while some said it's a healthy snack although I personally thought the picture I posted look more like some black soap!  Anyway, a few came close to guessing what this is but all were missing the key ingredient, which is DONKEY SKIN. Yes, no kidding! This is a donkey skin gelatin or better known as 'Ejiao' in Chinese and is made with donkey skin, black sesame, walnut, dried longans and rice wine. And it was ordered and flown in from China.
Health and beauty benefits
In fact, I learnt that donkey skin is made into a cold appetizer in China. It is reported to have many health benefits as it can promote blood circulation and increase the reproduction of cells; its beautifying effect is also much sought after by women. (source: China Daily) It is reported to have great anti-aging effects, namely increasing elasticity of the skin, improving skin tone, preventing wrinkles and even eradicating pigmented spots.
Bought from China
Donkey skin is considered a herb in China and this gelatin was purchased from a big medical hall there. I was introduced to this gelatin by my bestie and she has been taking it for 5 weeks. I noticed that her skin tone has improved and is looking rather lustrous these days. She, in turn, was introduced by a relative who also reported good results after taking the gelatin. So I was quite eager to try it and she gave me about half a slab and I've been taking it for a couple of days now. Although it does not look appetizing but it's really tasty and reminds me of some rum cake. However, the combination of ingredients makes this a rather 'heaty' gelatin and I actually found my body becoming quite warm after eating this. So I have to cut my intake down to taking just one or two cubes a day.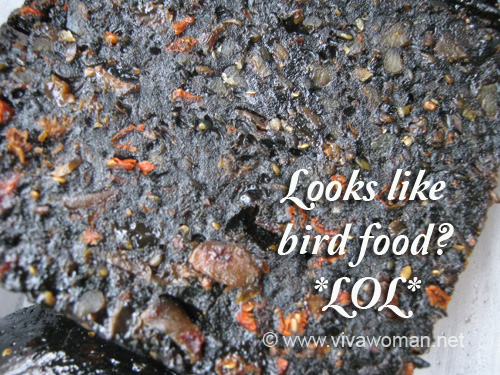 Donkey skin capsules are available
These are cut up from the original slab and because they're meant to be eaten as a snack, so I cut them into small cubes. My bestie has the recipe to make this as well but it takes a lot of effort as the mixture has to be stirred continuously for a few hours. The donkey skin gelatin is available in Chinese medical halls and I understand a big slab is around S$150 – $200. Please don't ask me where to get this because I have no idea but if you have friends or contacts in China, you should be able to find out easily. My bestie got it through a relative based in China and hence, she has no idea of where to get it either. But I searched the Net and found that capsules are also available but I suspect the gelatin is more effective.
Eat at your own disretion
I actually didn't think much about eating this but when I started to write this entry, I wondered if others are offended that this is made from donkey skin. But I'm Chinese and so we eat some stuff that are well…less common. And if you ask me, eating donkey meat is no different from eating beef or lamb so it doesn't raise my eyebrows that the Chinese in China eat donkey meat sandwiches. And I'll say if you want to eat this, do exercise your discretion. Personally, I'm pretty adventurous when it comes to beauty and this is fine by my standard going by the ingredients used. But I don't think we have this donkey skin gelatin in Singapore and if you want to try it, you'll have to get it from China.
My question is: would you eat it?
Fairy tale of Donkey Skin
By the way, eating this reminds me of the Donkey Skin, a French fairy tale told by Charles Perrault about a princess who used a donkey skin as a disguise to avoid marrying her own father. Donkey skins are really useful! And maybe the princess ate some for her beauty too! (#k8SjZc9Dxk-#k8SjZc9Dxk)
Comments