12 Korean celebrities: what do they eat to keep their skin looking flawless

Curious about the eating habits of Korean celebrities? Wonder if they have specific beauty food to keep their skin looking good? Do they have a special diet that keeps their skin supple and smooth?
Well, come with me as we look at 12 Korean celebrities and their eating habits–what they eat or do not eat to keep their skin in tip-top condition.
1. Song Hye Kyo (age 34)
Let's begin with my favorite Korean actress, Song Hye Kyo, who will be returning to the small screen real soon with the upcoming drama titled Descendants of the Sun. Want to know what our Ms Song eat to maintain her flawless beauty and dewy skin?
Reports has it that the pretty actress abstains from chocolate, coke, black tea and junk food. Instead, she eats lots of fruits, veggies and occassionally, eggs. She has said she likes eating pumpkin as it helps reduce swelling.
Besides clean food, Song Hye Kyo also consumes vitamins to maintain skin moisture. In addition, she advocates drinking lots of water, beginning with two glasses first thing in the morning to stay hydrated.
2. Ha Ji Won (age 37)
Ha Ji Won is not only empress in Empress Ki, she's also queen of beautiful skin according to South Korean nationwide general entertainment network, tvN. In their 2015 TV show "List of Names" with the theme on 'beauties with perfect complexion', she emerged top.
Besides using a facial mask daily, Ha said she tries to eat a lot of healthy foods such as fruits, nuts, and yogurt for her meals. When she drinks alcohol, she drinks a lemon-soju drink made with one bottle of soju with three lemons, as well as tonic water, Sprite, and a spoonful of honey.
"When I drink this lemon-soju, I get compliments on my skin the next day," revealed Ha Ji Won.
Okay, I'm stumped. I had no idea that Sprite is good for skin. Do you?
3. Kim Hee Sun (age 38)
Many of you are probably familiar with Kim Hee Sun. I mention her quite often. So what food does Kim Hee Sun eat to look like she has never aged? Well, she loves fruit and vegetable juice, particularly orange, tomato, carrot, and grape.
She also attributes red ginseng extract for healthy skin and increased immunity. No wonder this 38-year-old has no problem playing a spunky high school student in Angry Mom.
4. Park Shin Hye (age 25)
One of the hottest Hallyu stars currently is Park Shin Hye, whose recent productions include Pinocchio and Heirs. When asked about her beauty tip, she revealed that she has been eating honey since she was young to keep her skin healthy.
I'll say that while honey has many healthy attributes, it is also high in fructose. Hence, it is best consumed in moderation. For some people with insulin intolerance, honey may cause more harm than good.
5. Yoon Eun Hye (age 31)
I haven't really watched Yoon Eun Hye in any K-dramas except when she appeared briefly as Lee Min Ho's ex in Personal Taste.
Besides slathering on plenty of moisturizer especially before bedtime, Yoon Eun Hye also drinks hot milk before bedtime because our lady believes that a good night's sleep can help you look your best. Yeap, we can't agree more.
Guess what food Yoon Eun Hye avoids? Salty and spicy food!
6. Yoo In Na (age 33)
Some of you may remember her as the second lead actress in You Who Came From The Stars. The starlet revealed that she rarely eat white rice and she avoids snacking at night. And her favorite food includes cabbage. What a surprise…not.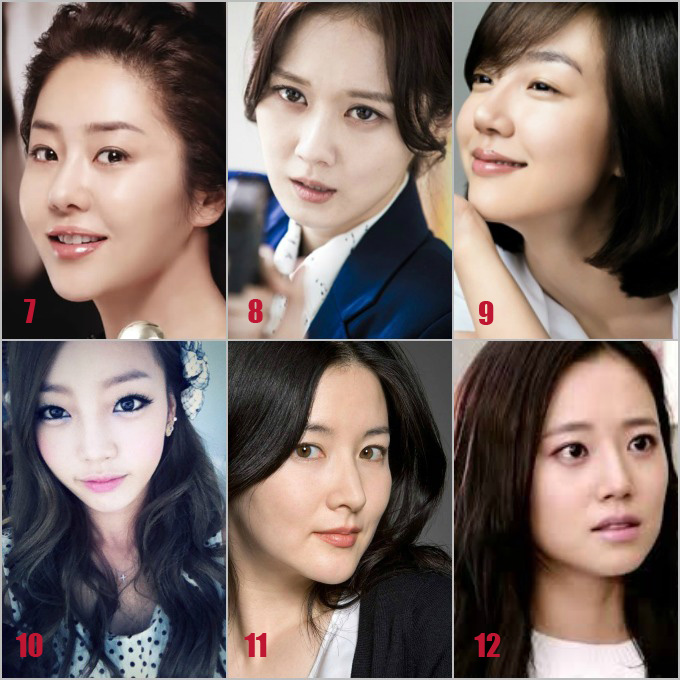 7. Go Hyun Jung (age 44)
Go Hyun Jung, who debuted in the entertainment scene as a Miss Korea runner-up in 1989 recommends avoiding salty and spicy food to maintain clear skin. Apparently, she alternates her diet with simple plain food to re-calibrate her skin from the inside. Hmm…does this mean she avoid eating kimchi?
In her best-selling beauty book, Go Hyun Jung listed raw salads, fresh apple, blueberry, carrot juice, grapefruit tea and honey as her favorite food. She also takes organic Vitamin B and C.
8. Jang Nara (age 34)
Jang Na Ra can easily pass off as a 16-year-old. No kidding. She looks almost as young as when she debuted in 2001. So how does she maintain her youthful looks?
The actress revealed that she drinks over 2 litres of water a day for good skin. Also, she eats many fruits such as apples, kiwis, and strawberries, as well as nuts.
9. Im Soo Jeong (age 36)
The actress's skin is as fresh as a baby. No wonder she is still a well-sought after cosmetic model. Her secret? "I am quite picky about food; I eat a lot of salad and vegetables for clean skin."
10.Goo Hara (age 25)
I came to know of Goo Hara of former girl group Kara when I watched City Hunter. She played the willful daughter of the president, Choi Da-hye, but I found her very likable and hope to see her in more K-dramas.
Anyway, Goo Hara recommends a beauty smoothie consisting of bananas, almonds, blueberries, walnuts, and milk.
11. Lee Young Ae (age 44)
If you've watched Jewel In The Palace, you know Lee Young Ae. Although she is now 44, her skin is still in tip-top condition.
Her beauty food includes green tea and grapes. She avoids eating processed food like ramen.
12.Moon Chae-won (age 29)
Moon Chaewon recommends 100 percent pear juice for overcoming fatigue. For skincare, she recommends citron (yuzu) and ginseng latte.
This is her recipe for two: grind 1 ginseng root with 400ml of milk, and add 4 tea spoons of citron syrup. Wow, a whole ginseng root? Very unusual indeed.
I have never watched Moon Chaewon in any of her dramas but having seen her pictures, I have to concur that her unusual recipe must be potent.
No meat
Have you been inspired by the beauty diet of our 12 Korean celebs? I'm quite sure all of them sought help from beauty treatments but what they have been eating must also contribute to how they look now. The key appears to be lots of vegetables and fruits. No one has said anything about consuming meat.
So if you want to have flawless skin like your favorite Korean actress, it's time to load up on the greens!
Sources of information for this entry include:
Afspot.net Forum
Soompi Forum
Yahoo News
K-Popism
Comments