DIY Beauty: hot oil treatment for curly, frizzy hair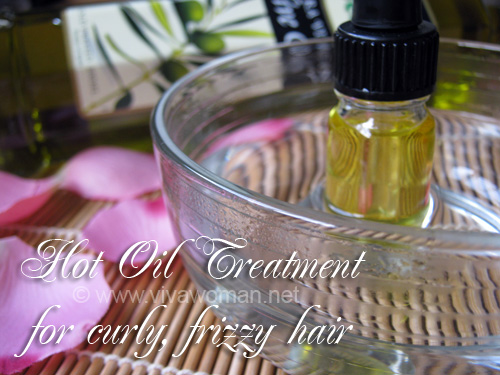 All right, I don't have curly or frizzy hair now but I did have them for maybe 10 years of my life. So here's something that I used to do for my then curly hair once a week – using a hot oil hair treatment. The only difference is that I used a commercial blend back then but today, I'm going to share with you a hot oil hair treatment using normal vegetable oil. In this instance, it's extra virgin oil oil from my kitchen cabinet.
Deep conditioning to repair damaged hair
Okay, first off, why do you even need to use a hot oil hair treatment? Well, if your hair is curly, chances are, it might be frizzy. So you probably need more help in the conditioning department. Besides using a hair conditioner, it would be good to give your hair some deeper conditioning to repair the damage and make your hair more smooth and manageable. Oil is a great ingredient for this purpose but instead of spending money purchasing products off the shelves, why not use what is readily available in your kitchen?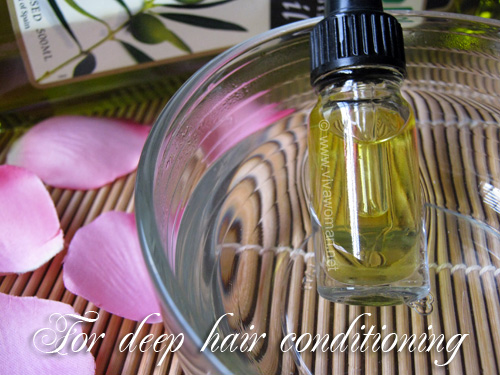 Various methods to heat up the oil
I find olive oil ideal for this deep hair conditioning treatment but you can always use sunflower oil or almond oil if those suit your fancy. There are a few ways to heat up the oil. One is over the frying pan, another is using the oven but here, I'm showing you the easiest, which is dipping a bottle of the oil into a bowl of piping hot water. I use this method because that was what I used to do with the commercial hot oil treatment products in the past.
Leaves hair smooth and manageable
After the oil is heated up, it should be very warm. Rub a little on your scalp – be careful if the oil is hot – and then through every part of your hair, massaging gently as you go. It is best to cover your head with a plastic shower cap for about 20 minutes so that the heat from your head will help the oil penetrate the hair shaft. Shampoo and rinse thoroughly after that and you should find your hair smoother and more manageable.
Recommended for dry hair too
Although I've indicated this treatment for hair that is curly and frizzy but you can also try it if your hair is dry and need some deep conditioning. Just make sure you have more than enough oil left for cooking!
Comments