Share: is your skin affected by food or by cream?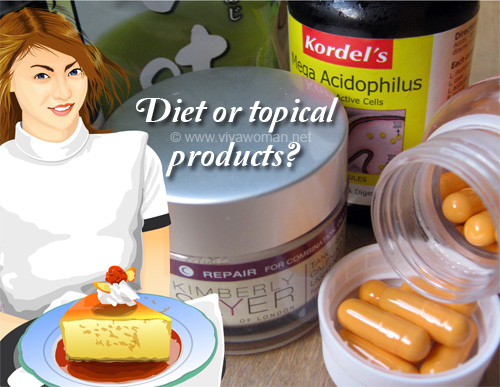 It seems to me, based on what I've read in various reports and facts gleaned from workshops attended, that many dermatologists do not see a strong link between diet and the state of our skin. For example, most of them would tell us that eating unhealthy food will not cause acne, or that they've seen no evidence that eating collagen will benefit our skin in any way. They seem more in favor of topical application of products on the skin to stimulate collagen production as according to them, absorption is higher through the skin. I suppose their stand comes supported by scientific data but I wonder if it holds true for everyone. So my question today is: what affects your skin more – is it what you eat or what you apply?
My personal experience with a dietary change
For me, it's definitely my diet. Long time readers will know that I suffered a bout of acne issues for almost a year and I managed to eliminate the problem with a detox and a change in my diet. In fact, introducing a probiotic supplement saved my skin and those who are interested in the specifics can read about my experience here.  I also realized recently that a diet that promotes a better blood circulation has improved my skin tone, reduced the severity of my dark eye circles and sped up the recovery of my acne marks. And based on my experience with collagen supplements, I found that they've worked for as long as I was taking them.
Sun protection with food source
I also found that a proper nutrition would protect our skin better than just using sunscreen.  This is also confirmed by holistic physician, Jonathan Wright, MD, who advises his patients to eat organic foods and take supplements such as those rich in beta-carotene, lutein, zeaxanthin, lycopene and astaxanthin as these are powerful antioxidant carotenoids and have been shown to help protect against sunburn because they provide an SPF of about 4.  However, he said that it'll take at least 10 weeks of supplementation before you build up to sun-protective levels. (source)
My formula – 60% internal and 40% external
Of course I also rely on topical application of products and while they do improve my skin condition especially if they contain ingredients like vitamin C, I would have to concede that it is my diet that saves my skin more than anything.  We are what we eat rings true for me and it'll be useless for me to apply the best products and yet not guard what I put inside my stomach.  So if I may put a random figure for my beauty formula, it would be 60% internal and 40% external.  Internal would mean a healthier lifestyle in terms of what I eat and how I treat my body.  External would mean what I apply to protect and improve the state of my skin.
So what about you ladies?  Is the state of your skin affected more by what you eat or what you apply?
Comments