Squeaky clean is not cool for your face & hair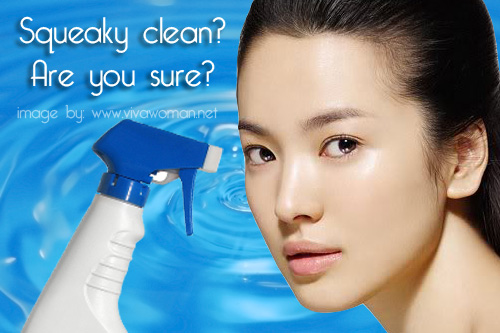 I don't know about you but when I was a teen, I loved to wash my face and my hair till they were all squeaky clean. It felt 'shiok', which really means 'refreshing' in understandable English. I had this unnatural obsession to scrub every itch of my skin and wash every strand of my hair till they were devoid of any traces of oil. I probably would have love it more if it came complete with the squeaky sound effect! However, over the years, I realized that while squeaky clean is good for the floor and probably our makeup brushes too, but it is definitely not good for our skin nor hair.
Over cleansing causes skin to become vulnerable
This is because our skin contains natural lipids at the epidermis that retain transepidermal water and provide the skin moisture. The moisture is sealed by the acid mantle, which is supposed to be slightly acidic with a pH of 4.5 to 6.5 to keep cells from breaking apart to prevent transepidermal water loss or TEWL. Hence, over cleansing can disrupt epidermis lipids and lead to an erosion of the acid mantle, making it become alkaline. When this barrier is compromised, the skin loses its natural protection against external aggressions and becomes vulnerable, resulting in imbalance and possibly inflammation. When this happens, skin can turn dry, flaky, itchy, irritated and even red.
Over washing causes hair to become lackluster
Like skin, our hair also has a structure and its natural shine is supplied by its sebum, an oil composed of waxes and fats and also a natural antiseptic that helps fight infection. As a lubricant, this sebum gives an excellent protective coating to the hair shaft, smoothing the cuticle scales and helping hair retain its natural moisture and elasticity. Thus when this sebum is stripped by over washing or a harsh shampoo, hair can become dry, brittle and lacking luster. You will probably need to use a lot more hair conditioner to counter the imbalance. And in the worst scenario, a scalp stripped of its natural sebum may start to secrete even more oil, resulting in oily hair.
Avoid cleansers & shampoos that wash too clean
So if you like that squeaky clean feeling on your skin or hair, think again. It is best to avoid cleansers and shampoos containing SLS or SLES, which can be rather harsh and strip off the necessary natural lipids. But I'll say, anything that gives your skin or hair that squeaky clean feeling is to be avoided. Best to leave it just clean and keep out the squeaky part. Squeaky? Leave that for the floor!
Comments