Share: do you have a habit of using a mouthwash?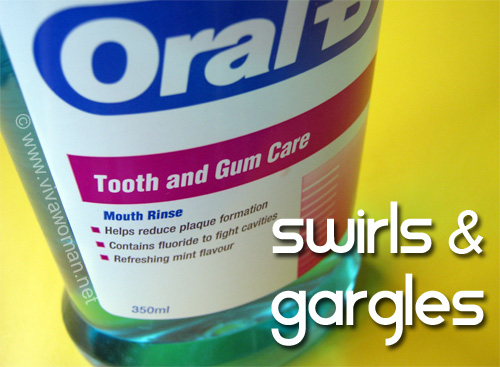 Okay, hands up! How many of you use mouth wash on a daily basis to enhance your oral hygiene? I have two bottles of Oral B Tooth & Gum Care Mouth Rinse at home but I'm not the one using them. In fact, I rarely use a mouthwash. One, I'm just plain lazy and the other, I hate the taste that lingers in my mouth.
Alcohol content kills bacteria
Actually I hate the taste of mouthwashes because most of them contain alcohol. I see it listed as the third in the ingredient list on the Oral B one. It's not surprising, because like hand sanitizers, the amount of bacteria mouthwash kills depends on the amount of ethanol or ethyl alcohol it contains. I understand that mouthwashes can contain up to 70 percent ethanol and this concentration kills most mouth bacteria.
High amount of alcohol render mouthwash useless?
According to The Times, many mouthwashes contain exceptionally high levels of alcohol which may render the mouthwash useless. "Alcohol can dry out the mouth by drawing moisture from the tissues and slowing the flow of saliva. With limited saliva to flush away or dilute bacteria, it is suggested that rinses that contain alcohol cause germs to become more, not less, concentrated in the mouth – making smelly breath possibly worse. "
Alcohol in mouthwash carcinogenic?
And then there are some experts argue that not only is a mouthwash useless, but it can also be harmful to your health. According to a report on Telegraph, scientists now have sufficient evidence that mouthwashes containing alcohol contribute to an increased risk of the disease that they should be taken off supermarket shelves and labelled with health warnings. The findings, published in the Dental Journal of Australia, suggested that ethanol in mouthwash was allowing cancer-causing substances – carcinogens – to permeate the lining of the mouth. The acetaldehyde resulting from the breakdown of alcohol after swishing in the mouth is also a carcinogen.
Most mouthwashes classified as cosmetic
According to the Food and Drug Administration (FDA), mouth rinses are classified as either "cosmetic" or "therapeutic"; the classification depends on the active ingredients contained in the product. Some are a combination of both but only those that are labeled as therapeutic have been tested and proven to be effective against bacteria. So it seems that most commercially available mouthwashes only provide temporary guard against bacteria as they are classified as "cosmetic".
Mouthwash prevents dental plague
Well, I'm not too familiar with that but I do know that Oral B Tooth and Gum Care Mouth Rinse that I have at home contains Cetylpyridinium Chloride, a clinically proven ingredient which inhibits plaque formation. The product also contains fluoride to protect against cavities. So perhaps that's why my husband's teeth looks better than mine as studies reported by the American Dental Association indicate that antimicrobial mouth rinses and toothpastes have been proven to reduce dental plaque. When used together, flouride toothpaste and flouride mouthwash have been shown in clinical studies to provide extra protection against tooth decay.
Your say
But still, that's not going to get me into the habit of using mouthwash on a daily basis. To me, regular brushing and proper flossing are more than sufficient to maintain my oral hygiene. How about you? Do you have a habit of using a mouthwash?
Comments