Heliocare: oral sun protection from inside out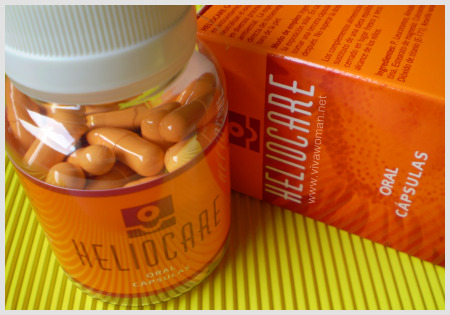 I bought the Heliocare Oral recently because I thought it might be a good idea to get extra protection from the oppressive sun rays these days.  Since I only apply my sunscreen in the morning and can't apply another layer of sunscreen in the middle of the day, these oral capsules offer me peace of mind when I have to walk under the hot sun without any form of shading.
First clinically proven oral sun protectant
Heliocare Oral has been around for awhile and it is apparently the first oral sun protectant with clinically proven ability to prevent free radicals, premature aging and hyperpigmentation caused by harmful UV rays.   The product contains three natural ingredients (beta-carotene, green tea and a natural fern extract) that help protect against the harmful effects of the sun's UV rays.  The main ingredient Fernblock, is the patented fern extract of Polypodium leucotomos and is 100% natural.
Extensively researched at Harvard Medical School
I have had concerns if these oral capsules are safe but according to the NeoAsia website, Heliocare Oral has been researched extensively at Harvard Medical School for more than 12 years by renowned scientists.  In addition, its findings are published in leading medical journals, including the top journal for dermatology – The Journal of the American Academy of Dermatology.  In Singapore, this product is also classified by HSA as a health supplement and widely recommended by doctors and dermatologists alike.
There is no known side effects associated with Heliocare Oral. Fernblock has been used safely in the market for over 20 years in Europe without any reported side effects or weight gain. It is also non-toxic, and does not contain iodine, cholesterol, or hormones.  (source: NeoAsia website)
Widely recommended by dermatologists
In fact I decided to try it because Dr Calvin Chan of Calvin Chan Aesthetic & Laser Clinic mentioned it at the Glow Workshop organised by Watsons.  However, his advice is that sunscreen should still be used on top of consuming Heliocare for total sun protection although going by the information at the NeoAsia website, consuming Heliocare Oral alone would be sufficient for casual sun protection.
Prevent sun damage and skin cancer
Los Angeles dermatologist Dr. Jessica Wu also said that the product can protect the skin from sun damage that can lead to skin cancer.  "It gets into your blood stream and works from the inside out, as opposed to sunscreen which works from the outside in," explained Dr. Wu. "So this pill mops up the damage that gets past the sunscreen you might be wearing. It also repairs damage that is done to your skin that leads to skin cancer."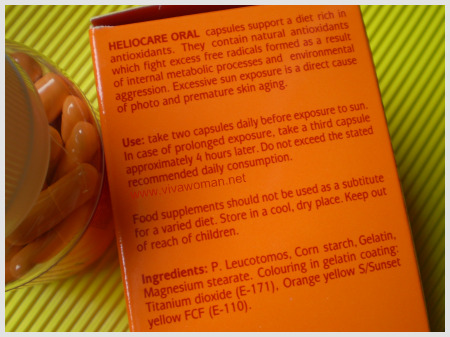 Specific benefits of Heliocare Oral
According to the product information from NeoAsia, Heliocare Oral provides the following specific benefits:
– Protects skin from premature aging and sun damage
– Inhibits depletion of collagen caused by UVA by 55%
– Increases skin tissue by up to 66%
– Increases your skin's resistance against sunburn by 300%
– Excellent antioxidant property, reduces free radicals by up to 50%
– Prevents hyperpigmentation cause by UVA rays
Effective half an hour upon consumption
Heliocare Oral capsules should be taken half to one hour before sun exposure.  Although the packaging suggests two capsules, I gathered that one capsule a day is sufficient for daily sun exposure.  If intense sun exposure is expected, then two capsules (1 in the morning and 1 at midday) is recommended.  Pregnant ladies or those with some form of medical conditions are better off consulting their doctors before consuming such a supplement though.
Great for overall protection inside out
I haven't used this long enough to say if it is effective.  However, going by some reviews at the forums, Heliocare Oral appears to be quite effective as a sun protection even on its own.  I like the idea that it gives me protection from inside out especially on days when the sun rays are extremely strong or when I'm out having fun at the pool or beach.  In addition, I think the protection is more complete than using sunscreen alone as we're sometimes unable or forget to apply to some parts of our body.  At least I now don't have to worry about my feet now.
Price and availability
Heliocare Oral is available at S$75 at a few places including selected Watsons and Guardian pharmacies. I bought mine at S$60 from Living Pharmacy because of a special 20% instore promotion.  And those outside of Singapore can also purchase the supplement online for as low as US$41.
Comments