Share: how young did you start on skin care?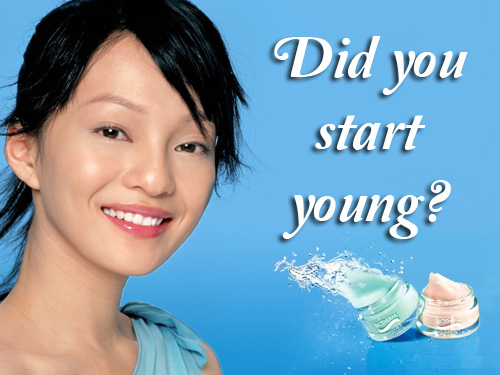 Some of you may remembering reading this news I posted some time back on my Facebook page regarding a California mother who was injecting her 8-year-old daughter with botox in preparation for a beauty pageant. The outrageous news sparked plenty of unsavory comments about the mother, and the mildest was that she was being "dumb". Well, it seems that the news was a hoax after the mother claimed that her scandalous tale is bogus and scripted by the newspaper. But bogus or not, it seems that she has temporarily lost custody of her daughter as the case is undergoing investigation.
But if the news is true, it is indeed stupid of the mother because kids do not need botox since they do not have wrinkles to begin with. In fact, I don't even take special care to wash my 8-year-old's face with anything. His shampoo and body wash doubles up as his facial cleanser. Realistically, I don't think his face needs much attention until his teens except using sunscreen when he's out under the hot sun now.
I started late
Maybe I come across as indifferent about my child's skin care but that's because I'm quite late with skin care myself; I only began caring for my skin at about 18 years old. Believe it or not, I was swimming about three times a week in my teenage years under the blazing hot sun without applying any sunscreen. I was using normal shower soap to wash my face and I only started to use the Neutrogena cleansing soap when I was around 18 years old. And on an off, I would use some of my mother's products from Oil of Ulan (now Olay) or Hazeline Snow. In fact, I did not even moisturize my skin till I was around 21 years old or so! I attribute it to the aircon in the lecture theatres that caused my skin to cry out for moisturizer and thus, my first foray into the world of skin care with products from Clinque.
In hindsight, those years without moisturizing didn't do much damage to my skin but not slathering sunscreen was a major regret.
How about you ladies? At what age did you start on skin care and what did you use? Did you ever wish you've started younger?
Comments