Share: where else do you apply sunscreen daily?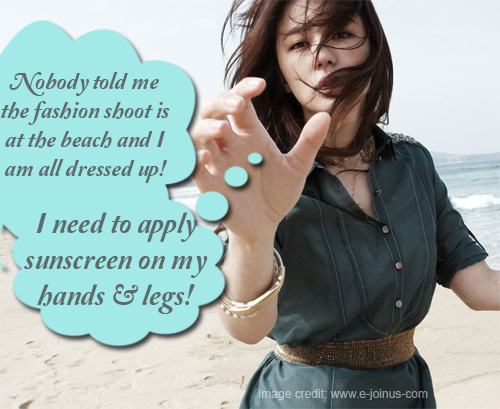 Okay, I'm being curious today. I know most of you who read my blog are conscious about applying sunscreen or a moisturizer with SPF daily on your face. But apart from your face, where else do you protect?
Assuming you're in a bikini at a beach under the hot sun, I bet most of you will be slathering sunscreen not only on your face, but your neck, your body, your hands, your legs, and possibly your feet. Oh, I hear behind the ears too. However, I'm talking about daily wear, where you're not in your bikini but are fully clothed at work, in school or even at home.
For me, I always make it a point to use sunscreen or rather my moisturizer with SPF on my face, around my eyes, on my neck plus my arms and hands whether I am spending time at home or heading out for work or social activities. But that's about it. Even though I wear shorts quite frequently, I don't care to apply any sunscreen on my legs or feet. I also don't apply anything on the nape of my neck even though that part is constantly exposed since I don't have long hair. I just rely on my intake of supplements or an umbrella to take care of those uncovered areas.
How about you? Do you consciously apply your sunscreen to other areas of your body other than your face on a daily basis?
Comments