DIY Fashion: t-shirt necklace, scarf & bracelet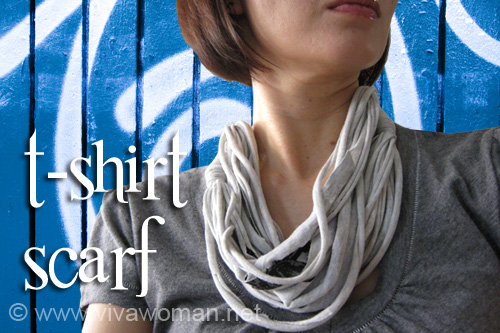 My bestie messaged me earlier in the week to share a DIY fashion idea – making a scarf out of old t-shirt without any sewing. I was eager to try out the idea and after exploring a few options, came up with more than a scarf. I was able to make a necklace and a bracelet too! Cool isn't it?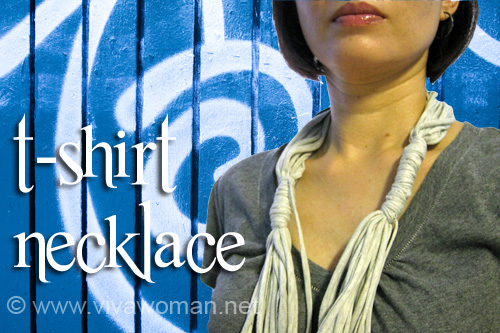 Cost me $0
Actually, I've seen such scarves and necklaces on sale at Etsy and they retail for something like US$14 onwards. But this cost me nothing. Well, the cost of the t-shirt doesn't count since it's something I don't wear anymore and I would have thrown it away anyway. And how long did it take? Just about 20 minutes of my time.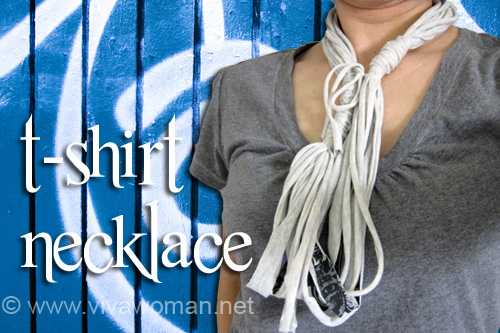 Use an old tee with a thin material
The old t-shirt is a nice design but it was so small, I cannot fit in it without coming across like a rice dumpling. But because I like the illustration, I was unwilling to throw it out. Good thing that it came in handy for this DIY project and the thin material made it ideal for the layering effect.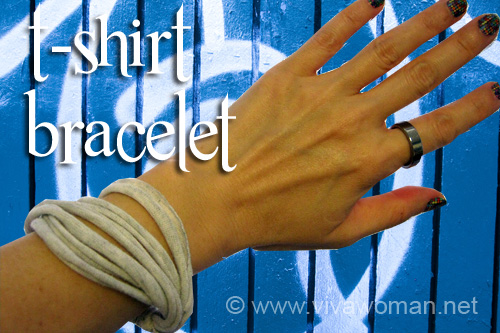 Only a pair of scissors is required
All that is required for this project is a pair of scissors. Snip, snip, tie, tie and I'm done. Okay, I only came up with two items out of the small tee but the necklace can double up as a scarf too. A darker color or a few colors would be nice and I shall work on that for my next project. But I thought this isn't so bad for a start.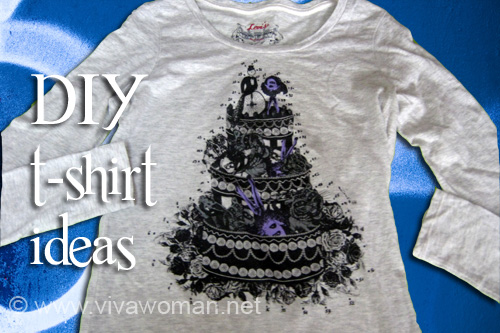 Check my tutorial on Viva Woman FB Page
I've posted the picture tutorial on my Viva Woman Facebook Page. So head over to check it out! Now, there are lots to do with an old t-shirt so don't throw it out. I'm going to dig out some of my son's old t-shirts because those would of of perfect length to create a shorter necklace.
So anyone game for this DIY t-shirt fashion accessories idea?
Comments