Drinking flower tea for wellness and beauty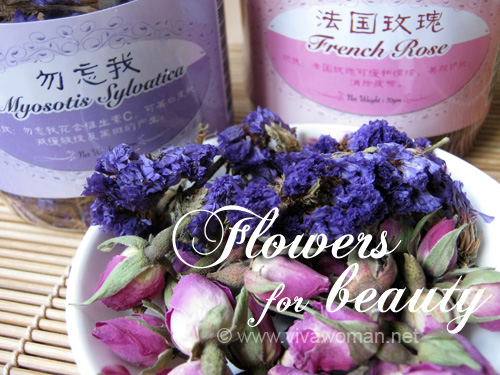 Have you tried eating or drinking flowers? Well, as a kid, my brother and I literally drank the sap of some flowers in my mom's garden. Don't ask me why; kids will do the silliest things just for fun. But I can certainly understand why the birds and the bees love the sap – they're sweet and they smell good! So growing up, I am quite comfortable drinking anything that comes with a floral scent and I certainly didn't think twice about drinking these.
Actually, when I first bought them, I really only wanted to use them for photography. Yes, the length a beauty blogger will go. But instead, I've been making tea out of the flowers and drinking floral tea!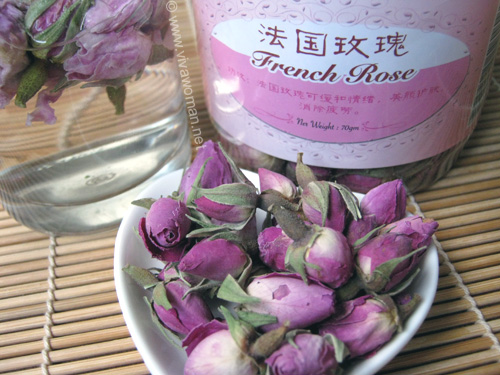 French rose
Oh these French roses are so delicate and pretty. They are high in vitamin C and when made into tea, they are said to be good for detox; helping to eliminate the waste from kidneys, killing the bacterium in the digestive tracts and improving our blood circulation. Rose tea is also a remedy for depression and mood swings and I understand that the crushed rose petals, which are used in rose tea, is able to heal urine infection and bring comfort to menstruation cramps.
French rose tea
If you are familiar with the scent of rose, this tea smells and tastes exactly like that. You don't need to use a lot each time; just about 10 of them steeped in a cup of hot water. Let it steep for maybe 15 minutes or so before drinking.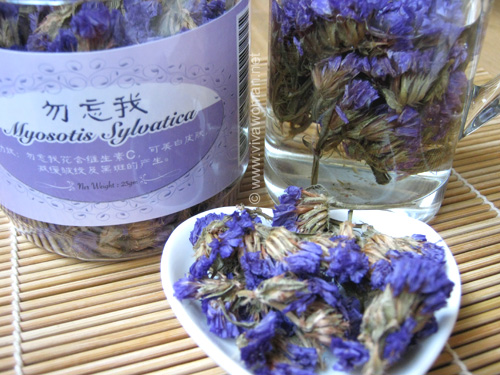 Forget Me Not
The official name for this flower is Myosotis Sylvatica but they're also known as Forget Me Not. Myosotis contains vitamin C and said to be able to nourish skin, prevent the appearance of wrinkles and dark spots. Health wise, this flower can enhance immunity, speed metabolism, and thus said to be effective for slimming purposes too.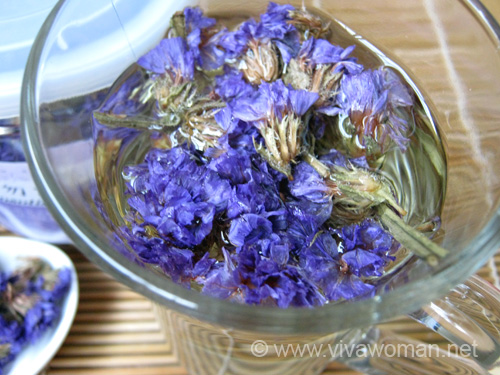 Forget Me Not tea
I can't describe the scent of this flower. It's not sweet nor floral but comes across more "woody" and 'grassy". It is recommended to add honey into this tea but I found it nice on its own.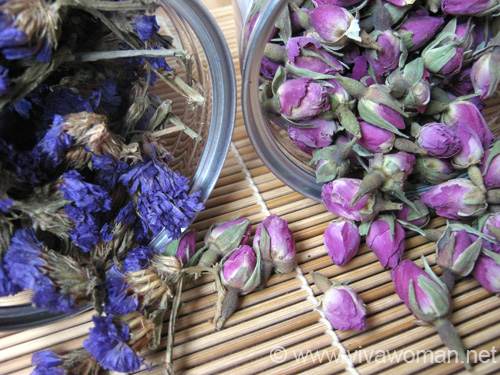 Drink with caution
Okay, don't expect too much improvement overnight just drinking these floral tea. I would imagine that the effects will set in after a period of time and even so, will likely vary with individual. However, I sometimes get quite immediate effect after drinking the French Rose Tea – going straight to the toilet. Although I believe these flower tea will help improve wellness and beauty over a period of time but those with health issues are advised to take these with caution.
Comments