Ego QV Bath Oil: rids that layer of body sunscreen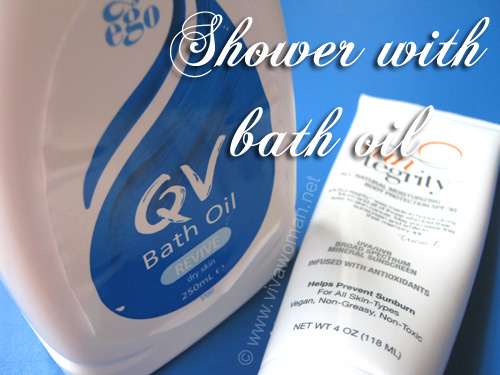 A few of you had asked me if it's necessary to double cleanse after applying sunscreen to our body and what is the best product to do the job. So I thought I'll share this product that has worked well for my husband. He applies sunscreen to his entire body whenever he goes for a swim in the day and hence, proper cleansing is necessary as clogged pores can result from sunscreen that is not washed off thoroughly. In fact, he learnt a lesson after going through a season of skin problems as a result of improper cleansing.
Oil cleanser to get rid of the sunscreen residue
At one stage, he was even afraid to use sunscreen because he found that double cleansing with the normal body shower gels did not help him get rid of all the sunscreen on his skin totally. I then told him to try cleansing oil and so he went back to look at his favorite brand – Ego QV – and lo and behold, they have a bath oil!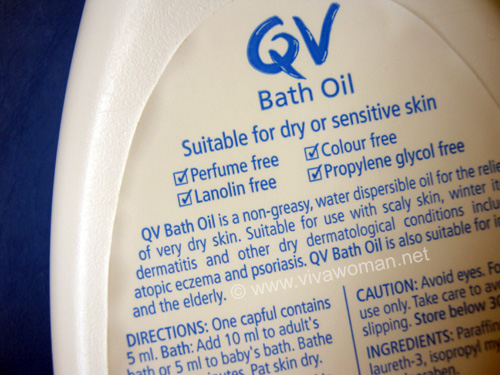 It's really mineral oil
Okay, the QV range is free from lanolin, perfume, colour and propylene glycol and said to be ideal for even the most sensitive skin types but it isn't in the natural skin care category. In fact, the ingredients in this QV Bath Oil are: Paraffinum Liquidum, Laureth-3, Isopropyl Myristate and Propylparaben. Paraffinum Liquidum is really mineral oil and according to my findings online, it seems that the concentration of this ingredient is as high as 85% in this product. However, it has been working very well for him and so he has faithfully stuck to using this bath oil every time he uses a body sunscreen.
Provide relief for dry skin
Ego QV Bath Oil is a non-greasy, water dispersible oil designed to help revive your skin. According to the product description, this product is designed for the treatment of dry skin, scaly skin, winter itch, ichthyosis, xerosis, dermatitis, and other dry dermatological conditions. It can even provide the relief of syptoms of atopic eczema and psoriasis – said to be suitable for infants and the elderly.
Effective and affordable
Anyway, my husband uses this to cleanse off the sunscreen on his body, followed on by the QV Body Wash. He has not had an episode of skin issues since. The thing is, I reckon there are probably more naturally formulated oil cleansers for the body but this product is fairly affordable. The 500ml is available now at S$14.80 at mypharmacy.com.sg at a promotional offer. You can also find it at selected Guardian Pharmacies. I think for something that needs to be washed off and doesn't remain permanently on your skin, it's a good choice.
Comments