Ego QV Wash & Skin Lotion: for troubled skin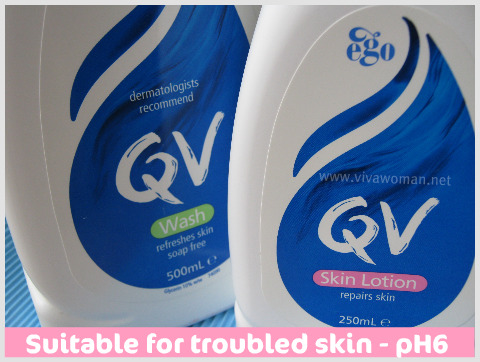 About two months ago, my husband developed a skin condition and it was diagnosed as irritant contact dermatitis, which is skin inflammation caused by direct contact with a particular substance. His skin became red with rashes and they were spreading and itching badly. The cause of his skin ailment was traced to the body soap he was using, which was overly alkaline. My husband subsquently switched to using Ego QV Wash at the advice of the doctor and his skin condition improved. He also recently started using the Ego QV Skin Lotion and that has proven to be suitable for his sensitive skin condition too.
Ego QV body range is made in Australia and developed for dry and sensitive skin. The formulation isn't natural but all QV products are pH balanced and free of soap, fragrance, colour and other common irritants. Hence, their products are said to be suitable for those with skin troubles such as scaly skin, winter itch, ichthyosis, xerosis, atopic eczema, psoriasis, dermatitis and other dry dermatological conditions.
Ego QV Wash
The Ego QV Wash for example, is a mild, effective cleansing treatment free from fragrance, colour, lanolin and propylene glycol. It has a pH level of 6 and thus, do not strip away the skin's natural oils but instead, help to maintain the skin's natural protective properties. I understand that the body wash is creamy, does not foam very much but cleanses pretty well and leaves the skin with a protective film.
Ingredients: Aqua (water), sodium lauryl sulfate, glycerin, lauryl betaine, disodium cocoamphodiacetate, sodium cocoyl isethionate, peg-120 methyl glucose dioleate, glycol stearate, methylparaben, citric acid, propylparaben.
Ego QV Skin Lotion
Ego QV Skin Lotion is also pH balanced and is a low-irritant formulation free from fragrance, colour, lanolin and propylene glycol. The texture of this lotion is quite lightweight, spreads rather well and is readily absorbed. Because it is non-greasy, it is comfortable to the feel and touch.
Ingredients: Aqua (water), glycerin, petrolatum, C12-15 alkyl benzoate, cetearyl alcohol, ceteth-20, steareth-2, dimethicone, glyceryl stearate, methylparaben, propylparab.
Prices and availability
The Ego QV body range aren't the most exciting of products but the two products discussed here have proven to work well to ease the irritant contact dermatitis my husband was suffering from; so they're indeed suitable for those with sensitive and problematic skin condition. In addition, they're readily available at the major pharmacies and are quite affordable. The 250ml QV Skin Lotion for example, cost about S$14+ at Watsons. However, the cheapest seems to be from mypharmcy, the virtual pharmacy of Changi General Hospital.
Comments