How come my eye cream is only for night use?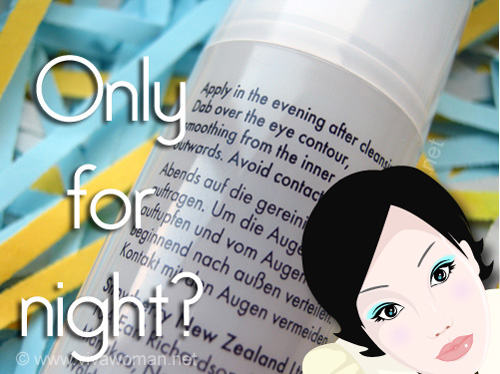 Recently, I started using a new eye product that was sent to me for review and only upon using did I realize that this product is only for night use, which means I need to use a different eye gel for the day. Why is it we can't use the same product day and night on our eye area? The answer is actually the same as why you have day care and night care products. While most eye creams are formulated to reduce eye bags, dark eye circles, lines and wrinkles, some formulations may contain more potent ingredients to perform better on the delicate eye area during specific time.
Day time eye care products
During the day, it's better to use eye care products that give your skin more moisture and protection from the external pollutants. This is why some eye products used in the day contain SPF or antioxidants to counter free radicals. Additionally, day time eye products tend to contain ingredients that reduce puffiness of the eyes that we are more prone to in the mornings. So such eye gels may include ingredients like caffeine, arnica, chamomile or cucumber that can help with reducing puffiness. From what I've read, some of these depuffing agents may cause some amount of dehydration and hence, are not suitable for night time usage due to the higher trans-epidermal water loss (or TEWL) that our skin experience at night.
Night time eye care products
Some eye creams contain concentrated ingredients that specifically help skin repair and rejuvenate itself during the night. Such products used in the night are formulated to help revitalize the skin around the eye area while we sleep. These are typically eye serums or eye creams and may contain ingredients such as alpha hydroxy acid, retinol, tripeptides or even vitamin C. These products are better used in the night for the reason that your skin is able to absorb the active ingredients at that time since such active ingredients are less effective when exposed to sunlight. In addition, your skin would not have to compete with the other products you apply like makeup to fight the UV rays, pollution and other harmful environmental elements in the day.
Eye products that work day and night
Okay, of course there are eye gels, serums or creams that are designed for both day and night usage but these may only contain ingredients that provide extra moisture or to help reduce puffiness. Based on my experience, those eye products that have yielded some results for me tend to be those that are specified for night use as they contain more intense skin repair benefits. So while I do prefer to use just one eye gel or cream for both day and night for reasons of convenience and cost savings, I've come to accept that the skin around my eye area are better off with two different eye care products.
Comments