Makeup with SPF: your 2nd line of sun defense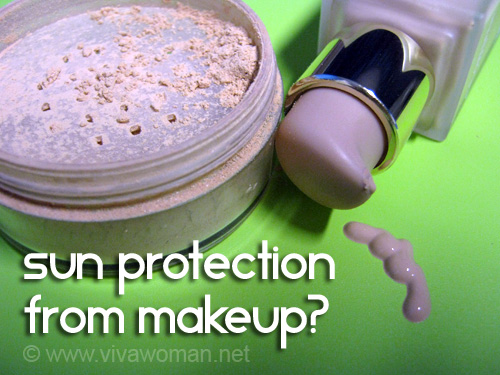 Some readers have asked me if they cannot reapply their sunscreen with their makeup on, is it fine for them to rely on their makeup for sun protection. Well, the answer is yes and no; it really depends on what type of makeup they are using, the active ingredients in their products and how much they apply.
Powdered and compact foundation
Most powdered foundation offers some form of SPF protection. Usually ingredients such as Zinc Oxide or Titanium Dioxide or even both are found in mineral foundations. Compact foundation on the other hand, tends to be formulated with both chemical and mineral sunscreen ingredients; an example could be a combination of Ethylhexyl Methoxycinnamate and Titanium Dioxide. Hence, going by the ingredients, they do offer broad spectrum protection against UVA and UVB rays. The problem is, when scientists test facial powders to determine SPF, they typically assume that 2mg of product will be used per cm2 of skin. The average face is about 600cm2, meaning that a person needs to apply about 1.2g of facial powder to get the SPF stated on the product's label (source). According to Dr Leslie Baumann, author of Skin Type Solution, that means we have to pile 14 times more powder than we already do and we can never apply that much of face powder! If you really want some sun protection from your powder, choose one with high SPF so that you can still enjoy some level of SPF protection after application. A recommended product is Avene Tinted Compact SPF 50 with 18% Titanium Dioxide and 4.9% Zinc Oxide.
Liquid foundation
On the other hand, liquid foundation might offer better sun protection for the skin compared to powdered or compact foundation. This is because the texture of the liquid foundation makes it easier to apply more than powdered or compact foundation and not cake up (but one can risk having clogged pores though). So one with a high SPF might work quite well as most are not going to apply a thick layer anyway and the end result would translate to a lower SPF. Maybe that's why a product like Shiseido Sun Protection Liquid Foundation SPF 42 PA+++ is rated quite highly for its UV protection. In fact, the texture of a liquid foundation is pretty close to that of some sunscreens. The key difference is that a liquid foundation typically do not contain that much sun protection active ingredients. For example, the mentioned Shiseido product contains two active ingredients – Titanium Dioxide and Octyl Methoxycinnamate while a sun protection cream under the same brand contains three active ingredients like Octinoxate, Titanium Dioxide, and Zinc Oxide. Additionally, while the percentages of such active ingredients are stated in sunscreens, it is rarely the case for foundations and hence, there is no way to ascertain if there are sufficient active ingredients in most.
Makeup enhance sun protection
So makeup with SPF might come with broad spectrum protection and some are even formulated with antioxidant ingredients that would provide a form of sun defense as well. However, whether it is powdered foundation or liquid foundation, makeup can only enhance sun protection if layered over a sunscreen product. That means they are best viewed as a second line of sun defense. So my answer for those who cannot reapply sunscreen over their makeup is, reapplying some makeup with SPF would provide some level of sun protection. Even if it is minimum, it is better than not applying anything at all.
My daily sun care routine
Personally, I don't reapply my suncreen in the day and neither do I reapply my makeup. This is because I use a mineral sunscreen containing Zinc Oxide, which sits on top of my skin and it remains active until I blend, wipe or wash my face. Plus, I really much prefer to take UV protection in the form of supplements for additional sun protection throughout the day.
Comments