Vitality and beauty with Inner Beauty Japan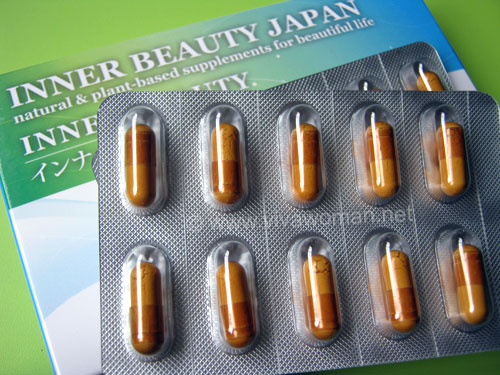 A week ago, I started taking Inner Beauty Japan, a natural and plant-based supplement that aims to stabilize female hormones and protect our skin against free radical damage. This product has been selling at luxury spa shops in Japan for around four years and since January this year, has made its foray into Singapore. Now, given that there are already tons of beauty supplements available in the market so what's so different about this product?
Improves and balances the female hormones
I think what's different about Inner Beauty Japan is that it works on two levels. First, it improves and balances our female hormones that are so important for our physical and mental well being. As such this product is recommended for women 30 years and above as it can help to improve both premenstrual as well as menopausal symptoms. Having hormonal balance will also help to improve our physical beauty and make our body more energetic and feminine.
Improves skin condition and hair growth
Next, this supplement contains ingredients that guard against UVA/UVB rays, improve our complexion by making it fairer, smoother, more elastic, less oily, and less acne prone. Apparently, taking this supplement can also help to promote stronger hair and nail growth. So it's different from the typical collagen supplements as this is kind of an all-in-one supplement for women who needs more vitality and beauty in their lives.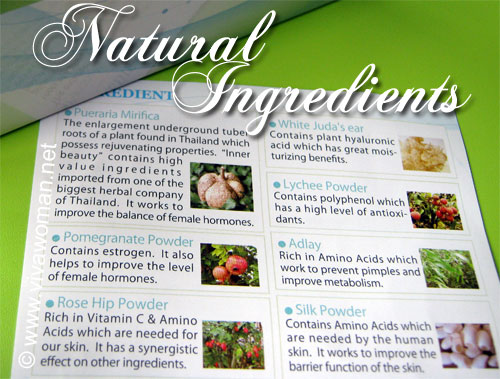 Natural ingredients
The best part is that this beauty supplement does not contain preservatives nor artificial coloring and is suitable for vegetarians. Inner Beauty Japan contains natural ingredients including Pueraria Mirifica and Pomegranate Powder to improve the balance and level of female hormones; Rose Hip Powder, which are rich in vitamin C and amino acids for the skin; White Juda's Ear for moisturizing benefits; Lychee Powder for its high dose of antioxidants; Adlay that is rich in amino acids to prevent pimples and improve metabolism; and Silk Powder, which also contains amino acids to improve the barrier function of the skin.
Herbal rejuvenation from Pueraria Mirifica
I've actually learnt a thing or two about Pueraria Mirifica and found out that it is a natural tuberous herbal root that contains high levels of natural phytoestrogens. In fact, this root is also popularly known as the herbal rejuvenation therapy or herbal remedy from Thailand with a well known side effects and that is enlarging breasts! It seems that this is a popular ingredient used in some of the bust enhancement cookies too. Some women are of course concerned that such an ingredient might cause side effects but I was assured that Inner Beauty Japan uses a high grade of Pueraria Mirifica and the company has also advised their customers not to take more than the recommended dose as that can result in hormonal imbalance.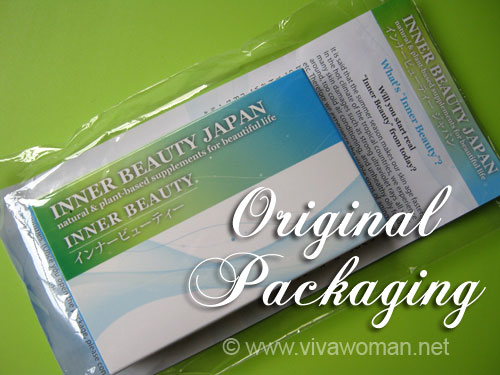 Proper product packaging
When I received the supplement, it came as a box with a small flyer that introduces the product and its ingredients. Each box contains 30 capsules and they are in turned, sealed and packed in special packaging to protect from the high humidity and temperature of tropical countries like ours.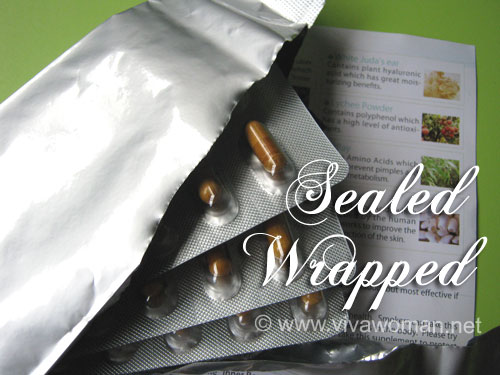 Dosage and results
One thing I like about Inner Beauty Japan is that I only need to take one capsule after dinner every day. That's very convenient for me as I usually dislike taking more than one capsule or pill. I was informed that Inner Beauty Japan did a test with a big group of volunteers from 28 to 60 years old and about 90% of the consumers gained positive results, with some as early as after two to three weeks. Feedback included facial skin becoming smoother, an increased level of energy and vigor, plus less irritability before menstruation.
My personal experience
As I've only started taking this for a week, so I'm unable to provide any telling results. However, it so happened that this is the time of the month before my period and I haven't noticed any PMS. Do note that I've also stopped taking other supplements and am currently only taking Mega Acidophilus other than this. The other thing that I've noticed is an improved bowel movement so I suppose this also has some detoxifying effects.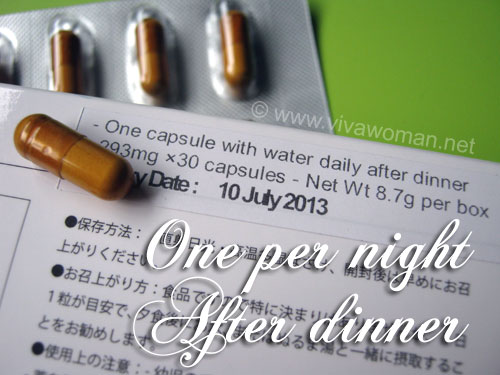 Safety of the supplement
Inner Beauty is sold on the premise that it is made from 100% natural herbal ingredients and is therefore safe for consumption. However, I would recommend that if you're taking this supplement, you should stop taking other supplements that also promote hormonal balance. And if you are suffering from any health or hormonal issues and are on medications for them, then it is always best to get a direct advice from your doctor.
Price and special August promotion
This beauty supplement from Japan is sold at Nishino Pharmacy in Singapore but you can get it cheaper at S$88 when you purchase online from Inner Beauty Japan Pte Ltd. Free delivery is included for customers in Asia and this offer is valid till 31 August 2011.  For ordering and more information on the supplement, check out Inner Beauty Japan's website.

Comments