Body care ideas: moisturizer layered over body oil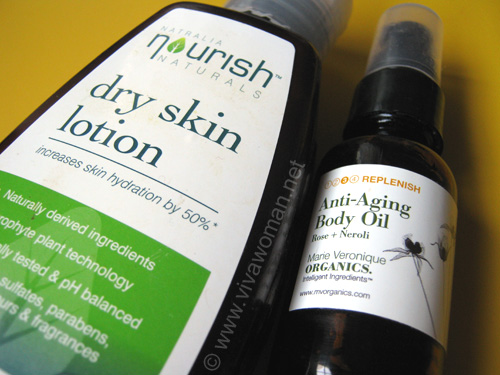 A few weeks ago, a reader by the name of RJ left a comment asking about my body care routine. Here's her question: "I'm curious to know more about your body care routine. I always wonder if I should be using the same anti-aging ingredients & layering technique on my body as well." I thought her question is rather interesting because I happened to be thinking about that topic at that time.
Use of special ingredients on the body
If I understand RJ's question correctly, she wanted to know if she should use products with anti-aging ingredients such as retinol, vitamin C, copper peptide, or other antioxidants on her body. Well, it would be nice to use luxe products with such ingredients on our body too but I guess not many of us can be like Jennifer Lopez who is rumored to use Creme de la Mer all over her body! Personally, I can only afford a staple of normal body moisturizers and the most I have done is to layer my skin with body oil prior to moisturizing.
Oils penetrate skin better
I've been fond of using oils on my body as many oils, such as those with oleic acid content, can easily penetrate the epidermis and reach the dermis. Moisturizers, on the other hand, tend to moisturize only the epidermis layer without much ability to penetrate deeper. An exception would be those containing ingredients such as cocoa butter and shea butter that are able to penetrate deeper and also moisturize.
Layer the oil with moisturizer
The problem with using body oils however, is that they do leave an oilier reside compared to a moisturizer. Some people will be worried about leaving oily stains on their bed sheets. So what I do on some days is to apply a layer of body oil and then top it with another coat of moisturizer to keep my skin matte – something I learnt from another reader, Cass. I consider this a body treatment and it's effective in keeping my skin smooth and moisturized plus at the same time, I know my skin is being nourished at a deeper level. The only thing is, I've been so lazy, I don't do this regularly enough; it's usually using one or the other only.
Exfoliation is important too
Aside from using body oil and body moisturizer, the other thing I do fairly regularly is to exfoliate the skin on my body too. That way, my skin is primed to better absorb the nutrients from the body oil and the moisturizer. Again, I don't do this as often as I would like to but only when I remember to.
Protect with sunscreen in the day
Last but not least, I always use a sunscreen on my body, especially my arms and my hands to prevent sun damage, which always cause skin aging.
Comments