Is using a moisturizer with SPF good enough?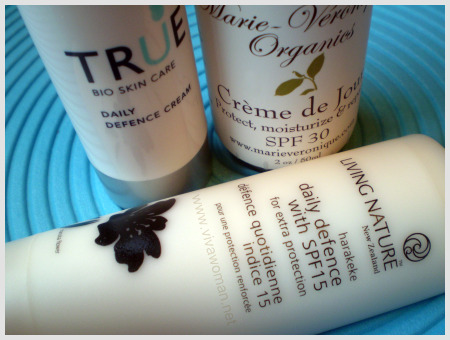 Do moisturizers with SPF work the same as using sunscreens?  This was a question Reese had posed to me in my review of the UV Natural Sunscreen earlier this year.   This topic also came up recently in some of my discussions with companies supplying products with SPF and I thought it might be a good time to address this.
Natural sunscreens are normally greasy
I believe many of you are pretty much frustrated by the texture of the natural sunscreens out there that promise you broad spectrum protection.  Even though their formulations look promisingly, most of the time, they're impossible to be worn on a daily basis with makeup on.  UV Natural is a bit like that, and hence, I can only wear a thin layer and that means the level of protection was likely to have been compromised.
Moisturizers with  SPF on the other hand, are perfect for daily wearing and pose no problems when worn under our makeup.  Hence, they're a hot favorite.  However, do they offer sufficient protection from the sun?
Moisturizers with low SPF
If you're using a moisturizer with an SPF rating of 15 to 20 and does contain photostable active sun protection ingredients such as zinc oxide, titanium dioxide or a combination of chemical blockers, then I would say your moisturizer probably offers you sufficient protection based on casual sun exposure.  But you wouldn't want to wear that if you're going to spend time on the beach or go swimming.   
Moisturizers with higher SPF
What about those with higher SPF such as 30 or higher?  Again,  I would stress on the active ingredients and their percentage used in the formulation as we need to consider protection against both UVB and UVA rays.   A higher SPF rating isn't always better.  For example, I'm all for products with zinc oxide but do note that a product with high zinc oxide concentration but not coming off with a strong whitecast may possibly mean it contains zinc oxide in nanoparticles.  And according to smartskincare.com, regular zinc oxide blocks visible light up to wavelengths 700 nm, whereas zinc nanoparticles block only up to 380 – 400 nmy up to 380 – 400 nm.  Definitely not too good to go frolicking under the sun with! 
Moisturizers with SPF are not water resistent
In addition, you need to consider that moisturizers with SPF are not water resistant, unlike those sport  sunscreens that are specifically formulated to withstand sweat and water.
Better for casual sun exposure
So as a whole, my take is that if your product is positioned as a moisturizer with an SPF rating, then it is better worn if you spend a lot of times indoors and only need to be under the sun for short periods of time.  Examples include walking to the car, walking out to grab a bite, or walking under areas with lots of shade.   If your moisturizer comes with a higher SPF rating like 30 or 50 and does contain photostable active ingredients especially a combination of physical and chemical blockers, then you might stand a chance to withstand the UV rays longer if you can re-apply frequently. 
What I use
At the moment, I wear the Daily Defence Cream from True Bio Skin Care as a moisturizer.  This product contains Transomes F.R.S (free radical scavenger) to fight photo ageing and free radical damage from sunlight exposure.   Additionally, it contains natural Dermascreen which absorbs 50% of the sun's UVA and 85% of the sun's harmful UVB rays.  If I'm stepping out of the house, I will use either Marie-Veronique Creme de Soleil or Creme de Jour which come with SPF30 and contain 20% zinc oxide for broad spectrum protection.  And if I'm going to stay a longer while under the sun, I'll definitely consume Heliocare too.  Call it triple protection if you like.  However, if I'm going swimming, then I prefer to use UV Natural because that is water resistant.
For a list of the FDA Monograph Sunscreen Ingredients, you can refer to my post tips on sunscreen protection but do note that some of the chemical sunscreen ingredients have different names.  So you may need to check further if you're unsure.
Comments