A'kin Rosemary Shampoo for natural highlights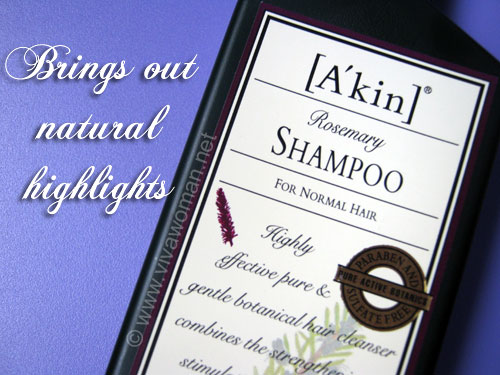 I have been using the A'kin Rosemary Shampoo for over a month now and wasn't planning to review it initially because I had already written one on the A'kin Mandarin Shampoo. However, I just have to blog about this one because I realized that it has given my hair a natural highlight. Now, this was not what I bought it for; I got it simply because it was part of a 3-in-1 pack of A'kin stuff and rosemary is supposed to work for my oily hair. In fact, you can say the result was unexpected.
Brought out subtle highlights
I recently cut my hair shorter and I did notice that some parts of my hair looked like they had subtle highlights under certain lightings. The thing is, I no longer highlight my hair. I basically colored my hair at the beginning of the year and retouch the roots every two to three months. But anyhow, I didn't think much about it until my nephew asked me if I had highlighted my hair. That was when I suspected the shampoo did something to the color of my hair as I understand rosemary not only help to control the oily scalp and stimulate hair growth but it can also help to enhance shine and develop highlights in dark hair.
Suitable for normal to slightly oily hair
In terms of performance, I really prefer the A'kin Mandarin Shampoo but I gave this a try anyway since it's said to be suitable for normal hair. Okay, I don't really have normal hair but I want shampoos designed for normal hair anyway plus this A'kin Rosemary Shampoo appears to be suitable for slightly oily scalp too. Another benefit is that it is said to help strengthen hair roots; something I am in desperate need of.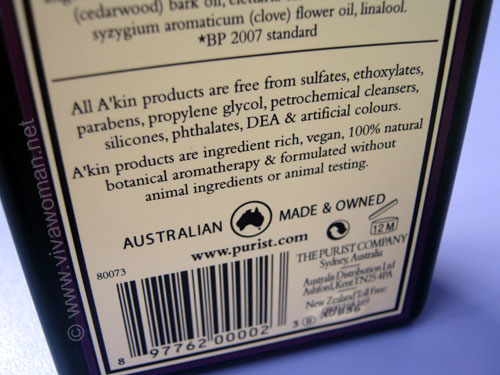 Ingredients
aqua (purified Australian water*) *BP 2007 standard, sodium lauroyl sarosinate (from palm), cocamidopropyl hydroxysultaine (from coconut), disodium cocoamphodiacetate (from coconut), lauryl glucoside (from coconut, palm & glucose), sodium lauryl sulfoacetate (from palm), glycerin (botanical source), sorbitol (from GMO free maize), glyceryl laurate (botanical source), sodium citrate (botanical source), citric acid (botanical source), sodium gluconate (from GMO free corn), sodium cocoyl glutamate (from coconut & sugar cane), rosmarinus officinalis (rosemary) leaf oil, sodium hydroxymethlglycinate, lavandula angustifolia (lavender) oil (certified organic), cedrus atlantica (cedarwood) bark oil, elettaria cardamomum seed oil, , syzygium aromaticum (clove) flower oil, linalool.
The ingredients are all pretty mild and safe and even though this one does not contain SLS or SLES, it contains five different types of gentle surfactants, and they pretty much do a good job of cleansing. While called a rosemary shampoo, this key ingredient isn't high up on the list and looks like it's less than 1% of the ingredients.
Voted best shampoo
The A'kin Rosemary Shampoo is described as a highly effective pure and gentle botanical hair cleanser that combines the strengthening and stimulating properties of pure rosemary and cedarwood essences. The product was also voted the Best Shampoo at the Natural Health Beauty Awards 2010. It all sounds very impressive but I still prefer the A'kin Mandarin Shampoo because the latter gave better oil control on the whole. Plus, while the scent of rosemary is pleasant with a hint of lavender, I still prefer the uplifting scent of mandarin.
Overall summary
On the whole though, it's a good shampoo and it cleanses my hair pretty well and so I can't really complain. But I love that it's also giving my hair some natural highlights, something I wasn't expecting at all. If you have slightly oily to normal hair, this shampoo should work well for you too. Right now, I'm so enamored with rosemary for my hair and I'm going to stock up on those rosemary herbs and make myself more rosemary hair tonic rinse! They are always out of stock!
The 225ml A'kin Rosemary Shampoo is available at Guardian Pharmacy for S$21.50 or you can find them in those 3-in-1 bonus pack for S$37.


Comments