DIY Beauty: let your hair be besotted with beer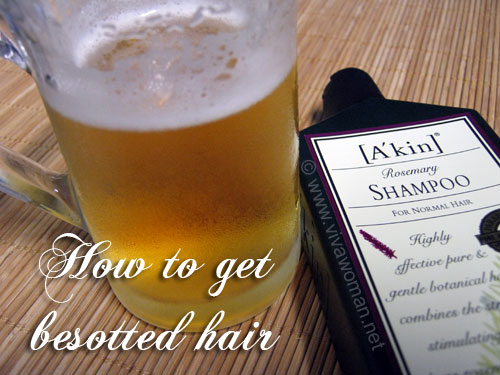 Hey VivaBellas! Do you like drinking beer? Well, I used to love them, especially the German and Irish beer and will have them at least once or twice a week. However, it's been a long time since I've drank beer again but I recently took some sips from Carlsberg for the sake of my hair. Yes, the beer was for my hair, not for myself. LOL.
Beer to add body to hair
You must have come across this tip before – using beer to add body to the hair. I used to shampoo my hair with beer as a teen, thinking that it would grow me some hair but really, it only made my hair look fuller. The reason is because beer is a fermented drink containing generous supplies of yeast and vitamin Bs, which are said to repair damaged hair, nourish and boost overall body. In addition, it can also give hair some added shine.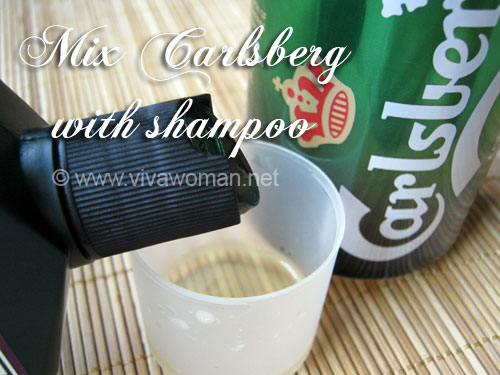 Mix, wash and rinse
I've come across a recipe to make a beer shampoo but I'm not really keen on that as I only want to try this occasionally. Come on, beer isn't that cheap! You can use beer as a last rinse but in this case, what I did was to add beer to my shampoo and also used it as a rinse after conditioning. It's really easy but just note that you need to let the beer sit out for awhile to deplete carbonation. Then simply pour out a small amount of beer, and mix in with your shampoo. This mixture lathers very well and you'll find your hair completely cleansed.
Smell is temporary
After the shampoo, you will need to use a hair conditioner as beer doesn't do the job of conditioning. So you can pour some beer over your hair after you have conditioned and washed your hair. Let the beer sit for 5 to 10 minutes and then rinse with lukewarm water. I know some people don't wash out the beer but no way I want to walk around smelling like a drunkard. In fact, your hair will definitely still smell like beer after your rinse off with water but the smell goes away pretty quickly.
Celebrity endorsement
So any of you tried using beer for your hair yet? Do you like it? I read that it's a favorite with Catherine Zeta Jones. More power to celebrity endorsements. Heh.
Comments