Placebo effect: believe your way to beauty results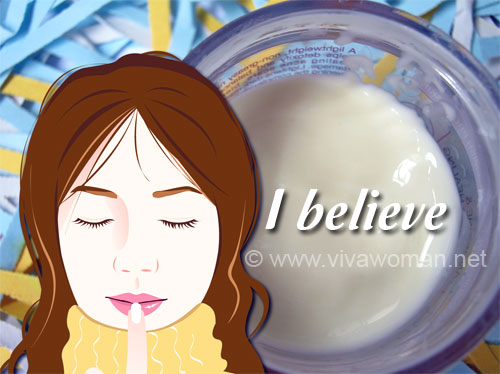 Recently, a reader by the name of Chelsea commented about a new product she is keen to try but isn't too sure. The product is costly and the reviews she has read so far are positive. However, she is hesitant about purchasing the product despite the raves partly because she is wondering if it is having such great reviews because of the placebo effect. Honestly, I've only come across this term "placebo effect" when I started this blog and even till now, I'm not too sure if I understand the term well enough but I'll like to attempt discussing this today.
Correct me if I'm wrong but going by the materials I've read, it appears that a placebo effect or response is really about consumers' faith that a product works because of some preconceptions about what the product can do and it has nothing to do with what the product's efficacy. So in essence, it is the power of believing that often makes a beauty cream effective or worthwhile in the consumers' minds. So what are some of the subliminal qualities assigned to a product that can evoke our expectations, create placebo effects for some of us to the extent of ignoring the actual efficacy of the marketed product?
Packaging
Product packaging most certainly gets all our attention. For me, a product that is contained in a air tight bottle or dark glass bottle gets my attention as I would think that the product is formulated with integrity. So before even using the product, I will give the product some added points already compared to a product that comes in a cheap plastic tube – that is if they're priced about the same. In addition, most of us are also easily impressed with the design of the packaging; the more elegant it looks, the more likely we will fall under the belief that the cream is of high quality.
Nah, packaging characteristics can only slightly influence the degree of the expected skin benefits but never good enough to create a placebo response for me.
Price
Noticed how some products are priced a lot higher? I've seen products with ingredients that are nothing to shout about and yet, are priced at a premium because marketers have the notion that a higher pricing would influence consumers to think that the product works better than it does. Better still if it's endorsed by a celebrity that slather the cream from head to toe. Well, I'll admit that I used to be fooled into thinking that a more expensive cream will work better than a drugstore brand but over the years, through lessons learnt, I know that an expensive cream is not always the best one.
Well, there are still times when I might start out thinking that a product will work better because it is more expensive but I'll still judge based on the true efficacy.
Peer pressure
Okay, this maybe something that is less common but it can possibly create a placebo effect. A product that comes highly recommended by someone close to you might actually make you feel that it'll work well when in actual fact, it did not for the simple reason that different people have different skin conditions. Yet, out of our belief in that person, we might think that the product has done something for us as well.
Nah, this has not happened to me because I never rely purely on someone's strong recommendations – not even coming from someone I love.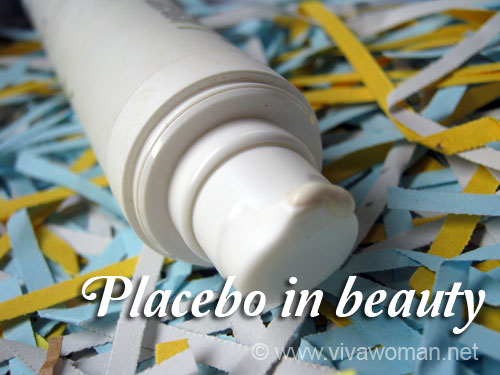 Brand image
Another factor I find that may contribute to the placebo effect is the brand image of a product. A product that has been endorsed by a dermatologist or even a celebrity might heighten our interest and affect our objectivity to the extent that we think it'll do wonders for us. I suspect that this is quite typical of products that are over hyped; consumers just get bought in by the avalanches of raving reviews.
Ah, I maybe interested enough to purchase the product due to the attention given but this one does nothing for me in determining the product's efficacy because I do understand that dermatologists or celebrities endorse products out of personal motivations.
Ingredients
Again, I would not deny that I am sometimes sold by ingredients alone. I mean, how many times have I bought something just based on the ingredient list? Many! And so, a lot of times, I start to imagine that the product has done something for my skin when it might not have done so. So for me, the best is to take some before and after pictures to compare. That way, I'll not lie to myself.
*Ahem* I maybe influenced by the ingredient list and might imagine a product to work well for me if it does not break me out. However, I've resorted to taking pictures now in order to give a fairer review on my blog.
Pride
This is a funny one but it's true. How many times have you bought a product out of a belief that it'll work and then pridefully convinced yourself it's working. My hand is up. Maybe it's a product from your favorite brand as well or because you've spent so much on it, you just refuse to admit that it's not doing anything for you.
Heh, I'll say I'll like to believe it's working but most of the time, I'm more incline to submit to the truth. I don't really have a lot of pride to begin with – with non-living things.
Self-denial
Anyway, right now, what I think is that placebo effect means that one is in self-denial and is lying to oneself. Has that happened to you? I've ransacked my memory and I don't really think I've actually experienced the full extent of the placebo effect with beauty products. While I might start out believing that a product can work for me, but if the results aren't telling, then I will be convinced of the truth eventually. I know for a fact that I only buy a product twice if it has done something for my skin. But I have experienced the placebo effect when it comes to taking health products or supplements. Well, that I'm still learning!
Comments