Share: does how your look affect your self-esteem?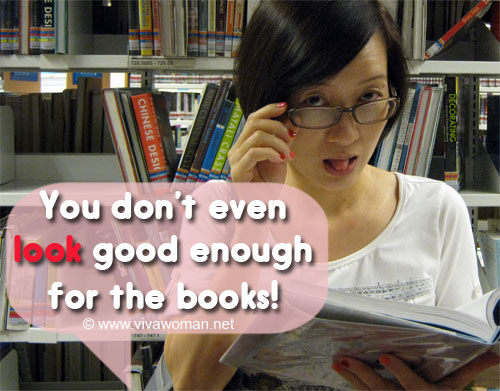 Last week, Serene brought my attention to a demeaning advertisement aired locally that basically insulted the image of plus size women and asked if I can write a post about self-esteem in our pursuit of beauty. It's quite a thought provoking as well as challenging topic and I'm not sure if I can tackle it well. So instead of taking on the subject myself, I thought it would make a good discussion piece today as many of us would have something to say about that.
The constant pressure to look good is real
Watching the ad, you probably would have gotten a good sense of how a woman's look can adversely affect her self-esteem. Yes, the storyline was exaggerated and ludicrous, with less than subtle undertones of discrimination against plus size women but I have to concede that because of the values that the world is built upon, we all face some sort of pressure to look better than we really are and subconsciously, it affects how we view ourselves as well. But the question is, how are we dealing with it?
Maybe I can say something here because of my own experience.
I've had my fair share of self-esteem dented over the years. To being with, I'm petite and I've always had to deal with comments regarding my height or even assumptions that I am weak just because I am small. Next, I used to be very self-conscious about my hair, and was always worried that people who towered over me were counting the number of strands on my head. And having dealt with acne issues for a year or so, I can emphatize with women who say they can't walk with their heads lifted up.
Don't trivialize the issues
These issues may seem very petty but believe me, they can be life and death for some people so never trivialize them. I've admitted before that there was a time I had fleeting thoughts of suicide because of my sparse hair. In hindsight, it was stupidity but I was young and didn't know how to deal with the pain too well. But I know with certainty that such pain and embarrassment are intensely real.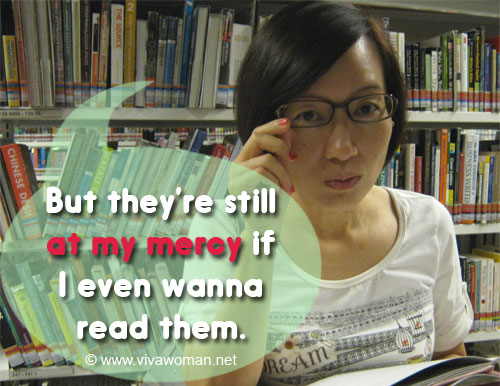 Don't magnify the issues either
I guess I have the advantage of *ahem* age to say that I can deal with not looking my best on some days. I've also undergone various life experiences to know that even if my hair is little or if my face is spotty, I am still loved. But not everyone has this advantage. Sometimes, all it takes is one innocent comment to get you all riled up about those extra kilos you've gained, that plus size clothing you had to buy, or some pimples you're spotting on your chin.
Don't submit to the world
But know this: the world will still carry on whether or not you're wallowing in self-pity; other people will still continue to have fun even if you're filled with anguish about how you look. And let me be more blunt and put this plainly – even if someone dies over her looks, the world is not going to mourn over her death for too long. So instead of letting the world have its way, why not have it your own way?
Don't focus on your looks
So my advice to those with issues of self-esteem because of how you look is – deal with it! Accept your flaws and find ways to overcome them. If it is a dermatologist you must visit, make an appointment! If it is a diet or an exercise regime you need to take on, don't shy from them. If you believe in God, pray! Meanwhile, continue with your life AS PER NORMAL and still look as best as you can. Tell yourself it'll only get better and then focus on your strengths and stop thinking that you're lousy because of how you look. Now, the world can think you're lousy but if you do not allow yourself to think that way, then what the world thinks is no longer important. And for goodness sake, hang around with those who are for you and not against you.
You have qualities independent of how you look
A lot of times, if we are uncomfortable with ourselves, it shows. However, I've seen women who shine even when they are far from perfect looking. There's just something about them that makes you forget their imperfections. Speaking of which, have you watched Melanie Amaro on The X Factor debut show? She's big isn't she? What do you think the judges were thinking looking at her standing there? But as you were watching her, did you focus on her size or her voice? All I'll say is that she looked beautiful to me while she was singing!
Spread some love
Okay, I've rambled enough so it's now over to you. Tell us how your looks has affected your self-esteem and how did you deal with it. Or even if you haven't had this issue, give some advice to those who are insecure about themselves because of how they look. Spread some love all round people!
Comments