Share: have you bought a beauty coupon deal?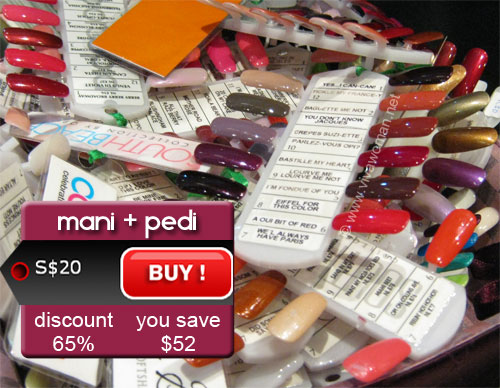 Wow, I have no idea since when, the number of websites offering online coupon deals have multiplied. Every day, other than attractive deals on spa sessions, facials, manicures and pedicures, I also see other items like holiday packages, restaurant deals, financial products, music lessons, etc on special offers. I'm sure you have seen these around one time or another, or maybe are even a frequent buyer of them because such online coupon deals allow us to buy offers at a much lower price and the prices are really irresistible.
Too good to be true?
For example, a makeup workshop and facial session worth $160 going for $28; or a 60-min full body massage worth $300 going for $23 only; and a classic mani and pedi session worth $200 going for just $20. Very attractive right? If you've come across such deals, you'll know that they'll give the full details of the deals along with the terms and conditions, which seem pretty straightforward with no strings attached. Or is it?
Any catch or strings attached?
I've used online coupons to purchase products but believe it or not, I have not bought any of these online coupon deals. Based on what I've read and heard, the offers and the responses have been mixed. Some offers are genuine and do not come with any strings attached and yet some users have had unpleasant experiences such as sloppy customer services. So this is why each time I see something attractive, I'll click on the buy button but then back out at the last minute. My fear is having to deal with hardsell tactics. I mean, surely there is a catch to such an attractive offer isn't it? Otherwise, why would the company offer such an attractive deal? In fact, I know that some of the businesses are losing money providing such offers. However, their rationale to provide such deals is that this will help them expand their customer base rapidly and hence, wouldn't it mean they'll capitalize on the opportunity to hold their audience "captive"?
What's your opinion?
But I'll have to concede the deals are pretty much irresistible and so I'll like to hear your opinion on them. Have you bought a beauty coupon deal online? How was your experience? Was it worth the while and would you buy it again?
© www.vivawoman.net copyright notice ☺
______________________________________________________________
Comments