Wolfberries: potent superfood for your skin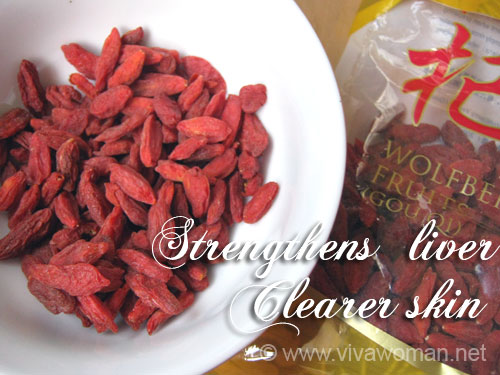 If you're a Chinese, chances are, you've eaten these one time or another because wolfberries, also known as 'gou qi zi' in Chinese or goji berries, are used widely in Chinese cooking. While wolfberry is a fruit, but it is often used like a herb in tonic soups, stew and tea. Some people even eat them like raisins. They may be small but wolfberries are packed with tremendous health benefits, including strengthening the eyes, liver and kidney and nourishing the blood. Additionally, they contain powerful antioxidants and hence, protect against premature aging, and is a great beauty food when consumed regularly.
Nourish the liver
My mom made me eat quite a lot of wolfberries when I was younger because she wanted me to have better vision. However, what's more interesting to me was that I found out much later that they are able to nourish and strengthen our livers. Now, I've discussed how the liver can affect your skin such as giving it a better skin tone and so if wolfberries can nourish your liver, then it's definitely great for our skin's health.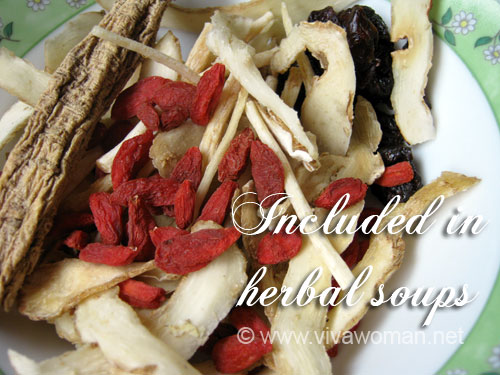 Protects skin from UV radiation
Wolfberry today has reached the status of being a superfood and I was quite overwhelmed by their properties when I was doing research about it. According to what I found from the wiki, they are said to contain 18 types of amino acids; 21 trace minerals; 29 fatty acids, phytochemicals such as beta carotene, zeaxanthin, lutein, lycopene and cryptoxanthinp; vitamin B1, vitamin B6, vitamin E and a great amount of vitamin C. And these are not all! What is important to note is that wolfberries are exceptionally rich in phytochemicals, which are able to protect our skin against the harmful effects of UV radiation. In addition, they can also protect our collagen and elastin fibres because they contain fatty acids.
Regular consumption for the beauty benefits
It seems that ingesting wolfberries will also help to treat menopausal symptoms, as well as help one lose weight. However, don't ask me exactly how much you should consume. Some sources cite 20 grams, while others state 1/4 cup. I guess daily consumption of a handful would bring about visible benefits over a period of time.
Supplies from China
You can easily purchase wolfberries from supermarkets or medicinal halls, and they are really from China. I have not learnt about any adverse effects when these are taken regularly but personally, I don't take wolfberries daily. I can possibly have them daily if I eat them like raisins but I find it strange to eat wet wolfberries because I must always wash them. But, I'm having them today in my soup!
© www.vivawoman.net copyright notice ☺
______________________________________________________________
Comments