Chinese beauty food to improve skin complexion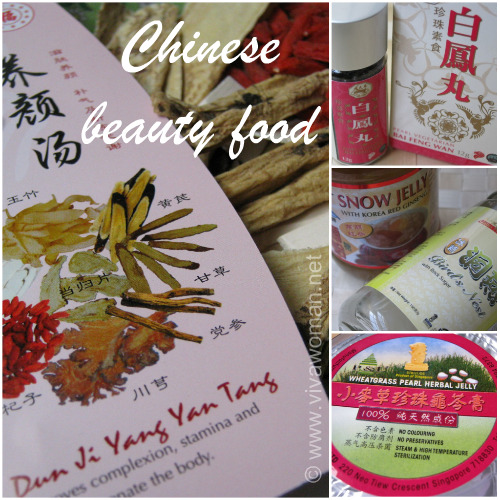 Being a Chinese means I do eat some of the exotic Chinese food for beauty on a rather frequent basis. Amongst these are the strangest looking fungi, herbs and roots. Even though the benefits of these are subjective and some of them do not even have sufficient clinical studies to back them up, I've been taking them quite diligently. Many of these Chinese herbs have specific benefits for our skin and today, I'll show you some of the strange stuff that I've been consuming that have both beauty and health benefits.
Soups
Soup is very important for us and we're not talking about just any chicken or vegetable soup. Rather, many Chinese believe that drinking certain blends of herbal soup will help to regulate our health and improve our well-being. Being a Hokkien, I've been drinking such herbal soups since I was ten. My favorite is a thick black soup made with 10 different herbs and brewed with an old duck. I haven't been drinking that soup for a long time but instead, have been making a normal blend of herbal soup, with ingredients bought from Eu Yan Sang that you see here.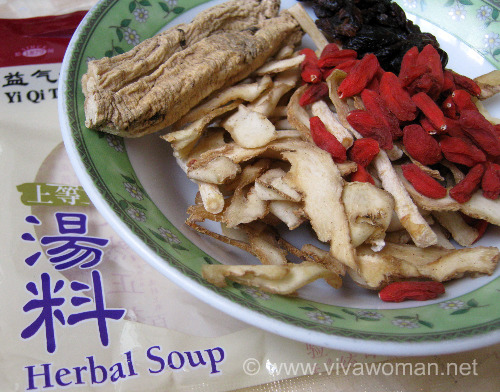 Herbal Soup
We drink this about twice a week and love it because it is tasty and increases our energy level. Although this soup isn't specifically concocted for beauty benefits, but I believe it has an impact because of its ability to improve our blood circulation. The red wolfberries or goji berries you see here for example, have great antioxidant benefits and have been used for centuries by the Chinese to improve vision as well as nourish the kidneys, liver, and lungs. Besides being nutrient rich, they're said to increase collagen synthesis and is rich in beta carotene, which protects the skin from sun damage! Even Taiwanese skincare guru Niu Er endorsed it at his beauty workshop that Hazel had covered here.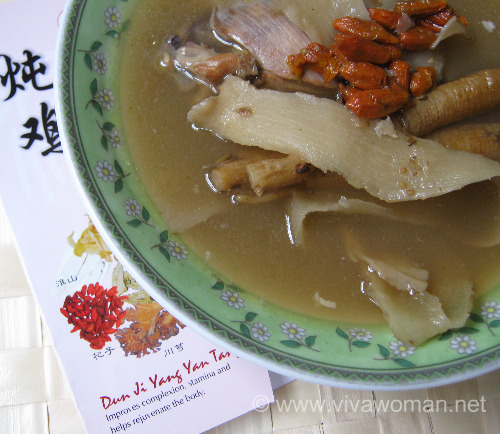 Complexion Soup
If you want to specifically improve your beauty and complexion, you can always rely on the good old complexion soup, which contains Dang Gui or Angelica Root, that can help to give our skin a healthy glow because of its ability to simulate sub-dermal blood circulation to aid optimum production of skin cells and collagen. It also contains wolfberries that I discussed earlier and Yu Zhu, a herb that promotes the secretion of fluids and keeps our skin from being dehydrated. However, I've to warn you that the smell of this isn't exactly appetizing although the taste is fine by my standard. It's easy to brew but I only drink this occasionally because this is not something that the boys in my family can consume.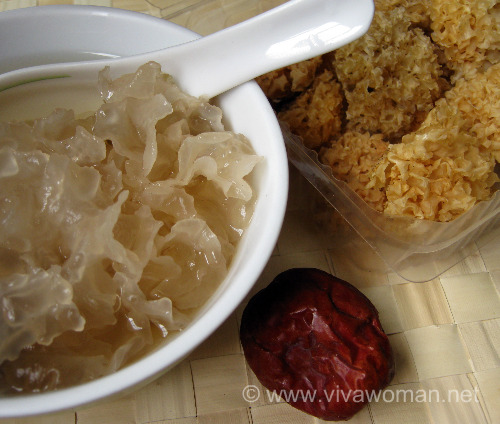 White Fungus
This is commonly known as the poor man's bird's nest because it is a rich source of collagen. They're commonly found in the supermarkets here but the better grades would be the wild fungus found in the Chinese medicine hall. They're what you see in the picture here and they're smaller and dirtier, but otherwise taste the same as the usual grade. Each box is just S$4 and make about 4 pots of sweet dessert with red dates, dried logans and raw sugar. Another favorite is to make a delicious soup by brewing the fungus with chicken meat.

Hashima aka Snow Jelly
These are really dried fallopian tubes of frogs and can help to improve skin's complexion when consumed frequently. You can purchase the dried version and cook them yourself but an easier alternative would be to purchase the ready made bottles. The one you see here is brewed with Korean Red Ginseng, a herb widely known to reduce facial wrinkles and damages caused by photoaging.
Bird's Nest
This much revered and expensive delicacy is in fact made from swiftlet's saliva secretion. Before you say yikes, it is said that frequent consumption of bird's nest result in fairer skin and better complexion. Many Asian celebrities, like our local Fann Wong, swear by this delicacy. I haven't found real scientific evidence to back up the beautifying effect from ingesting bird's nest but according to TCM documents, it enhances the rebirth of cells and tissues and this is supported by a medical research reported by Hong Kong Chinese University. Although those in bottles are convenient to eat, I personally prefer to purchase the actual dried bird's nest to cook myself as I think those are of better grade.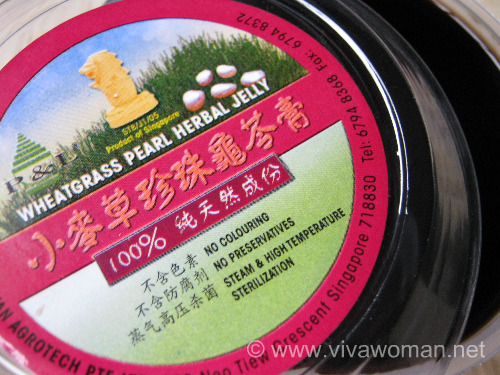 Pearl Herbal Jelly
Herbal Jelly is known for dispeling body heat but increasingly, they've been formulated with additional ingredients to provide more benefits. One of these is using pearl powder that can help to improve and rejuvenate our skin cells, retain the water in epidermal layer, and purge brown spots plus dark freckles in our skin. Despite the color, they're not bitter to the taste because of the added sugar or honey. You can also choose another version made with Lingzhi as it is considered a skin energizer and antioxidant that can retain water and help maintain elasticity, thus keeping our skin hydrated and smooth.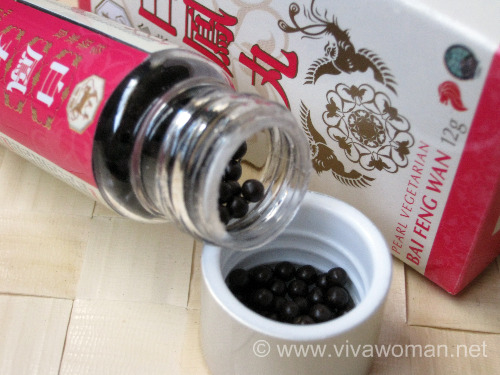 Bai Feng Wan
Okay, this isn't made for our skin but it can help to improve blood circulation and bring about some color to a pale face. This is made with many different ingredients to regulate a women's health and particularly effective in treating menstrual issues. I wanted to bring this up because two readers, Stella and Liesl, had both mentioned in my recent entry about Omega 3 fish oil driving away the PMS blues that this had helped them cope with their PMS. If you think this looks bad, consider that I was taking this for about 20 years and it used to be a huge lump that was really awful to the taste.
Consume with discretion
In Singapore, you can find these in the Chinese medical halls such as Eu Yan Sang or Fu Hwa. Elsewhere, I believe you may have this place call Chinatown that stocks some of these. However, don't expect immediate results from a one-time consumption. The results are probably evident only over time and even so, it depends on the individual's state of health. And while these are not medicine, but they're still an alternative sourse of supplement. Hence, do exercise discretion when consuming them especially if you have any health issues.
Comments