DIY Beauty: can I make the recipe in a big batch?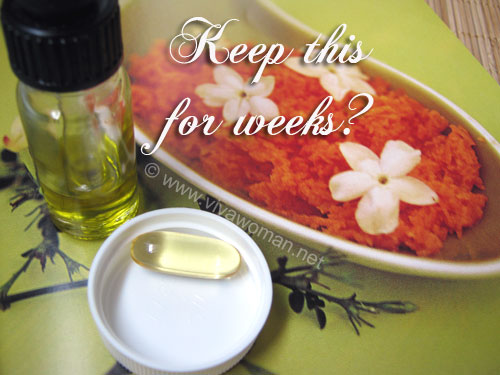 When it comes to homemade beauty recipes, one of the frequent questions I get is: can I make a big batch and how long can I keep the mixture for? How can we balance convenience and at the same time, ensure that what we have made is safe enough to be used on our skin without any bacteria infection?
Because the recipes I introduce here are typically using ingredients from the kitchen or fridge, so my answer is always, make them fresh! Admittedly, some time must be devoted to putting together a homemade recipe but if you choose just two or three ingredients, then the time to put them together should be short. I've rarely made my stuff in a batch for a few days because most of the recipes include some form of liquid. So at the most, I'll just refrigerate for up to three days maximum especially those containing no liquid but honey.
Preservation
I don't use preservation because I do not make creams or lotions and like I've said, I'll store the mixtures for three days maximum. In the event when I have to consider preserving the product for longer like with an oil mixture, I've always turned to using vitamin E. Vitamin E oil is an antioxidant and will help to prolonge the shelf life of oil-based products because of its anti-oxidation properties. However, it is not a preservative, and should never be used solely as a preservative in a water-based product. Another alternative I turn to is using essential oils such as tea tree, lavender, lemon, rose, or rosemary as these are considered as natural antimicrobials. But sometimes I'm not too sure how much to add and so again I hardly resort to them unless I am following a given recipe.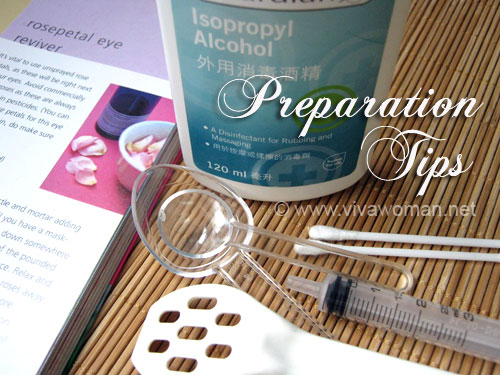 Preparation tips
Here are some tips to take note when preparing your homemade beauty concoctions for storage:
Wash your hands well before preparation because our fingers can be a host to bacteria. Use a spoon or a spatula to scoop what you use.
Make sure that whatever you use for your DIY concoctions are sterilized or clean. I've always just used hot water to sterilize but if you want to go beyond that, you can also sterilize using denat or isopropyl alcohol prior to using the containers or utensils. This will help ensure that you do not introduce bacteria or contaminate your batch.
Dry whatever elements you use well as water provides a medium for harmful bacteria, mold, yeast and fungi to grow over time. I always air dry what I use or I'll use a clean paper towel if pressed for time.
Ensure that your packaging is airtight especially if you plan to keep it for a few days. Natural products can oxidize and go rancid when exposed to air.
Most DIY concoctions are best refrigerated or stored in a cool dark place.
If you're frequently concocting DIY beauty recipes, you might have something more to add. Do share!
Comments