ReFa Pro Platinum Electronic Roller from Japan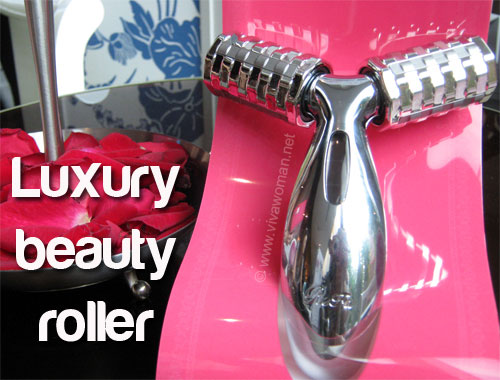 Hands up, all of you who get excited with beauty gadgets! Okay, my hands are up. Yes, I am always thrilled about beauty gadgets and some of you may remember my attempts at rolling my face with needles. Okay, I no longer prick my face anymore and so, the derma rollers I have is now sitting somewhere in a cold, dark corner, feeling totally wasted. Anyway, I've moved on and am currently using the ReFa Pro Platinum Electronic Roller to roll on my flabby arms, bulging tummy, fat thighs and *ahem* saggy butt.
Solar-powered
The Refa Pro Platinum Electronic Roller is described as a revolutionary home device from Japan, designed to generate a solar-powered micro-current for a daily comprehensive face and body treatment. One million units of ReFa Pro were sold in Japan just over a year after its launch and it is also attested by esteemed international doctors and aestheticians, as well as used by international and Japanese celebrities. I've got to say the people at ReFa Pro really know how to leverage on the celebrities to make their marketing dollars worthwhile!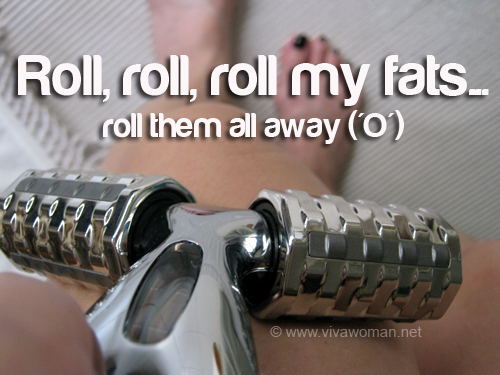 Micro-current treatment
Okay, I'm all new to micro-current technology but I've learnt that the human skin has a natural, extremely low electrical bio-current that flows through. As we age, our bio-current levels decreases and skin loses its elasticity and shine. So ReFa Pro acts as a daily micro-current treatment that compensates for the reduction in bio-current levels while rejuvenating the skin and reactivating skin cells. And apparently, micro-current treatment was first used in the 1980s in America as a treatment for stroke victims and other patients suffering from partial paralysis of their face. The treatment helped to lift the paralysed muscles back into position, improving visages with drooping facial muscles. This micro-current treatment has since been adapted for use in non-surgical and cosmetic enhancement.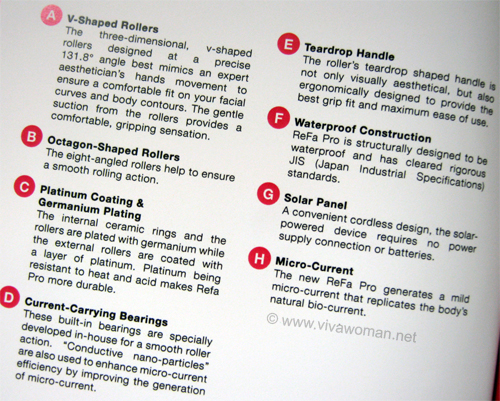 Benefits
The benefits of using ReFa Pro Platinum Electronic Roller are said to include:
· Shapes and contours facial/body lines
· Boosts moisture levels
· Improves blood circulation
· Tightens enlarged pores
· Improves skin texture
· Reduces appearance of fine lines and wrinkles
Personal experience
I've tried rolling this device on my face but I can't really detect any noticeable difference, probably because my daily facial massage regime has been keeping my face more or less well contoured. However, I did see a slight difference on models with one side of their face rolled during the launch so I believe it does offer lifting and tightening of loose skin as well as lymphatic drainage for efficient detoxification. I've been using this ReFa Pro more for my body, hoping to roll away some flabs but haven't been all that consistent and hence can't speak of any results yet. But I'll say this is a wonderful body massage device because the eight-angled rollers produced at a precise 131.8°angle mimic an aesthetician's hand movements during a massage, replicating the procedures performed by the professionals. My hubby loves it when I use this on his back and I find that I don't need to assert as much strength compared to massaging with my bare hands.
Usage and material
Here's a video on the proper usage of ReFa Pro. What I like about this tool is that you don't need to add batteries and neither do you need to run it via electricity. The best part is, you can use it wet or dry. And besides the micro-current treatment, the ceramic rings contained in the angled rollers of Refa Pro are made up of 16 different natural ores such as Amethyst, Tourmaline and Germanium. The unique combination of these 16 natural ores has been fine-tuned for cosmetic purposes and achieves additional effects of lifting and detoxifying.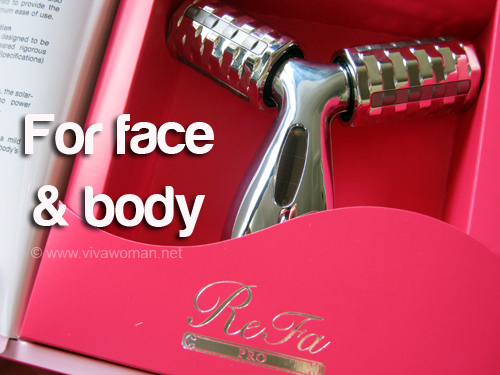 Price and availability
ReFa Pro Platinum Electronic Roller retails at a whopping price of S$490 at Clariancy Aesthetic Clinics located at Raffles Hotel Arcade, Tampines, Parkway Parade, Jurong and Mandarin Gallery. You may call 6338 2619 for further enquiries. I received a unit of this as part of the media pack but personally, I'm unlikely to purchase it based on past experiences of buying gadgets and then leaving them to collect dust at a corner after awhile. But I'm convinced that this tool definitely works way better than those cheap, plastic rollers you see at Diaso so it is great for those who need some face lifting right at home and I'll add that this is most ideal for salon operators as well as individuals who provide plenty of massages for their partners. Seriously, I regretted telling my hubby about this because he's been requesting me to roll his back daily now. (-__-)
Comments