Apples can protect your skin against sunburn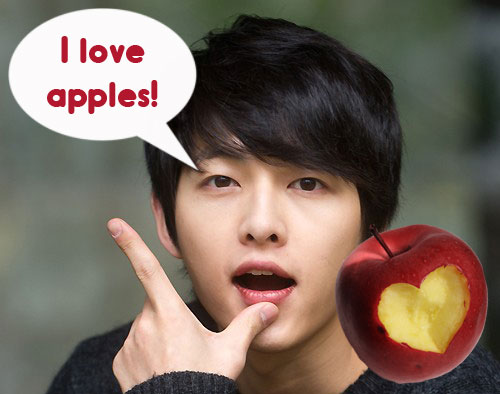 Recently, I read that Song Joong Ki's secret to having beautiful skin is that he eats apples and drink yogurt everyday. "Through regular motions I take care of my health and my skin as well at the same time", he said. (source) I have no idea who he is except that he's a Korean celebrity who endorsed Tony Moly but boy, no way do I want to stand beside him because I eat apples almost daily and my skin is nowhere close to his. (Okay, maybe because I didn't eat them with yogurt!)
Fiber to flush out toxins
Anyway, the guy is young. He's apparently 26 and yes, he's also right that apples help to keep our body in order because it contains a good source of dietary fiber, which can help to flush out toxins as one apple contains about 20 percent of the daily recommended fiber intake.
Antioxidants to combat free radicals
It appears that apples contain only modest amounts of vitamin C but scientists have now calculated the antioxidant power of apple as equal to more than 1,500 milligrams of vitamin C. The vast majority of its antioxidants come from flavonoids that can combat free radicals. (source)
Phenols to protect against UVB rays
And of the antioxidants present, apples contain phenols that can protect the skin against damage from UVB rays (the rays that cause sunburn and are linked to skin cancer) although I wonder how many apples one has to eat to obtain a good level of protection. But it will provide some level of protection from inside out and you'll still need to slather sunscreen when you head out under the scorching sun as you're not protected against the UVA rays by just eating apples.
In this context, it's fascinating to see that recent research studies show polyphenols to be the favorite mechanism used by apples to protect themselves from UV-B radiation. Cells in the skin of apple that conduct photosynthesis are especially sensitive to UV-B light from the sun. Many of the polyphenols in the skin of apples can actually absorb UV-B light, and thereby prevent UV-B from damaging the photosynthetic cells in the apple skin. Polyphenols, then, are like the apple's natural sunscreen. (Source:WHFoods)
Water for hydration
Apples also contain water that can help with internal hydration and I also found out that Phorizin, another flavonoid found in apples, helps prevent bone loss that may occur during menopause.
The benefits are in the skin
However, most of the antioxidants are found in the skin of the apple. Hence, it is important not to peel off the skin. So when it comes to apples, I usually try to get organic ones as that means I can also eat the skin since no pesticides were used. However, on days when I can't get them, then I settle for the normal grade, and the skin comes off before we eat them. And although I find green apples tastier but it does look like red apples have more antioxidant benefits that I've discussed above.
You like apples?
Image credit for Song Joong Ki: TVREPORT.
Comments