10 reasons apple cider vinegar is the new beauty staple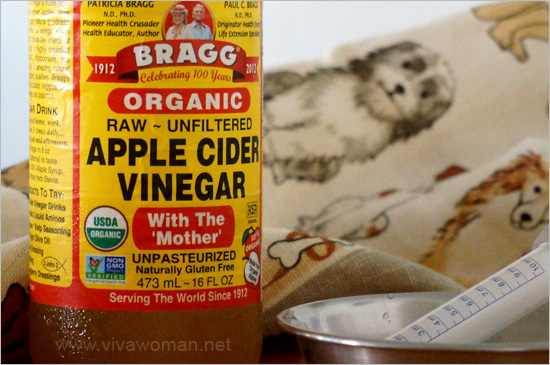 I started feeding Gracie apple cider vinegar recently because of her yeast infection and while I was reading up about how it'll benefit the dogs, I was reminded of the many wonders of this often touted health and beauty elixir. I can see the reason for the raves, considering how cheap and easily available this item is. Unfortunately, because of the funky smell, I can't bring myself to drink nor douse my face and hair with it regularly. But if your nose is more tolerable towards what smells like sweaty socks (o.O), you may want to read on to find out the different beauty reasons to use apple cider vinegar. But first, let me share with you a list of five celebrities who have been benefiting from this vinegar.
1. Heidi Klum
Because apple cider vinegar cleanses the digestive system and makes the digestive tract more alkaline, many celebrities like Heidi Klum love it for its detox and slimming benefits to rid the body of extra fats and proteins. The German celeb swears by a pre-meal gulp of vinegar to curb her food cravings.
2. Megan Fox
According to news report, Megan Fox is not a fan of exercise or dieting. But the star of the new movie, Teenage Mutant Ninja Turtles, is said to keep her body in shape by drinking apple cider vinegar before every meal in order to rid her body of sugars and water weight.
3. Scarlett Johansson
I really like Scarlett Johansson, especially her role as the "Black Widow". I don't think anyone would argue with me if I say she's got a great figure but unlike the other two stars I've mentioned who use apple cider vinegar for slimming purposes, Scarlett Johansson uses apple cider vinegar to wash her face. I doubt she uses that alone to keep her skin looking tip-top but it's good to know she endorses it.
4. Jessica Alba
On the other hand, Jessica Alba uses apple cider vinegar as a hair clarifying rinse to remove product buildup and as a weekly treatment for dandruff. Her recipe? Just add two tablespoons of apple cider vinegar to one cup of water and use it as a rinse after shampoo. Having tried this, I've to warn that the smell is pretty unbearable but it'll dissipate after some time. So best not to use this prior to your hot date k?
5. Katy Perry
It seems Katy Perry is also a fan of apple cider vinegar. Well, she calls the vinegar her "secret of all secrets" but it's not really clear how she uses it. It seems she uses it at times to stay in shape by adding a little apple cider vinegar to her water. In another report, I read that she drinks the mixture to help pro­tect her voice and health.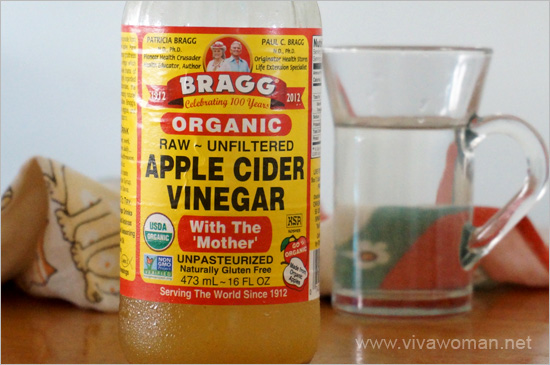 Some of you may think that this is all some hogwash and it's impossible that apple cider vinegar is so wonderful. Well, I can't blame you because there are insufficient studies to support some of these claims. Still, many people have come forward to share the benefits and it can't all be that bad right? So what exactly are some of beauty reasons to use this elixir?
1. Help you slim down
It seems that the tart, sour acetic acid produced during the fermentation process helps reduce body fat accumulation. So if you want to shed some pounds, try cleansing your body three times a day by drinking a cocktail of apple cider vinegar and water.
2. Remove buildup from hair
Rinsing your hair with apple cider vinegar once a week can help to remove the buildup from using silicone-based shampoos and conditioners. Just use Jessica Alba's recipe of adding two tablespoons of apple cider vinegar to one cup of water, pour it over your hair after shampoo. You don't have to rinse your hair again if you can tolerate the smell.
3. Make your scalp less oily
If you have very oily scalp, rinsing your hair with apple cider vinegar will also balance your scalp condition by reducing the amount of oil production.
4. Make your hair shine
Another benefit of rinsing your hair with apple cider vinegar is that it will regulate the ph balance and seal the hair cuticles, making your hair look smooth and shiny.
5. Aid in hair growth
I also read that some people have suggested that taking apple cider vinegar orally or applying topically on their scalp have helped them with new hair growth. While not extensively supported, it does sound plausible since apple cider vinegar contains essential minerals like potassium, calcium, magnesium, phosphorous, Vitamin C, E, and others that promote healthy hair growth. What I did in the past was to saturate a cotton wool full of undiluted apple cider vinegar and dab it to my scalp after washing my hair. It is actually best not to rinse out but the smell is unbearable even though it does dissipate after some time. So I usually just let it sit for about 10 minutes before rinsing off. However, because I didn't do it for long, I couldn't tell if it did anything for my hair growth.
6. Help treat acne
Besides regulating the pH level of our skin, apple cider vinegar is often said to have natural anti-inflammatory properties and is therefore effective to treat acne causing bacteria. In this case, it is best to use the apple cider vinegar as a toner, diluted either with mineral water or green tea. I wouldn't recommend using this too often if you have sensitive skin but it might make a good spot treatment for blemishes or it might work very well if you have back acne. If you are interested to try it, check out my DIY recipe using aspirin and vinegar.
7. Get rid of dead skin cells
Apple Cider Vinegar is said to be rich in alpha-hydroxy acids and hence, is great as a natural skin exfoliator. I've tried applying ACV neat on some of my acne spots and it did help to reduce the redness and inflammation for some of them.
8. Treat age spots
With its AHA properties, apple cider vinegar may also work as a natural peel for age spots if the spots are not lodged deep beneath the top layer of the skin.
9. Relieve PMS symptoms
Some women swear by apple cider vinegar to ease their PMS symptoms like cramps and heavy bleeding. According to some sources, adding blackstrap molasses to the vinegar is even more effective.
10. Reduce body odor
Ironically, apple cider vinegar is also recommended to help with body odor. Apparently, you can eliminate unsavory smell with oral and topical usage of the vinegar. Smelly feet? Try an apple cider vinegar footsoak!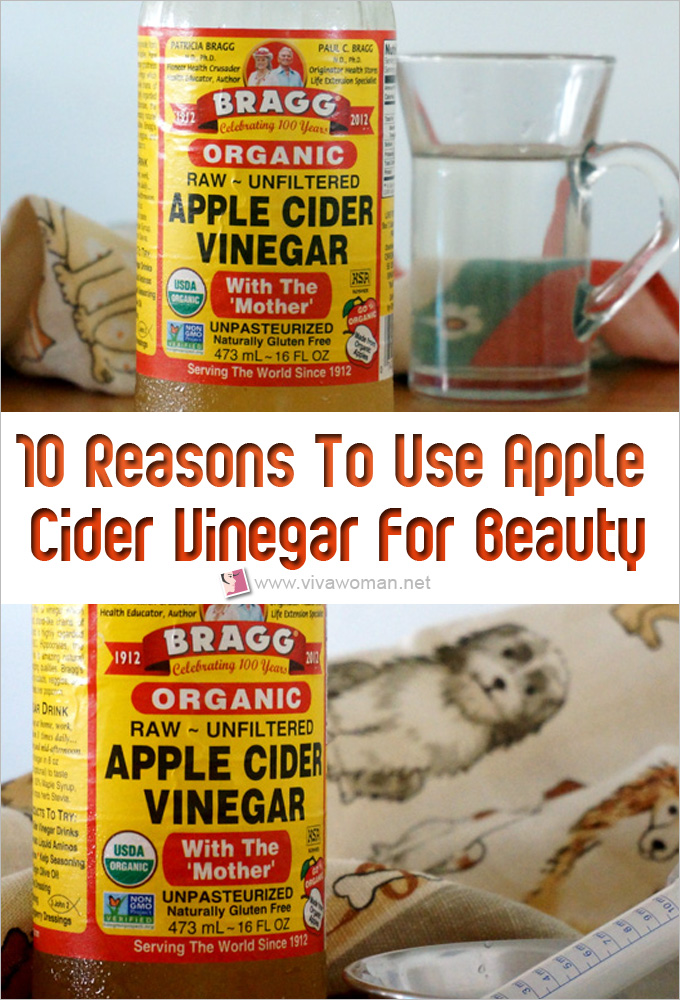 If you're thinking of giving apple cider vinegar a try, please take note of these notes to protect your tooth enamel:
– Purchase only raw, organic verson that is all natural and unprocessed.
– Apple cider vinegar can ruin tooth enamel because it is acidic.
– Never drink apple cider vinegar without diluting it.
– Drink ACV with a straw to prevent the vinegar from eroding your teeth.
– Immediately rinse your mouth well with water after drinking ACV.
– Don't brush your teeth right away after drinking ACV.
– Try not to use boiling water with ACV.
– Do not use ACV as a mouthwash as some have been recommending.
If you have a medical condition, I would highly recommend you check with your doctor or some trained experts if apple cider vinegar is suitable for you.
While writing this entry, I tried drinking a glass of apple cider vinegar diluted with water, pinching my nose while doing so. It didn't taste so bad but I definitely need to be motivated to continue drinking it. So how about you? Are you into drinking apple cider vinegar? How often do you drink it and how has it benefit you so far?

Comments