Beauty Kitchen: clearer skin tone with black fungus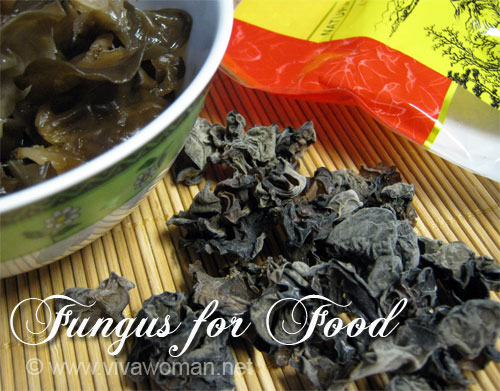 Following some of the feedback I've received, I've decided to introduce "Beauty Kitchen" on this blog. This will not be a weekly feature, but it should be fairly regular, and will cover some of the dishes I cook that uses food ingredient with beauty benefits. So to kick off this series, let me introduce my first dish that uses dried black fungus – known as 黑木耳 and is pronounced as Hei Mu Er in Chinese. Interestingly, I found out that this ingredient has various other names such as Auricularia Polytricha, wood ear, cloud ear, Judas ear or tree ear. It is actually a mushroom that is dark brown to black and native to Asia and some Pacific islands with humid climates. My Chinese readers should be very familiar with them.
Helps reduce cholesterol and control weight
Although black fungus is available fresh, but it is advisable to use the dried form for cooking purposes because that would mean that whatever bacteria on the fungus would have been killed while being sun dried. This ingredient has protein, fat, calcium, carbohydrates, carotene, vitamins, vitamin B1, a variety of amino acids, lysine and leucine and a large number of fibers, potassium, magnesium and sodium. It has a very high content iron and the content of vitamin B2 and calcium is said to be 30-70 times that in common meat. Black fungus is said to be able to increase the fluidity and circulation of the blood, and is beneficial to those with anemia. I've also learnt that it is able to regulate cholesterol in blood and apparently can help to control weight.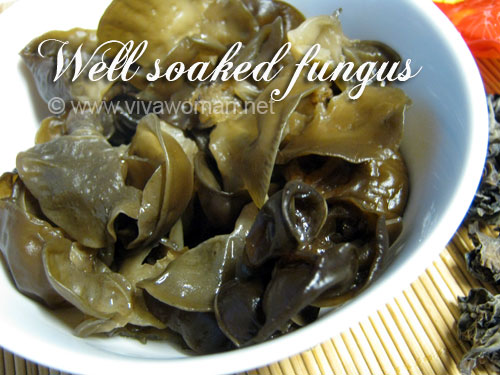 Helps detox impurities in the digestive system
But what got my interest was that black fungus has high dietary fibres and it can "absorb" toxins in our digestive system, and rid them via excretion. So, all in all, black fungus is said to have many health benefits, including prevention of cancer but those patients with blood thinning issues should avoid consuming this. But in any case, I think this ingredient should be eaten with moderation even by healthy folks. I certainly wouldn't recommend daily consumption in large quantity.
Helps eliminate skin pigmentation
More interestingly, black fungus is found to contain melanin that can act as an antioxidant (source). I read from various Chinese sources that this ingredient is great for women because not only does it help improve blood circulation and hence improve our skin tone, but it also helps to reduce skin pigmentation with frequent consumption. If you can read Chinese, you can check out more details via this article where it recommends making a soup using black fungus and red dates.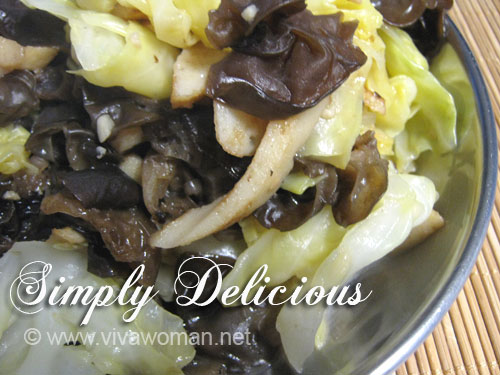 Simple but delicious recipe
I've always love eating black fungus. It is tasteless on its own but is great when cooked with other ingredients. I've never tried using black fungus in my soup but it's possible. You can also fry an egg mixed with some black fungus and onion. It's very tasty too but my favorite is this dish here – black fungus fried with cabbage. It's a simple dish that takes around 15 minutes to cook. Here are the ingredients:
– chopped garlic
– one fish cake, sliced to strips
– 1/4 to 1/2 cabbage, cut to smaller pieces
– a handful of black fungus, soaked and washed
– half a small bowl of chicken or pork stock
– some salt
Braise for about 10 minutes
Start by frying the garlic before frying the fish cake. The cabbage and the black fungus can be thrown in for a short stir before you pour the chicken or pock stock into the dish and let it braised for 10 minutes, covered. Then add salt to the taste and that's it.
So are any of you fond of eating black fungus too? Do you have other interesting recipes using this ingredient to share with us?
Comments