Review: Organix Cherry Blossom Ginseng Shampoo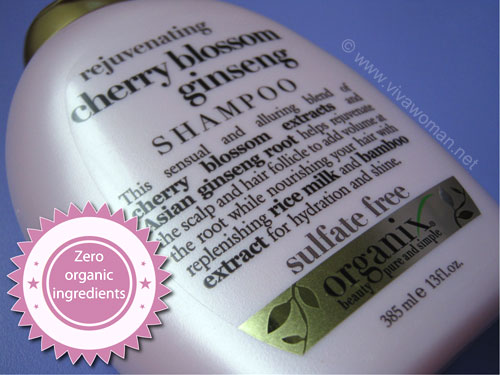 This is one of those brands that I've avoided purchasing for the longest time because of the name. Why? Because I'm always suspicious of brands that call themselves Organic, Organics, or anything that sounds close. Come on now, there is not one organic ingredient in the product and this is a typical example of greenwashing. So why did I purchase this then? Well, I've had people coming to tell me that this is a good organic shampoo and I feel that some clarifications is required. At S$12.90 after sale, I thought I'll give it a go just to see if it lives up to its claims, given that I've already taken the Organix Hydrating Teatree Mint for a couple of washes last year and it was not bad in terms of performance.
For extra hydration, shine and volume
According to the description, Organix Cherry Blossom Ginseng Shampoo is supposed to cleanse and balance our hair for extra hydration, shine and volume. The cherry blossom extracts and Asian ginseng root help to rejuvenate the scalp and hair follicle to add volume at the root while the rice milk and bamboo extract nourish our hair to give it hydration and shine.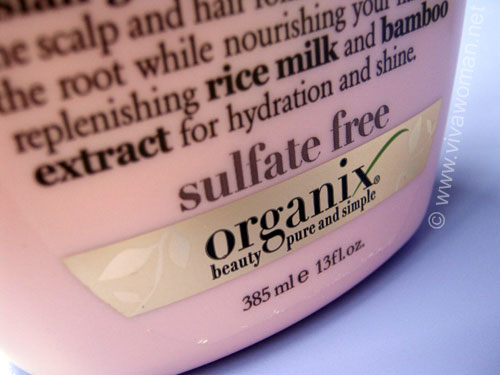 Ingredients analysis
Ingredients: Aqua (Water), Disodium Laureth Sulfosuccinate, Sodium C14-16 Olefin Sulfonate, Cocamidopropyl Betaine, Cocamidopropyl Hydroxysultaine, Dimethicone Copolyol, Cocamide DEA, Glycol Distearate, Parfum, Panthenol, Polyquaternium-11, Cetyl Alcohol, Guar Hydroxypropyltrimonium Chloride, DMDM Hydantoin, Panex Ginseng Extract, Prunus Yedoensis Flower (Cherry Blossom) Extract, Bambusa Arundinacea (Bamboo) Extract, Oryza Sativa Rice Extract, Silk Amino Acids, Tocopheryl Acetate.
Although this shampoo does not contain SLS or SLES, it has as many as five surfactants and hence, foams and lather up very well. The shampoo is transparent and the texture speaks of silicones in the formulation. In addition, it has a distinct sweet fragrance from the parfum. Here's a closer look at the top 10 ingredients:
Aqua (Solvent)
Disodium laureth sulfosuccinate (Surfactant)
Sodium C14-16 Olefin Sulfonate (Surfactant)
Cocamidopropyl Betaine (Surfactant Antistatic Emulsifier)
Cocamidopropyl Hydroxysultaine (Surfactant Antistatic)
Dimethicone Copolyol (Antistatic Emollient)
Cocamide DEA (Surfactant)
Glycol Distearate (Emollient Emulsifier)
Parfum (Fragrance)
Panthenol (Moisturizer)
I shan't comment much on the safety level of these ingredients except that some people will probably have issues with ingredients like Cocomide DEA and parfum. And while this shampoo is not formulated with parabens, it contains DMDM Hydantoin as the preservative and this ingredient has been flagged out as an allergen and irritant, as well as being contaminated with formaldehyde.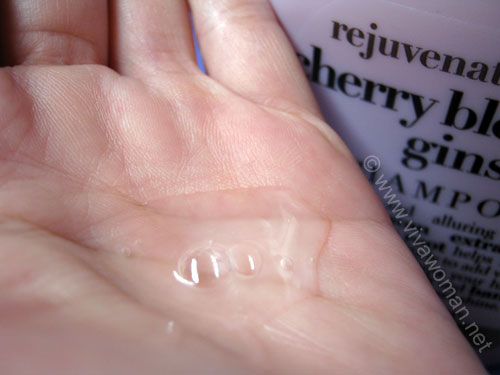 Above average results
In terms of results, this shampoo does deliver in terms of making my hair soft, smooth and shiny. My hair is easier to style and it did look fuller, most likely because of the silicones. I usually avoid shampoos with silicones as silicones can be bad for our hair with prolonged usage so I don't use this shampoo daily but just a few times a week.
Price and availability
You can find the Organix range of shampoos at Watsons going for S$14.90 prior to any discounts. I'll say they're pretty affordable, given that each bottle has 385ml worth of shampoo. They're not bad for the price point really and will likely suit those with normal and dry hair well, and aren't particular about silicones or that this isn't organic despite the name. Although I'm unlikely to re-purchase this again but given their shorter ingredient list and above average performance, I'll pick this over the usual non-organic, commercial brands anytime.

Comments