Share: how exactly are you washing your hair?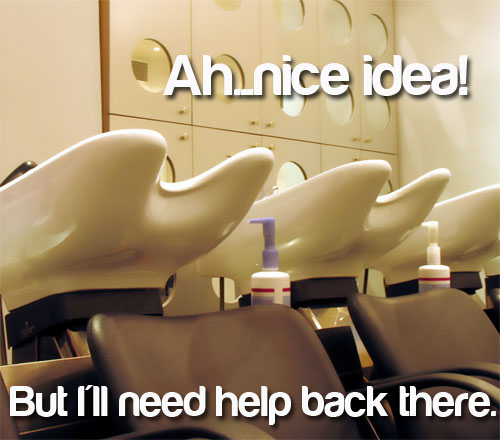 Wouldn't it be nice if we all can have a shampoo station right at home? That's such a nice idea isn't it? And if you can get some help to wash your hair from the back of the station, that's such a luxury! But even if you can't get help, it is still possible to shampoo your hair on your own, as long as you can reach out for the shower head. Okay, enough of wishful thinking there but I reckon having a shampoo station is probably the best way to wash my hair daily because it appears that I've not been washing my hair the correct way, according to shampoo tips I've gleaned from a Chinese magazine.
Roughening the hair cuticles?
According to the magazine, the right way to wash our hair is to tilt our head backwards. I've been doing the exact opposite for eons because I always bend my head down when I'm washing my hair. I've tried to tilt my hair back but I just find it a hassle to keep the water dripping down my face. However, washing my hair with my head down means that I'm probably roughening the hair cuticles since I'm literally washing them in the opposite direction.
Your say
So today's question is one that everyone can answer…unless you don't wash your hair at all? So come on, feed my curiosity. How exactly do you wash your hair? Do you wash with your head bent down, with your head tilted back, or maybe with the head tilted sideways? Or some other creative ways that I can't even think of.
Comments