Beauty Kitchen: roast tomatoes to protect your skin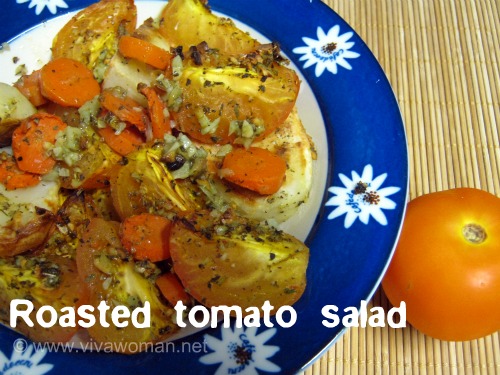 You know what? I'm growing to love this Beauty Kitchen feature more by the days. I had initially thought I might just cover it like once or twice a month but it just looks like it might be more regular than I've anticipated because it's actually helping me to rediscover cooking all over again! Like making this dish for example. I'm more of a Chinese food lover so western style of cooking hardly appeals to me. Yet, I managed to whip up this simple roasted tomato salad and I love it!
Helps protect against UV damage
I've always love tomatoes and in 2008, I wrote an entry introducing you to the benefits of eating tomatoes to protect against the harmful UV rays. Tomatoes contain plenty of nutrients and are a great source of vitamins A, B, C & K. They also contain the potent free-radical scavenging phytonutrient lycopene and recent studies have revealed that lycopene may pack twice the punch of the well-known antioxidant beta-carotene which is known to protect our skin against sun damage.
Cooked tomatoes have higher lycopene content
Eating fresh tomatoes are good but apparently, cooked tomatoes or tomato paste are great too because according to an article at Cornell, heat processing actually enhanced the nutritional value of tomatoes by increasing the lycopene content.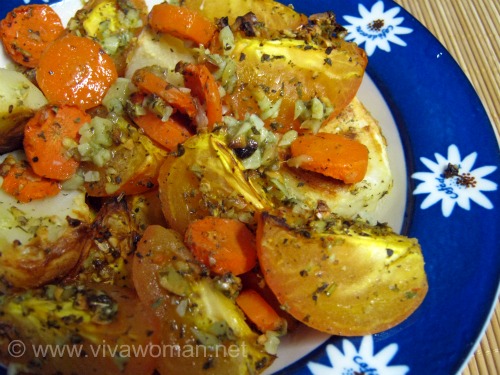 Recipe
Preparing this dish is very easy although it takes slightly longer to roast the tomatoes. These are the ingredients:
– chopped garlic
– 4 tomatoes, sliced to quarters
– 1 potato, sliced to quarters
– 1 carrot, sliced
– Italian herbs
– 1 tablespoon of olive oil
Preparation & cooking method
Boil the cut potato and carrot for 10 minutes. Then preheat the oven at 240°C. Mix the garlic on the cut tomatoes, potato and carrot. Sprinkle the herbs & drizzle the olive oil over the food. Place the prepared food items in a single layer on a baking tray and leave it in the preheated oven to roast for 30 minutes, checking occasionally to ensure that they do not burn. Once the tomatoes are shriveled with brown spots and the potatoes start to look brown, they're ready to be eaten.
Serve hot
This dish is best eaten when it's served piping hot from the oven. It's delicious and may I add, very filling too. And the tomatoes are great for your skin!
Comments