Green Beauty: choosing GMO-free beauty products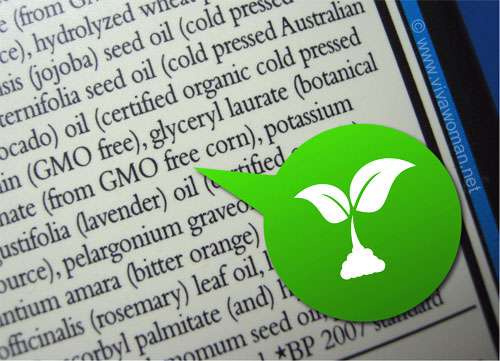 Is GMO-free important to you when it comes to skin care products? It wasn't even something I thought much about until I started this Green Beauty feature, and I guess some of you are like me so I thought I'll blog about it so that we can learn this together. First of all, GMO stands for Genetic Modified Organisms and it really means plants and animals that have undergone genetic modification where selected individual genes are transferred from one organism into another via genetic engineering or biotechnology.
GMO ingredients pose health risks
So yes, the resultant change is not a natural occurrence and that is why it is considered a dangerous practice because nature is being tampered with. Eating such genetically manipulated food is a health concern and so is applying ingredients derived from such food source on our body. In addition, you may like to know that genetically modified plants are grown for the cosmetics industry as well as for food, such as corn, canola, soy, sugar beets, papaya. Here are some common ingredients that are said to be derived from GMO risk crops:
Amino Acids, Aspartame, Ascorbic Acid, Sodium Ascorbate, Vitamin C, Citric Acid, Sodium Citrate, Ethanol, Flavorings ("natural" and "artificial"), Hydrolyzed Vegetable Protein, Lactic Acid, Maltodextrins, Molasses, Monosodium Glutamate, Sucrose, Soy Lecithin, Textured Vegetable Protein (TVP), Xanthan Gum, Vitamins, Yeast Products, Zea Mays. Many cosmetic emulsifiers and humectants are also derived from genetically modified plant-based ingredients. (
source
)
Look for certification or assurance
If you are using organic skin care that comes with proper certification, then your product would not contain any GMO ingredients. But many green beauty brands also oppose the use of genetically modified plant extracts and oils. Such companies will indicate on their product packaging and website that their products are made to be GMO-free such as A'kin that I've shown in the picture here.
Comments