Topical Astaxanthin for younger and fairer skin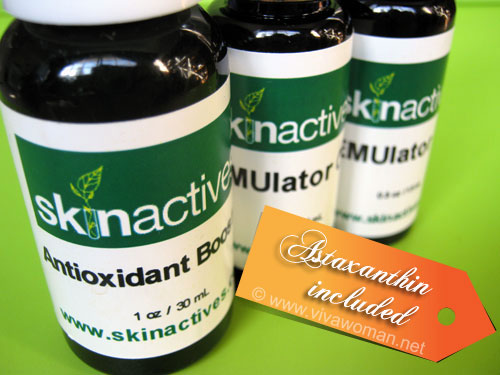 During the course of my research about Astaxanthin, I found out to my delight that the ingredient not only protects our skin against the sun when applied topically, it can also provide significant benefits to UV damaged skin, including reduced wrinkles and younger appearing collagen. In fact, a study had shown that topical Astaxanthin acts as an effective "skin whitening agent", reducing melanin by 40 percent, and greatly reducing freckles as well as age spots (source). And as I set out to hunt for this ingredient, I realized that I had already used a product containing this ingredient without being aware of it until now!
Raw ingredient at SkinActives
Astaxanthin is one of the ingredients in the Marie Veronique Organics Sun Protection Oil, which I was using for some months last year. I had like the oil and was planning to repurchase it later. However, in my search, I found the raw ingredient instead at SkinActives and planned to get that one since it is a lot cheaper!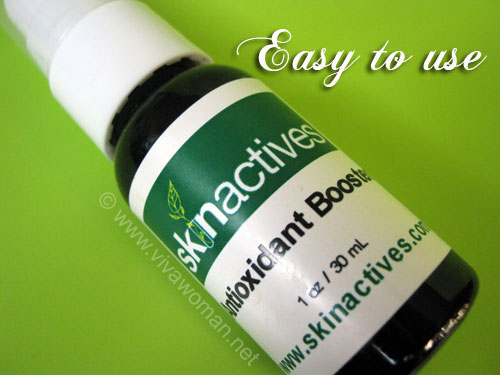 Potent protection for the skin
According to the information at SkinActive's website, Astaxanthin serves as an extremely powerful antioxidant due to its particular molecular structure. It has a very effective quenching effect against singlet oxygen, a powerful scavenging ability for lipid and free radicals and effectively breaks peroxide chain reactions. Natural astaxanthin has been shown to be a potent antioxidant over 500 times stronger than vitamin E and 10 times stronger than beta-carotene. Astaxanthin has also been shown to enhance and modulate the immune system. These effects in combination or separately may reduce the acute inflammation reaction of the skin and tissue just beneath the skin that follows excessive exposure to UV radiation.
Ready-to-use products
Eventually, instead of getting the raw ingredient, I decided to get two of their ready-to-use products containing Astaxanthin as they seem good value-for-money. One was the Antioxidant Booster, in which Astaxanthin is a key ingredient, and the other is the EMUlator, which also contains Astaxanthin in smaller amount. The 30ml Antioxidant Booster cost US$17.50, while the 15ml EMUlator cost just US$5. The shipping was pretty affordable at US$10.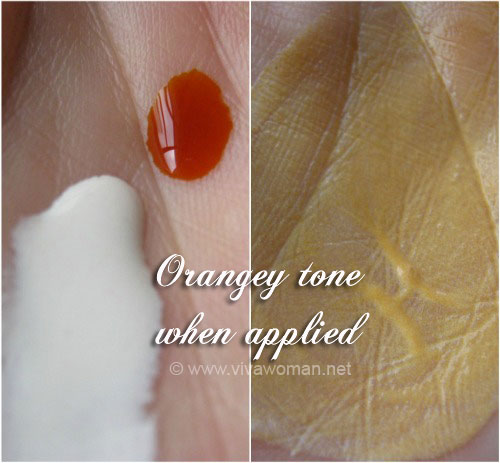 Too concentrated on its own
The Antioxidant Booster contains Pomegranate (Punica Granatum) Seed Oil, Tocotrienols, Alpha-D-Tocopherol (vitamin E), Astaxanthin, Lycopene, Lutein, Alpha Lipoic Acid, and Beta Carotene. On its own, Astaxanthin is very concentrated and I imagine, extremely difficult to use. Even the Antioxidant Booster is a dark orange and when mixed with my sunscreen, is still difficult to wear on the face in the day. So what I do now is to use the mixture first and then apply another layer of the sunscreen over to conceal the orange-yellow tone. In the night, I use the Antioxidant Booster together with two drops of the EMUlator and my face don't look too orange or yellow in tone. Anyway, the color is temporary and my skin looks fair again in the morning.
Use together with sun cream
Interestingly, I am now able to use the Petite Marie Organics Ounce Of Prevention Mineral Anti-Aging Sun Cream SPF 30+ comfortably with this Antioxidant Booster, when I've previously complained that the sun cream was drying. So that's working really nicely for me now.
Overall summary
I like these products I've purchased from SkinActives very much. Not only are they affordable, they work well for my skin as I notice that my skin appears dewy each morning. As mentioned in my post about oral Astaxanthin, I've noticed that some of my pigmented spots have lightened and even my skin tone appears a shade lighter and so I believe it maybe the combination that is causing this. Anyway, I'm definitely going to continue using the Antioxidant Booster with Astaxanthin in the day. And those of you who are well versed with using oil in your daily skin care should find this product, or even Astaxanthin on its own useful. Just a drop is all you need in each application. Others who are adventurous enough can try to do what I do – mix a drop into your usual moisturizer for that added protection against the sun.
Comments